Guest Blogger
BGN works to feature strong, unique content from writers who…
Welcome the holidays (officially) with the third annual holiday spectacular, Taraji's White Hot Holidays. It's bright, it's festive, and it's oh so funny. The award-winning actress Taraji P. Henson is back to host with some amazing outfits and some fun holiday cheer. Enjoy an hour of Taraji looking amazing, as always, with some celebrity favorites.
There are star-studded performances featuring musical guests like Ciara, Salt-N-Peppa, Leslie Odom Jr., Faith Evans, Fergie, Jussie Smollett, and the Ying Yang Twins. There is even a special performance from the mega icon herself, Chaka Khan. Yes! They all perform their own renditions of classic Christmas songs. Some songs make you want to sing along, while others make you really feel the holiday spirit. There is a sexy rendition of "Baby It's Cold Outside", which happens to be one of my favorite Christmas songs, performed by Fergie and Jussie.  There is also a rendition of "Mary Did You Know" performed by Leslie Odom Jr. and Faith Evans that made me feel the holy ghost. I think at one point a single tear came to my eye. Truly amazing.
Along with the musical acts, there are some hilarious skits. There are appearances from Taye Diggs, Tituss Burgess, and comedian Jay Pharoah, among others. I could not stop laughing at some of these skits. The baby Jesus skit was by far my favorite. Titus plays baby Jesus while Taraji plays Mary. It got so hilarious that even the actors had a hard time composing themselves. Overall, the skits were a fun addition to a family-themed night.
Check a video below from the hot night.
The songs are incredible, the outfits are incredible, and it's a show that you can't miss. Taraji's White Hot Holidays will air on Thursday, December 14th at 9/8c on Fox.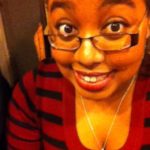 Catalina Combs is an aspiring film critic from California. She loves reading, writing, film, baking, music, drawing, traveling, Disney, and playing soccer. Her life usually revolves around all of these and her family. The oldest of six, Catalina tries to set a good example for her siblings. She graduated from Santa Clara University in 2010 with a BA in English Creative Writing and is pursuing an MA in Film. I also blog on WordPress and contribute to the website Examiner.com. Twitter- @tiggercraze | Facebook- Cat Combs | Instagram: 
Guest Blogger
BGN works to feature strong, unique content from writers who speak to our niche. If you are interested in having your work highlighted contact jamie@blackgirlnerds.com to be featured as a guest blogger on the site.