Super Sema is the first African animated superhero series that follows the adventures of Sema, an innovative 10-year-old girl whose superpowers are fueled by STEAM (science, technology, engineering, art, and math). Super Sema takes place in the "neo African-futuristic community of Dunia" (which means world in Swahili) and was created by Kukua, a media and tech startup that "blends entertainment and education." Kukua recently announced its partnership with Oscar-winning actor Lupita Nyong'o. BGN Zoomed with members of the Kukua team, Clara Njeru (CPO) and Vanessa Ford (COO) to learn more about Super Sema.
How did Super Sema come to be?
Njeru: We started out making educational apps. When we were design testing the applications with children in Nairobi and different parts of Kenya, we realized they were always more interested in the characters than the materials that we were teaching. The bigger problem is that there has not been children's content that reflects who we are. Every time you are watching a cartoon in Africa, you have to take yourself to a different environment, a place you have never been to. So, we decided to create an appealing character based in Kenya and give her superpowers that are not magical, but are based in reality and in STEAM.
Ford: And, we did this all before Black Panther came out. Super Sema's launch is really all of the stars aligning. I also think that because it's a very aspirational world, it portrays African kid power in a whole new way. It's also what we actually see living in Africa. You know, Africa is one of the most innovative, thriving continents out there, but most of the Western media portrays Africa as this poverty continent. We really wanted to shift that narrative around. Traditionally in Africa, women are leaders. So the girl power is authentic. Our leadership team is also diverse women from all over the world. It's been quite a ride.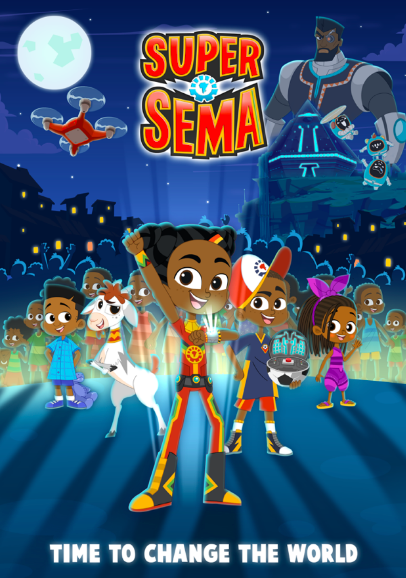 How do you see Black kids in America connecting to Sema, her twin brother MB, and the crew?
Njeru: The integration of STEAM, critical thinking, dissemination, creativity, values, and great storytelling are items that children all over the world can connect with.
Ford: We've always thought Super Sema would fill a void for this generation of kids who truly want to change the world. They're living in a time where we have the first Black VP in the US, we're in a global pandemic, there's so much happening in the world. Sema could be my daughter. When you see Sema in action, you really can see yourself in her. It is the girl power, the STEAM, the Afro-futurism bundled into one, and all these attributes are infused in everything we do. Even in the partners we choose to work with in the future, as we're now starting to have conversations about toys and merchandise, we understand that we have the responsibility to our fans to make sure that our products will reflect the show and our values.
I love that the villain, Tobor, is actually artificial intelligence. With all the resources that he has, it's always the humans with their grit and determination who win. Tell me more about this.
Njeru: Yes, we were very intentional about AI in Super Sema, knowing, yes, technology is great and we are actually solving problems using technology, but also that you can't replace some of the aspects of being a human being. Technology and humans, they are not complete enemies, but it's the possibility of what technology is able to do, and what Sema is able to do, to beat a heartless robot. In that sense, we were intentional in making Tabor very sophisticated.
Yes, and Tabor is funny!
Njeru: Funny and dressed to kill. [Laughs.]
I felt kinda bad for Tabor, though. I think he's lonely. When he kidnapped Sema's goat Moyo, he just wanted some love, right?
Ford: As vain as Tabor is, and as evil as he can be, you know at the end of the day that he does what he does because all he wants is to feel connected to love and humanity. Tabor wants to be able to taste pizza and feel what it's like to give someone a hug — all of the senses that humans have that we take for granted. And I think that's a beautiful metaphor.
Super Sema is so much nicer than Peppa Pig! She's really been raised right. Where are Sema's parents? And why did the writers choose to have Sema be raised by a grandfather instead of having a female caretaker?
Ford: The backstory is that Sema's mom died when Sema and her twin brother MB were born. It's a common narrative across Africa and African diaspora for grandparents to raise grandchildren. We wanted it to represent something authentic, not just a traditional nuclear family.
Njeru: The representation of storytelling traditionally in Africa is by grandparents. I grew up with my grandmother every evening telling us stories. So Sema's grandfather Babu was there from the word go. When Sema's mom passed on, the spiritual greatness and leadership is passed on to Sema and MB, but they are raised by their grandfather and the community around them. In the next series, we want to do more of the backstory of Sema's mom.
Ford: In the center of Dunia, there's a tree of life and the mom's spirit is represented there. Actually that will be voiced by Lupita Nyong'o, and it represents the spirit of Sema's mom. When Sema feels sad or is in need of inspiration or encouragement, she visits this tree, and the tree takes on this magical formation. So it doesn't just whisper in her ear, it communicates with her through sending her leaves or changing colors. It makes the show very special, the connection to spirituality.
What brings you the most joy creating this project?
Njeru: Creating a project for children is what I wanted to do with my life. Helping children to aspire to live a great life through the stories we tell in animation brings me so much joy. To be able to show that children from my family, children in Kenya, children from everywhere can aspire to be anything despite their color or where they're from, that they will feel seen and represented by what they see in our show, that's making me so happy. I love that children are watching and dancing with the show.
Ford: I came from a science background. I studied infectious diseases at Oxford University. I'd walk into a classroom and would never see anyone who looked like me. When I started making documentaries on HIV then moved into the entertainment industry, I was so often the one Black female producer in the room. I remember the first time I had a boss who looked like me, how revolutionary that was for me. I feel like we're all born with this sense of unstoppable self investment in believing that we have the potential to do anything, but over time the world has a way of shaping and chipping away at that especially if you're a Black girl. Being on the Super Sema team brings me joy because I can be a part of reminding young Black girls that they are enough.
Super Sema's first eight episodes are now streaming on YouTube. https://www.youtube.com/channel/UC1XJa1jxEPETUs7WNIv6eKA/playlists
Jeanine T. Abraham
Jeanine is a Writer, Actor, member SAG/AFTRA, AEA, Podcast host, Producer, CEO VisAbleBlackWoman Productions, Certified Health Coach and Conscious Dance facilitator. Jeanine's mission, centering Black women's stories to preserve our legacies.