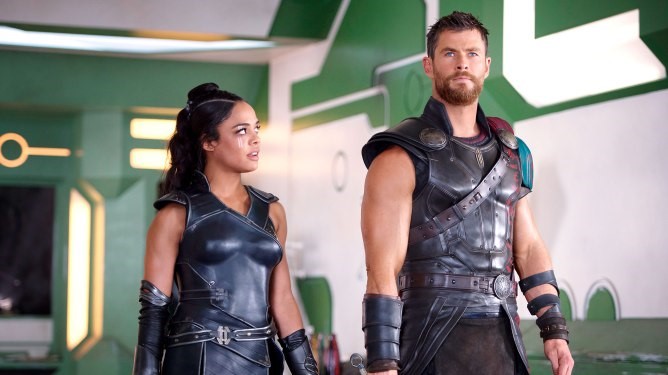 Carolyn Hinds
Carolyn is an aspiring film critic, Bajan nerd living in…
When it was announced Tessa Thompson and Chris Hemsworth were cast as Valkyrie and Thor respectively in Thor: Ragnarok (2017), fans of both actors were excited — and it's time to get hyped again. In an exclusive, The Hollywood Reporter has revealed that Tessa will once again be teaming up with Chris in Sony's new Men in Black film.

Directed by F. Gary Gray (Fast  8, Straight Outta Compton), the film is slated to have a  June 14, 2019, release. This new iteration will be a reboot of the original Men in Black (1997) which starred Will Smith and Tommy Lee Jones as lead agents of the M.I.B. agency, which oversaw crimes and intergalactic travel involving aliens.

Though there is no news as to the plot or Tessa and Chris's specific roles, one thing I do know is that these two have amazing chemistry, comedic timing, and the ability to kick butt. Luckily we'll have Marvel's Avengers: Infinity War — in theaters April 27 — to tide us over until Men in Black is released.
See original article below
__________________________________________________________________
Valkyrie and Thor are reuniting. Tessa Thompson is joining her Thor: Ragnarok costar Chris Hemsworth in Sony's Men in Black reboot. Fate of the Furious filmmaker F. Gary Gray is set to direct the movie, written by Iron Man screenwriters Matt Holloway and Art Marcum. The studio has the film dated for June 14, 2019. Akin to how Jurassic World revived the Jurassic Park film series, Sony's reboot is to feature new characters rather than Agents K and J, portrayed by original trilogy stars Tommy Lee Jones and Will Smith, respectively, and will build on the contemporary sci-fi world in which they operated.
Details are being kept hidden under a New York City ventilation tower but sources say the new project is more of an ensemble piece than a two-hander and will be more global in scope.Walter F. Parkes and Laurie MacDonald are back as producers, while Steven Spielberg is returning as executive producer. David Beaubaire is overseeing for Sony.
In addition to her scene-stealing work as the Asgardian warrior Valkyrie in Ragnarok, Thompson appeared in Alex Garland's recent sci-fi picture Annihilation and is currently shooting Creed II, which returns her to the boxing drama with Michael B. Jordan. This summer she will be seen starring in Annapurna's Sorry to Bother You and has a prominent role in HBO's upcoming second season of Westworld, which launches this spring.She is repped by Greene and Associates, Mosaic, and Jackoway Tyerman.
Carolyn Hinds
Carolyn is an aspiring film critic, Bajan nerd living in Toronto and an avid Jane Austen fan. I enjoy speculating on plot theories for my favorite TV shows, such as The Walking Dead, The Expanse, and black-ish. Oh, I will do karaoke anytime, anywhere. Follow on Twitter @Carriecnh12