Beverly Kwakye
Beverly is a Technical Writer by profession who enjoys all…
In honor of The Fresh Prince of Bel-Air's thirtieth anniversary, the cast met up for an unscripted HBO Max reunion special. Airing this Thanksgiving holiday season, get ready for revelations, camaraderie, laughter, and memories, because this all-star cast is back like you knew it.
Daphne Maxwell Reid, who started Season 3 by taking on the role of Aunt Vivian (Viv), has a wide range of accomplishments to her name. Along with being a talented actress, Reid is also an author, designer, and activist. Not only has the sitcom star become notable for her work on screen, but the star has also made an impact in the Black community by breaking barriers for Black women everywhere. Through the societal barriers she broke early on in her career, Reid has used the experience as a tool for educating the youth of color.
For an interview with Black Girl Nerds, Daphne Maxwell Reid discussed Fresh Prince's upcoming reunion special, playing Aunt Viv, and her life endeavors after the hit sitcom came to an end.
You joined the cast of The Fresh Prince of Bel-Air the third season playing Aunt Viv. What was the experience like for you taking on the role of an existing character as a new member of the show? Were there any challenges?
I like the fact that they respected the work that I had been doing for the past 20 years before that. They greeted me so warmly. It was no challenge at all. I was not replacing anybody. I was stepping into a role. I don't know the woman before and I didn't know what had happened, and I didn't really care. I got the work, and I went to work. They welcomed me with respect and love. It was a seamless slide in. I think they greeted me with dozens of red roses. It was just seamless.
What were the most memorable parts for you when working on The Fresh Prince of Bel-Air?
The most memorable parts were dancing down the hall with James Avery as we were going on to the set, hanging out in various dressing rooms. It was just good memories. It was the formation of what has become a very close family. We became friends, not just workmates. We are very much like family. We've been through weddings and funerals and births. It's a family.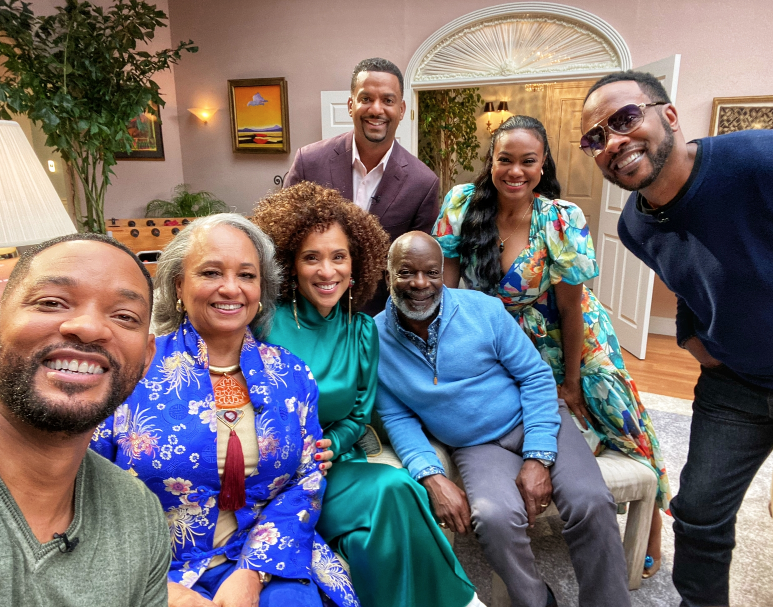 What was it like seeing the cast together again?
Well now, you know if we're family we see each other often, but that was the first time we have all gathered with Will [Smith] in one place. That was a lovely, lovely, occasion. It was a lot of surprises, a lot of memories, a lot of tears, a lot of laughter. There was dancing; we had a blast. We learned stories that we had never known before about behind the scenes of what other people had gone through that we've never talked about.
What can viewers expect to see when watching the reunion air on Thanksgiving?
They can expect to see a lot of surprises. We were surprised as well. You'll have the same feeling that we had when we got the surprises. It was great.
During your career, you became the first of many. For example, the first African-American homecoming queen at Northwestern University and the first African-American woman to appear on the cover of Glamour magazine. Can you talk about that experience and how that can serve as an inspiration for Black women in the industry or as a whole today?
Let me see how I would phrase that: I was a pioneer because I was in the right place at the right time. People don't plan to be pioneers. What they do is they go about living their lives with purpose and dreams. As you step into your journey, sometimes you're the first to do that. It's usually very happenstantial; it's not planned. The opportunity presents itself, and if you're prepared you take advantage of the opportunity.
Being a pioneer, you know those guys are the ones that are out front so they get shot in the back, so it's not always a great ride. For me, it was both. The homecoming queen formed an opinion in me kind of like it was the little piece of grit in the oyster that's going to form a pearl, but at the time it's grit. It was grit. It was not well-received by the University or the community. It was well-received by the Black community and I'm very proud of that.
The other folks totally disregarded it and diminished it. Because of that, I diminished my desire to assist them further. It kind of put me on the wrong side of Northwestern University's Alumni Association because I didn't have anything to do with them. They finally apologized 40 years later and we had a discussion. There was a 3-page coverage of the homecoming queen every year in the yearbook, but the year I was homecoming queen, my name wasn't even in there. So we had a chat about that. That year, they told me it "wasn't important this year." I said okay, and the school is not important to me. It didn't hurt me personally; it really ticked me off because homecoming weekend was the weekend I was supposed to be going to see my then-boyfriend play football in Pittsburgh and I couldn't go because I had to do this homecoming thing. So I wasn't really happy about being there, being disrespected. So it was sweet and sour.
The Glamour cover was fabulous. I had no idea I was doing a cover. I had been doing editorials for magazines while I was in school. I would fly back and forth to New York from Chicago, and that's when you could fly on United Airlines round trip for a student fare of $25. Travel was a bit different then. I used to fly back and forth and go back to class after I got through shooting, making a little bit of money. I went to New York this one time, and this photo session might have taken 15 minutes and I went back to school. I was just shooting and didn't know what it was for. I had a mentor in New York, and she said, "Come to New York. I want you to take some photos with this guy." I did and went back to school, and then I saw my face.
Do what you want to do with purpose and with a sense of direction that you want to go in.
You have accomplished so much throughout the years, from television to books to a clothing line. What is next on your plate?
Taking advantage of opportunities as they arise. I started writing a memoir. The cookbook that I wrote has a mini-memoir in it, but I decided it's about time in my life that I write down all these wonderful things that have happened to me and all these tragic things that have happened to me and see if I can make any sense of it for someone else. It's been a joy for me.
Failure isn't always the worst thing that can happen to you. Sometimes it's the best thing that can happen to you because it leads you on a different path. So I'm thinking about writing my memoir and trying to decide whether I want to seek a publisher or self-publish as I've done the other five books that I've done.
As a spokesperson and someone who does outreach, what advice do you have for young adults who also choose to venture into a similar career path in television or writing?
I suggest that you decide where you want to go in this business if you want to get in this business, what you want to accomplish. If you want to be a celebrity, that's not a reason. So don't put that as your goal, it's meaningless. What you want to do is express yourself, if you want to be an actor, but know that you need to also have something that you love to do that can earn you a living.
As an actor, you have to wait to be chosen. While waiting to be chosen, you should be reading. I suggest reading classic literature because they develop characters in those stories. The development of those characters is part of what your acting experience should be.
So that's what I suggest for that. But always have a job where you can eat while you're waiting to be chosen. If you want to be a writer, you have to write, and you have to write, and you have to write, and you have to get a thick skin, and you have to accept editing, and you have to accept criticism, and you know that it'll make you grow. You keep doing it, and you keep doing it because that's what you have a passion to do. If you don't have a passion to do that, find out where your passion lies, and do that.
Premiering Thanksgiving on HBO Max. Be sure to take a minute, just sit right there, and enjoy the reunion special of The Fresh Prince of Bel–Air.
Beverly Kwakye
Beverly is a Technical Writer by profession who enjoys all things celebrity news and pop culture.