Jonita Davis
Jonita Davis is a writer, mother, a certified nerd, and…
My weekend at the Chicago Comic and Entertainment Expo was full of surprises, kind faces, and some great stories from other Midwestern blerds looking to connect with one another.
One panel, in particular, made me do several double-takes. From adorable cosplayers to some intriguing indie comics and creators, C2E2 was so much more than I ever expected.
Cosplayers of Color Abound
Well, they did after a bit. I walked into the center to get my pass and ran into a BGN fan (shout out to Pierre at press registration). Then, a red Power Ranger pirate, by Omocha Jinx Cosplay, who definitely showed out for C2E2. And no one can tell me that Wonder Woman doesn't look good with some Latinx flavor. I met characters from several other fandoms donned by brown nerds of many hues, from a blerd Gandolf to a Spider Gwen, and a family from Bob's Burgers.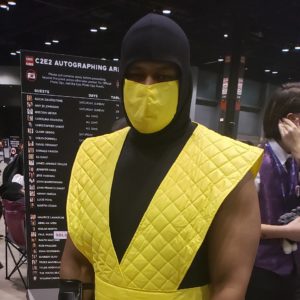 So many more characters, all ages, and all hues were reigning over the convention center. I swear I saw at least 12 different Deadpool's (even a Ghostbusters version). Too many Harley Quinn's of both sexes to count. Check out the pics I snapped throughout the day.
On day two I ran smack into mahogany toned Harley Quinn and a shimmery merman, Scorpion (Mortal Kombat), Avengers, Dalicks, and so much more.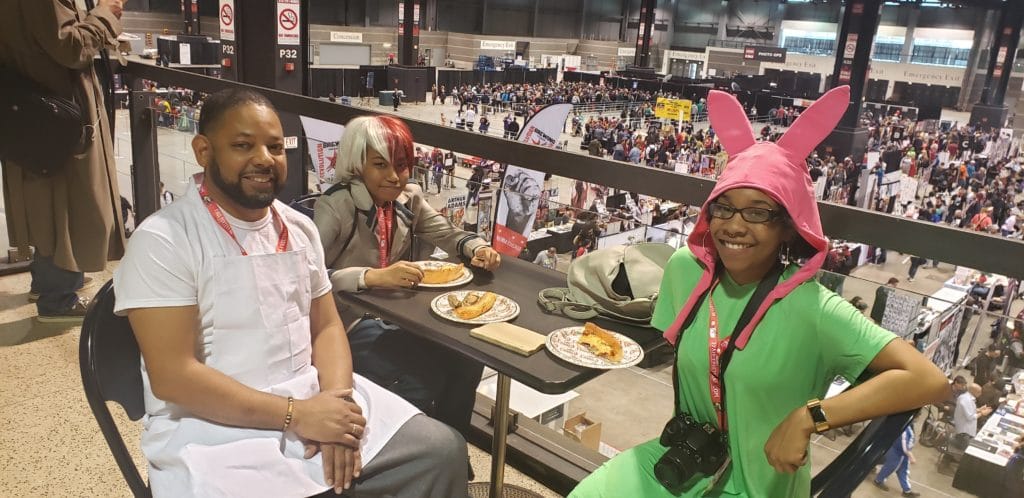 Artists and Vendors
I met several very intriguing blerd vendors who were promoting their own — black-owned — comics and merch. Samal's World publishes a comic entitled Black Villains Matter. The series features only the bad guys. Samal McKneely writes and illustrates the comics. Artist Robert Cook is the colorist for the entire series.
Constance was another vendor who designed her on tees, jewelry, and soon, her own dolls. She also has a Black Panther doll that even I wanted to play with. It's a part of the resale items who also stock in her booth. Look for Ms. Marvel next to Samal's World.
Mark Moran of Chicago is another comic creator and vendor at C2E2 this year. Moran's comics feature the heroes, Conqueror and Conqueress, sibling teenage superheroes who fight bullies and problems as they navigate high school life. They also tackle relationships with parents. Moran uses heroes to highlight the problems that teens face.
The Creative Extreme has brought a whole world, that Christopher Ikpoh created and co-wrote with Steffon Thomas. They rounded up a host of artists to create an entire universe full of characters that he will introduce one at a time. Each character has a fully fleshed out backstory and a dossier of sorts. The first comic to come from this universe is Alpha Initiative Zero: Dossier 001. The comic highlights the mental health of veterans — who are also dealing with nanites and other bioengineered traits. Here's a look at the cover.
Athlita Comics featured artist and former Chicago Bear Isreal Idonije. He was signing comics and taking pics with fans while discussing the latest issue in his series The Protectors.
Royce Adkins discussed his series BioPunks, bioengineered superheroes with disabilities who are fighting a dark entity wishing to harness their individual power cores.
His core characters are people of color who have spinal conditions that the spinal core corrects, Adkins says that series is based on a loved one he wished that he could cure.
I also met the artists of Xigency Comics of Chicago and other artists including Autumn Frederickson, who draws the cutest cherublike fantastic characters and none of them are white. Autumn told us that she only draws white characters when for special orders. Otherwise, her mermaids and bee-riding fairies have the skin tone and features of POC.
Nearby, Ray-Anthony Height is a prolific artist who has worked on a wide variety of books from Wakanda Forever to the X-Men Christmas Special Issue. I watched him work on a drawing of Valiant Entertainment's Shadowman. Not far from him was N. Steven Harris, the artist behind the Wildstorm Michael Cray series.
The Panel Shock
I watched Breckin Myer play games with the audience courtesy Jackbox Games. He was followed by comic writer Tom Seely and Megadeath musician Dave Mustaine as they revealed a new project, a graphic novel based on 35 of the metal group's best-selling songs from the last 36 years. Death by Design is due out June 2019.
The most explosive panel of the day was "Female Fantasy Forward," which was supposed to feature five fantasy writers, S.A Chakraborty, Rachel Dunne, Tricia Levenseller & Alexandra Christo, who were to talk about their careers is speculative fiction. Instead, the women pounced on the lack of diversity in the fantasy realm. At one point, one of the panelists declared that no fantasy world should be populated entirely by POC. Later, when naming their greatest influences, the names were surprisingly Black women.
Ultimately, the all-white panel of woman spent the entire time extolling the need to hire more black women into the fantasy writing worlds, and for white writers to use sensitivity readers when writing a character from another race/culture.
The highlight of my weekend was the "Beyond Wakanda: The Rise of Afrofuturism In Pop Culture and Comics" panel featuring Afua Richardson, Darryl "DMC" McDaniels, Eve Ewing, and Ytasha Womack. The panelists not only expanded upon the idea of Afrofuturism and where it came from, and how important it is to our world today. Daniels gave an impromptu history lesson connecting hip hop to Wakanda and Eve Ewing laid out her journey to tying the type of writing she was doing all along to the term "Afrofuturism", a connection that eventually led to her writing Ironheart, the Riri Williams series. The room was packed to capacity and everyone was riveted.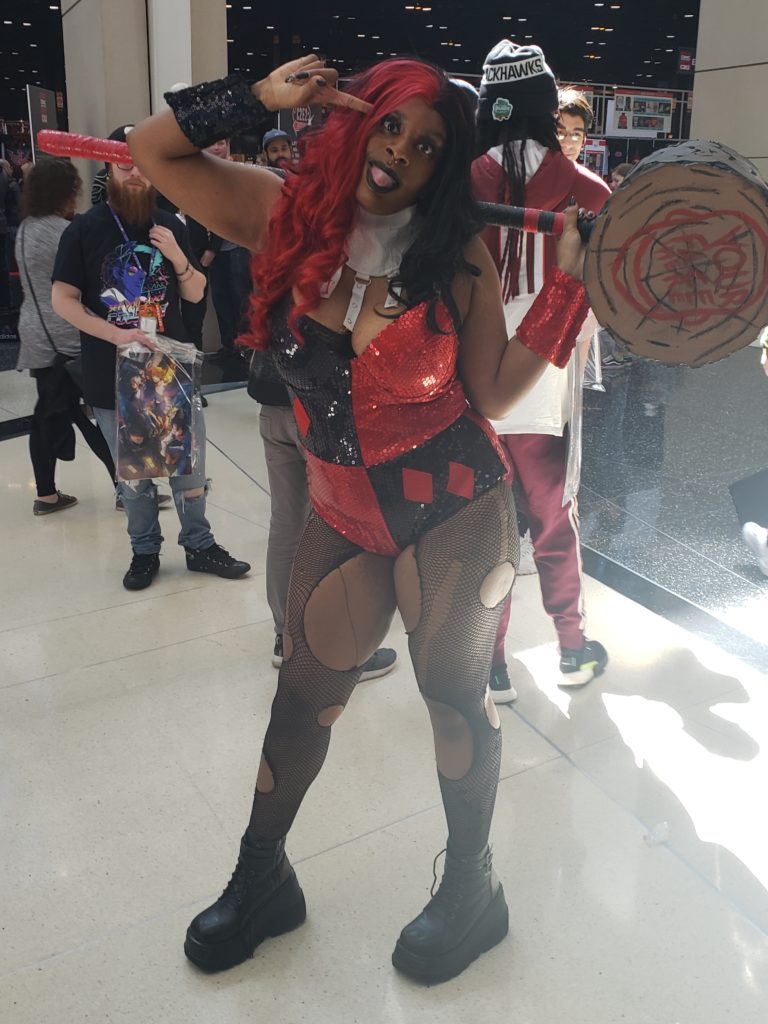 My first C2E2 was an amazing experience that connected me with so many new folks, new characters, and some concepts to consider. I got to interview both Richardson and Daniels on their views of the importance of Afrofuturism, while also hearing the stories of vendors and cosplayers. C2E2 brings people together every year for these reasons and so any more. It was my pleasure to be a part of things in 2019.
Jonita Davis
Jonita Davis is a writer, mother, a certified nerd, and writer of Black Girl Nerds. Davis is a critic and journalist. She has been writing for 13 years about the way pop culture and politics affect our lives as parents, women, black women, nerds, and people of this planet.