Kelly Glass
Kelly Glass is a professional writer and Content Editor of…
Sequels are notoriously huge let downs, but filmmakers have been swiftly turning that trend around. 2018 gave us highly anticipated franchise sequels like Avengers: Infinity War, Black Panther, Jurassic World: Fallen Kingdom, and more. This year is shaping up to be another exciting year for the sequel. To keep you from getting lost in the madness, here's a guide to some of the biggest sequels hitting theaters this year and the prequels you need to watch first.
Unbreakable (2000) and Split (2016)
M. Night Shyamalan put Split in the same universe as Unbreakable, and now we have what is a sequel to both. Glass reunites Mr. Glass a.k.a. Elijah (Samuel L. Jackson) and David Dunn (Bruce Willis) almost 20 years later. Throw in the many personalities of James McAvoy's character, most significantly the disturbingly powerful Beast, and you have a comic-inspired thriller not to miss. 2016's Split is especially key to understanding the plot in Glass.
Glass premieres January 18.
What Women Want (2000)
Technically, What Men Want is a reimagining of rom-com What Women Want. Instead of Mel Gibson as a chauvinist who can suddenly read women's minds, we get Taraji P. Henson as a career woman who can suddenly read men's minds. We'll take it! What Women Want isn't required viewing for this new version, but how else will you be able to declare how much better this one is?
What Men Want premieres February 8.
IT (2017)
The first part of Andy Muschietti's adaptation of Stephen King's IT went on to become the highest grossing horror film of all time, solidifying the return of the Loser's Club for IT: Chapter Two. Get the backstory and meet the young crew who took on the demon clown before they evolve into likely troubled adults in the sequel to this killer-clown horror film.
IT: Chapter Two premieres September 6.
Happy Death Day (2017)
Before your Valentine's Day date with the sequel, find out why this Groundhog Day-inspired slasher horror became such a hit, to everyone's surprise.
Happy Death Day 2U premieres February 14.
How to Train Your Dragon (2010) and How to Train Your Dragon 2 (2014)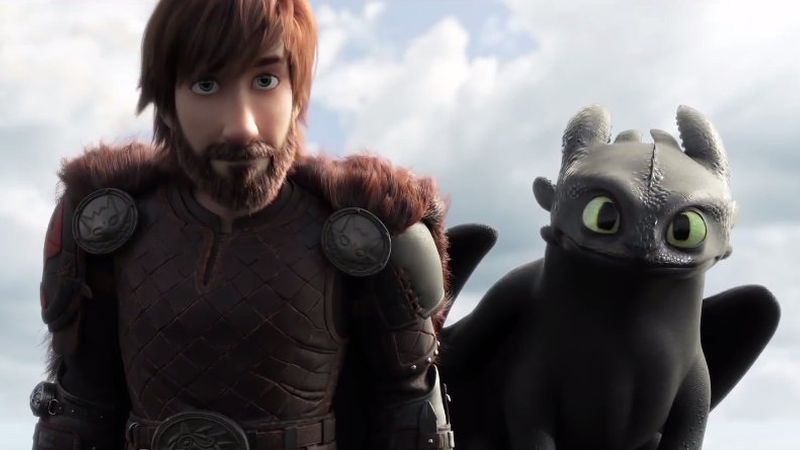 DreamWorks knows how to unleash the waterworks, and the How to Train Your Dragon franchise is the most exciting, bittersweet, animated way to shed a therapeutic few tears. Hiccup and his pet dragon Toothless are friendship goals in the first two installments. How to Train Your Dragon: The Hidden World, brings the franchise back with more relationships, adventures, and discoveries. Don't forget the tissues.
How to Train Your Dragon: The Hidden World premieres February 22.
Godzilla (2014)
If you missed Gareth Edwards' Godzilla, you'll need to watch it before the release of Godzilla: King of Monsters. We suspect the spinoff Kong: Skull Island will come into play at some point in the movie. Alternatively, watch both in preparation for next year's upcoming Godzilla vs. Kong.
Godzilla: King of Monsters premieres May 31.
Star Wars: The Force Awakens (2015) and Star Wars: The Last Jedi (2017)
JJ Abrams' Star Wars story started with 2015's The Force Awakens. This new sequel trilogy will end with Star Wars: Episode IX. This saga ends the most famous film franchise of all time. If you have lots of time and somehow still have a video store in town, go ahead and watch Star Wars (1977), The Empire Strikes Back (1980), Return of the Jedi (1983), The Phantom Menace (1999), Attack of the Clones (2002), Revenge of the Sith (2005) too.
Star Wars: Episode IX premieres December 20.
The Incredible Hulk (2008), Iron Man 2 (2010), Thor (2011), Captain America: The First Avenger (2011), The Avengers (2012), Iron Man 3 (2013), Thor: The Dark World (2013), Captain America: Winter Soldier (2014), Guardians of the Galaxy (2014), Ant-Man (2015), Doctor Strange (2016), Guardians of the Galaxy Vol. 2 (2017), Spider-Man: Homecoming (2017), Thor: Ragnarok (2017), Black Panther (2018), Ant-Man and the Wasp (2018), and Captain Marvel (2019)
Let's be clear, you should have already seen most of these. If not, it's never too late to catch up with the rest of the moviegoing world. At the very least, watch Avengers: Infinity War and Iron Man before Captain Marvel's release. Infinity War's cliffhanger ending will be continued in Avengers: Endgame. Rumor has it that Endgame is in fact the end, wrapping up all the Marvel titles that have come before it. The verdict is still out on whether Spiderman: Far From Home takes place before or after Avengers: Endgame, so watch Spider-Man: Homecoming before just in case.
Captain Marvel premieres March 8 and Avengers: Endgame on April 26. Spider-Man: Far From Home premieres July 5.
Kelly Glass
Kelly Glass is a professional writer and Content Editor of Black Girl Nerds. Her writing focuses on the intersections of pop culture, feminism, parenting, and race.