Warning: Spoilers from Stranger Things Season 1!
Netflix's hit series Stranger Things returns Friday, October 27 and audiences will finally get to dive headfirst into the supernatural drama. The return of Will from the Upside Down, the fate of Eleven (LOVE her), why all this weird stuff is happening in Hawkins, Indiana – so many exciting narrative layers await us. Friday can't come soon enough!
Before I get into my hopes and dreams for Season 2, here's a refresher on what happened on the finale of Season 1. Last time we saw the residents of Hawkins, Indiana, Eleven had just defeated the Demogorgon. The psychic battle between herself and the Upside Down Beast ended with the monster's defeat and Eleven's disappearance. Though Chief Hopper seems to know something about where she might actually be, no one else knows what happened to her. Chief Hopper himself might have sold his soul to the devil in order to help Joyce (Will's mom), Eleven, and the rest of the gang, and Will secretly vomits slug creatures from the Upside Down in his bathroom. All of this happens to a hip 1980s soundtrack and it literally left me drooling for more. Which is why so much is riding on Season 2 — mediocrity is not an option.
The new season of Stranger Things has big shoes to fill and the question remains whether the creators of the series (The Duffer Brothers) can recreate the magic of Season 1. Thus far, the trailers for the new season looks extremely promising (watch here). And with that speech given by David Harbour (Chief Hopper) at the SAG Awards, it's pretty easy to feel hyped. Here's what I'm looking forward to this season of Stranger Things.
I need Eleven to come back, kickass, and eat a boatload of Eggos. 
I admit, Eleven was my favorite character last season. With her incredible telekinetic/psychic powers and her obvious understanding of the supernatural, Eleven was a fascinating protagonist. Last season, her love of Eggo waffles was so endearing that I'm definitely going to snack on the breakfast vittles as I binge watch the show. In terms of her character, I hope to learn more about her abilities. I want to see her come back to her friends and get adopted by Chief Hopper. I really want to know where she's been all this time and what role she will play in sorting out the Upside Down Will issue. I get the feeling that Eleven's storyline this season is going to be the one to watch.
Upside Down Will.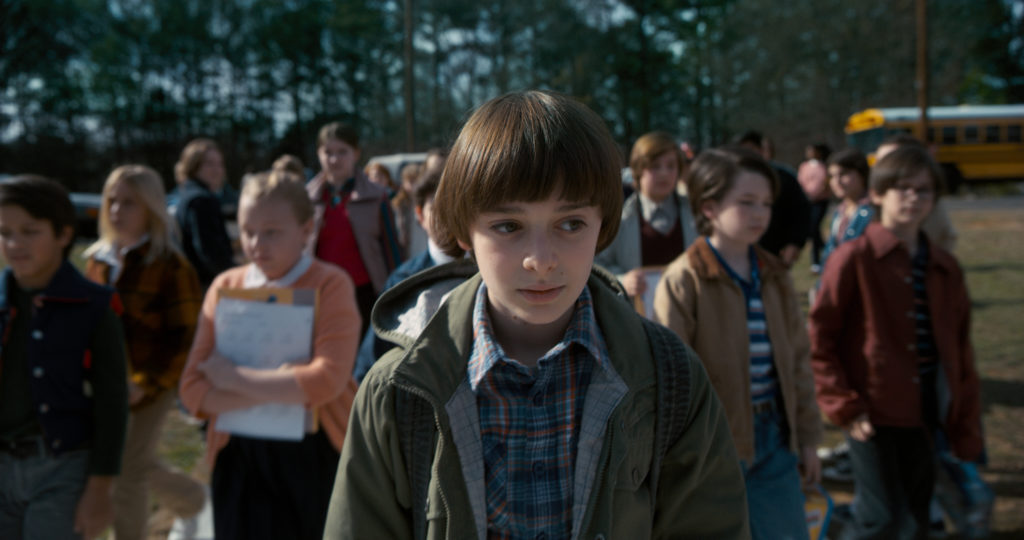 I really need to know what's up with Will, the kid that was trapped in the Upside Down last season. Towards the end of the finale of Season 1, it's revealed that Will still experiences flashes of the Upside Down. He also throws up dimensional slug things and keeps this fact secret from his family. I'm thinking that Will is somehow partially trapped in the Upside Down.  Either that or he serves as some sort of portal between our world and the Demogorgon's world. Another interesting question that will hopefully be answered is whether or not Will is still a human boy, or does he belong to the Upside Down now. Whatever is going on with Will, from the new previews, it appears that he won't be able to hide his secret for long.
What the Hell is this thing?
Every time I see this picture I'm instantly captivated. It's obviously from the Upside Down and it appears to be breaching into our reality. What I want to know is whether or not it's deliberate? Is it just a large beast on par with a whale or something? Is it sentient, and if so, what does it want? What kind of powers does it have? So many questions!
The Sound Track and Visuals
I'm betting that the new season will continue with an awesome music track, busting out jams all us 80's babies grew up grooving to. I love the electronic synthesizers and the otherworldly emo feel of some of the tracks from Season 1, which pair so well with the visuals of the series. The fuschia, the blues, the filters used to give the show its vintage feel allows for its narrative to spring to life in a truly haunting way.
I'm just ready for some 80's magic, how about you?
Jahkotta Lewis
Jahkotta Lewis is a professional archaeologist specializing in Pacific Island archaeology. When she's not documenting historic and pre-Contact cultural sites, she spends her days hiking through native forests, and hanging at the beach with her three beautiful sons and husband. She also enjoys writing short afro-futuristic stories, engaging the Twitter community, and watching/reading all things fantasy and science fiction. See what she's up to on Twitter @jahkotta