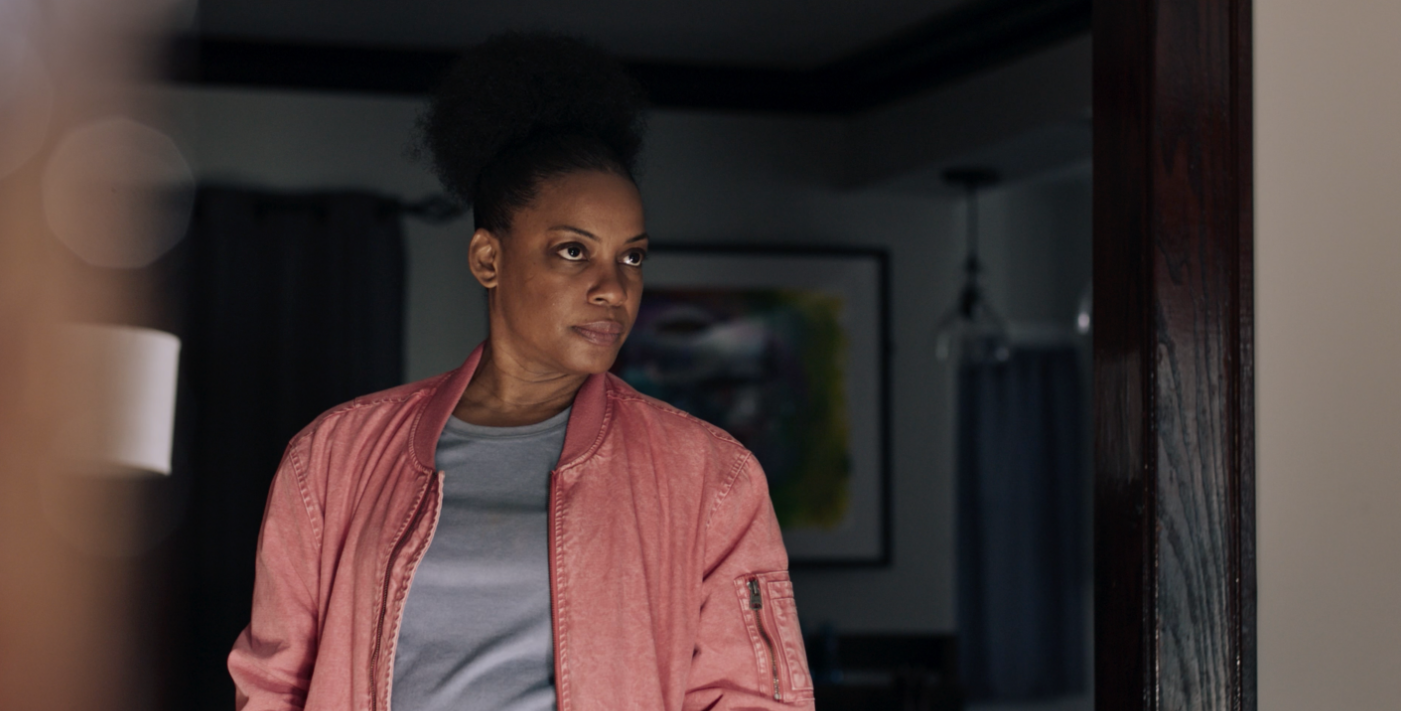 Phil Waterhouse (Jason Biggs, Orange is the New Black) has a thriving career. He's a white documentary filmmaker living in the suburbs with his Latina girlfriend (Anabelle Acosta, Quantico), and his most recent documentary film, The Price of Brotherhood, achieved critical acclaim and financial success. The subject of the documentary, Malcolm (Nile Bullock), a young Black man from Harlem, was brutally murdered by gang members during the shoot and after a blogger's criticism of Phil's ethics, his seemingly perfect world slowly begins to unravel as a stalker with a video camera threatens to ruin his life.
The Subject was written in 2010 by NYC native Chisa Hutchinson (Showtime's upcoming Three Women). The screenplay is nimble, nuanced, and heartbreaking. Hutchinson is a talent to keep an eye on. Her dialogue is so authentic, there were moments where I was totally immersed in the narrative. The film comes alive when Malcolm's single mother Leslie Barnes (Aunjanue Ellis, Lovecraft County) confronts Phil, forcing him to face his actions while examining his ethics.
Although this script was originally written in 2010, it is relevant at any time in America. The story of young Black men being murdered too soon is not new. The story of Black-on-Black violence in America isn't new nor is the story of a white savior swooping in and making money off Black people's pain. The Subject is not a new story, but Hutchinson's perspective of this story is.
On the surface, Phil is an ally. He is comfortable in Black neighborhoods. Every woman connected to Phil is a woman of color. Yet his girlfriend, his new assistant, and Leslie all call Phil out on his inability to really see beyond the facade of his being this wannabe nice guy; they force him to face who he really is. The desire for dominance has been injected into people like Phil for generations. Every Black and Brown person in this film is or has been a resource for Phil. As he seeks to be the white savior, he is only interested in telling the story as long as he can receive the full accolades, awards, and resources to fund his next project. Simultaneously, he wants to believe he is doing the right thing — he needs other people to see him as a good guy. There is a part of Phil that authentically believes he is making a difference, but deep down, he knows his intentions are not pure.
The scenes between Leslie and Phil are the meat of this story. The acting is sublime, the conflict is juicy, and the commitment to the story is simply brilliant. I stopped thinking I was watching these actors, whom I have seen in other films, and was immersed in this interaction between these two people.
Leslie's son was taken from her too soon, and I felt her pain in my bones. In the short time we have with her, the range of her emotions are a near-perfect reflection of how a person can make irrational choices when overtaken by unrecognized grief.
Lanie Zipoy's direction is spot on. Seeing films about Black boys being murdered and their single Black mothers lamenting their death is taxing on my soul. I was suspicious of this film at first. But the difference with The Subject is that it turns the mirror on the question of the exploitation of Black lives. The beauty of this film lies within the truth that it tells: We live in a society where the norm is that white people do things that do harm and they don't necessarily have to deal with the consequences of their actions in the ways that Black people do.
Leslie forces Phil to deal with the consequences of his actions in real-time and with extreme urgency. Phil's girlfriend and Leslie both name his hypocrisy and hold him accountable. Biggs' portrayal of Phil is spot on. He realistically plays all of the levels of white male entitlement perfectly. The only way he is able to see the actual monster within is when Leslie forces him to take a look at himself truthfully.
From a strictly technical standpoint, I loved the range of camera work used to tell this story. Four different cameras were used to shoot the film — one for each of the documentary films within the film, the narrative camera, and the stalker's camera. The Subject made me think, made me angry, and made me want to fight for justice. I'm so happy to live in the world at a time when Black female filmmakers, directors, writers, and crew are able to tell stories from our perspective.
Phil is the kind of progressive white guy many of us tolerate. It's refreshing to witness Phil having to deal with the unpleasant consequences of his actions and to be held accountable. Per the film's issued press release, Chisa Hutchinson sums up her script perfectly stating, "This is a film about all the nuanced little ways in which notions of supremacy distance white people from other humans. It's a long ramp with a barely perceptible incline that ultimately leads to someone standing by and watching while a Black person is killed. Or maybe even doing the killing."
The Subject opens in theaters in LA, NYC, Boston Seattle, Detroit, and across TVOD/Digital Platforms beginning October 22, 2021. AppleTV/iTunes pre-order link: https://apple.co/3A3EEYe
Where to follow the film and its journey:
Website: www.thesubjectmovie.com
Facebook: @thesubjectmovieny
Instagram: @thesubjectfilm
Twitter: @thesubjectfilm
Jeanine T. Abraham
Jeanine is a Writer, Actor, member SAG/AFTRA, AEA, Podcast host, Producer, CEO VisAbleBlackWoman Productions, Certified Health Coach and Conscious Dance facilitator. Jeanine's mission, centering Black women's stories to preserve our legacies.