It's been five years since Pretty Little Liars ended, but the series lives on with a strong fanbase. This month, we'll get the new HBO Max Original Pretty Little Liars: Original Sin, but what do PLL fans watch until then?
Since 2019, all seven seasons have been available to binge on HBO Max. As much as we love returning to Rosewood, sometimes it's worth venturing out. Teen dramas like Riverdale, Gossip Girl, and Revenge are all full of shocking betrayals and dark secrets.
But if you're looking for something a little darker, funnier, or just different, check out the list below.
Cruel Summer (2021-)
This Freeform series follows the chaotic lives of two girls across three timelines: 1993, 1994, and 1995. It begins with the disappearance of popular teen Kate Wallis — the classic missing girl storyline.
But when her classmate, formerly awkward Jennette Turner, glows up and takes Kate's place — including inheriting her posse and dating her boyfriend — some people get suspicious. Cruel Summer is a show that completely took me by surprise with its addictive story and stellar acting. Plus, there are plenty of 90s jams blasting throughout the ten episodes. Even though it's not as eclectic as PLL's wardrobe, the fashion is on point.
Where to Watch: Hulu
Yellowjackets (2021–)
Speaking of the 90s, Yellowjackets alternates between 1996, when the plane transporting a girl's high school soccer team to a tournament crash lands in the Canadian wilderness, and 2021, when the survivors have to deal with the lasting trauma. Having gone their separate ways, four receive cryptic messages that put them on edge. Murder, blackmail, teenage love, adult love, unresolved trauma, and implied cannibalism are all the ingredients for your next binge watch.
Where to Watch: Showtime and Prime Video
Only Murders in the Building (2021-)
Only Murders in the Building is the only comedy on this list, but it has plenty of mystery. True crime buffs will relate to Charles, Oliver, and Mabel. The amateur sleuthing trio all reside in the Arconia, a luxury apartment building in New York.
When one of the residents is found dead one night, they take it upon themselves to solve his murder, which was already ruled a suicide. They start their own true crime podcast to document the investigation and eventually gain a following. Those looking for a cozy viewing experience that still offers twists and turns will love Only Murders.
Where to Watch: Hulu
Ragdoll (2021-)
Lucy Hale has landed some big roles since her time as PLL's own Aria Montgomery. In this psychological thriller, she plays Lake Edmunds, a former LAPD officer who transfers to the UK to be a detective constable (DC). Edmunds works on a disturbing case that involves a serial killer who dismembered multiple victims and reassembled them as one body — aka The Ragdoll.
The further they get into the investigation, the more the unknown killer starts to taunt them, particularly the unstable Detective Sergeant (DS) Nathan Rose. Hale shows off her range in this role that she apparently had to fight for. Speaking about her character, she told EW: "She's definitely a lot rougher around the edges and edgier than a lot of the characters I've played. But I knew that I could do it." And she did.
Where to Watch: Prime Video
Sharp Objects (2018)
Based on Gillian Flynn's novel of the same name, St. Louis crime reporter Camille Preaker is sent to her hometown of Wind Gap, Missouri to cover a murder case involving young girls. Haunted by her past and painful childhood, Camille is an alcoholic, still struggling after her stay at a psychiatric hospital.
Despite the contrast in setting, suburban Pennsylvania versus Southern Missouri, Rosewood and Wind Gap have similar small-town gossip and dark secrets. Overbearing perfectionist mothers, entitled queen bees, false accusations based on appearances, secret hookups, and a murder mystery, Sharp Objects has it all. There's even a whole dollhouse motif; something that PLL fans are very familiar with.
Where to Watch: HBO Max
The Haunting of Bly Manor (2020)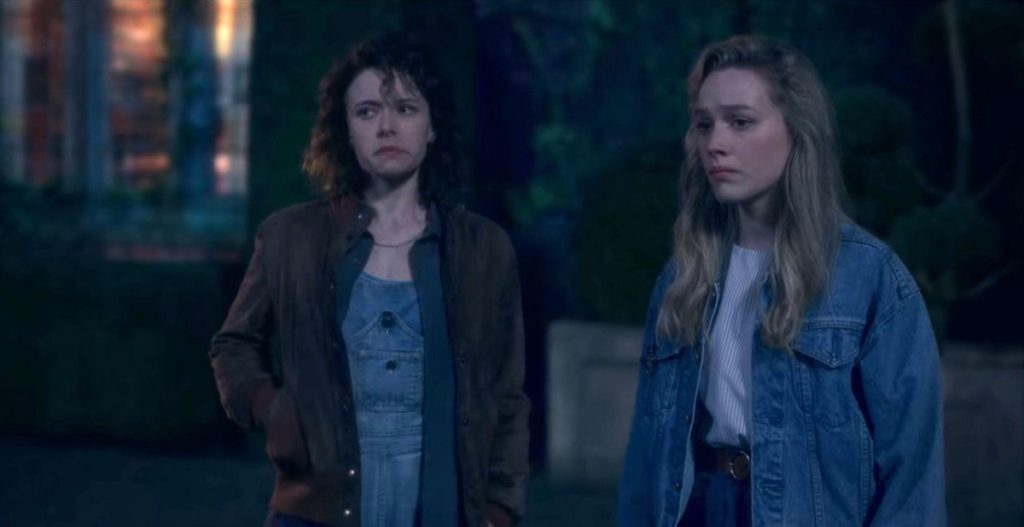 If you're looking for some romance, tragedy, and gorgeous scenery, this Mike Flanagan miniseries is for you. Following the equally chilling and heart-wrenching The Haunting of Hill House, Bly Manor tells the story of a young au pair, Dani, and her new gig at the titular ghostly grounds. PLL loved a good ghost story. Though it has some moments of levity with Dani's adorable awkwardness and Owen's endless food puns, it's an emotionally heavy series that will have you shrieking, laughing, and sobbing.
Where to Watch: Netflix
The Order (2019-20)
Here we have another casualty of Netflix's trademark abrupt cancellations. Though it was cut short after two seasons, the horror drama followed the forever-long rivalry between Belgrave University's resident werewolves, the Knights of Saint Christopher, and witches, the Hermetic Order of the Blue Rose. It's got forbidden romance, cult-like ceremonies, and various supernatural mysteries. There's also the legendary scream queen Katharine Isabelle as the university's chancellor with a high-ranking position in the secret society.
Where to Watch: Netflix
Cassondra Feltus
Cassondra Feltus is a St. Louis-based freelance writer best known for film, television, and pop culture analysis which has appeared on Black Girl Nerds, WatchMojo, Mental Floss, and The Take. She loves naps, Paul Rudd, and binge-watching the latest series with her two gorgeous pups – Harry and DeVito.