Guest Blogger
BGN works to feature strong, unique content from writers who…
Written by: Tai Gooden
Comic book and geek culture enthusiasts came together on May 13th and 14th for the 3rd annual Tidewater Comicon. The Virginia Beach-based convention has experienced exponential growth in three years with over 20,000 people in attendance. Tidewater Comicon (TWCC) boasts a guest roster of actors, artists, and professional wrestlers, but the convention continues to focus on the attendees with fan-run panels, an expansive dealer's room, and a strong focus on cosplay.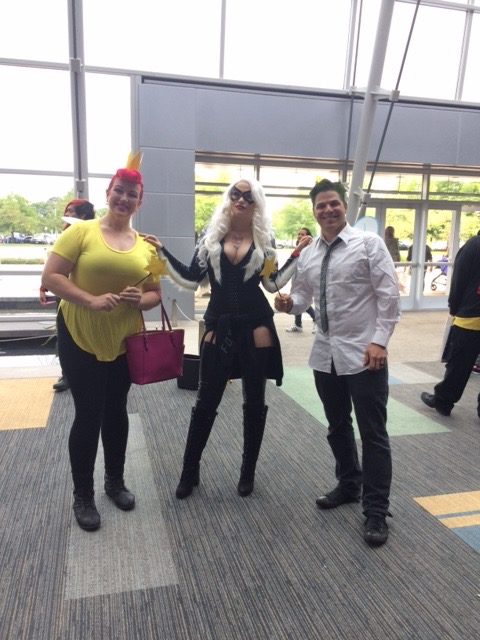 All Image Credit: Tai Gooden
Doctor Who: 12's Last Season
Panelists Bryan, Ben, and Jenny casually chat about Doctor Who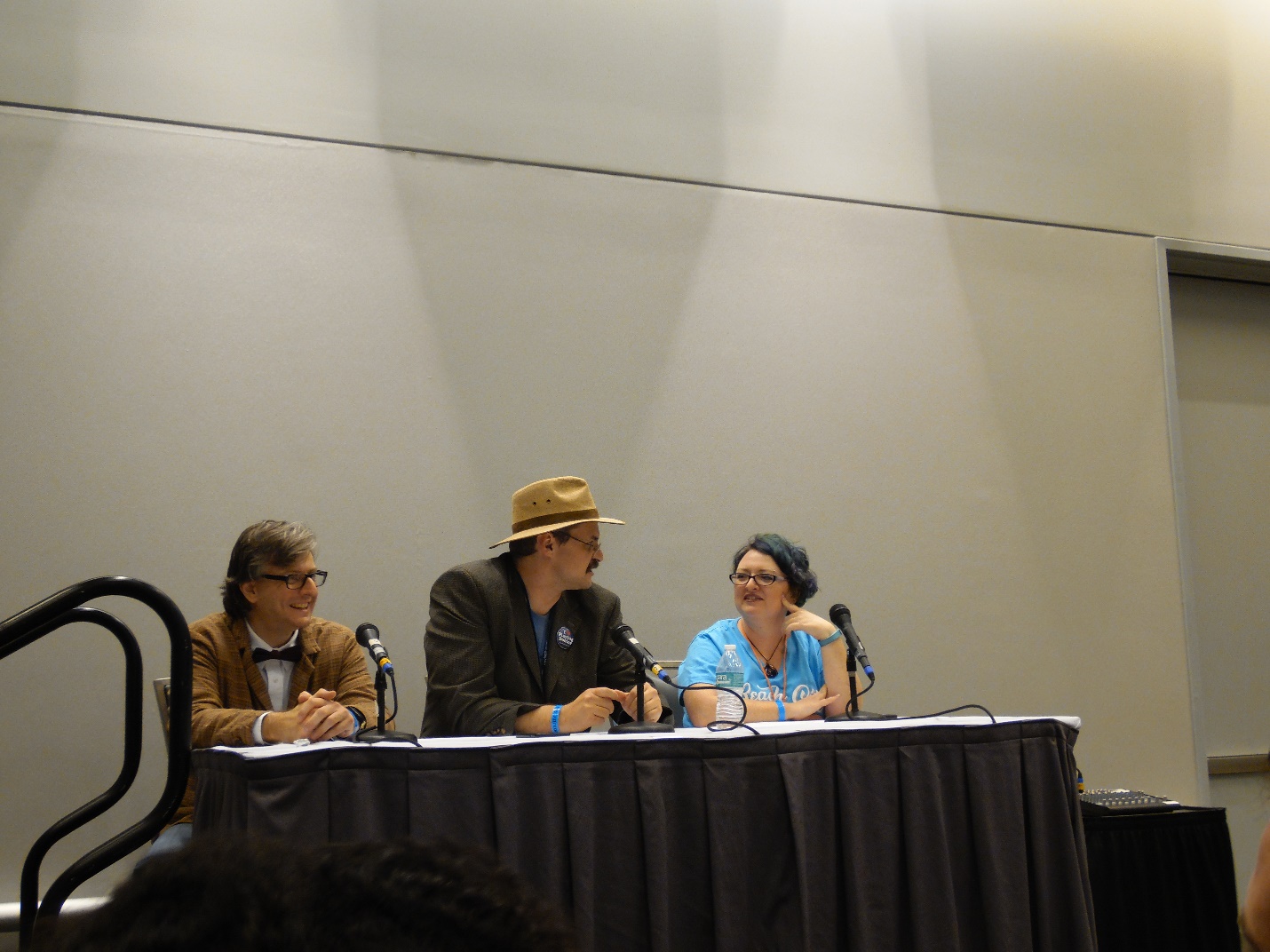 Photo Credit: Tai Gooden
Almost every multi-genre convention has something for Doctor Who fans – even if it is just a TARDIS (or, in TWCC's case, three) for a quick photo opportunity. TWCC gave Whovians a chance to get together and chat about the current season of the show. The conversation was bittersweet as fans praised the chemistry between the Doctor (Peter Capaldi) and companion Bill Potts (Pearl Mackie) while lamenting the impending regeneration of the Twelfth Doctor. Ben agreed with the audience about season 10's thrilling storylines and thought it was some Capaldi's best moments during his tenure. He also said Bill Potts had quickly become one of his favorite companions. Jenny agreed but thought the writing wasn't quite up to par with Capaldi's impeccable acting chops. Ben was hopeful about Bill being a bridge companion to smooth over the transition to a new Doctor and showrunner. The panel agreed that a "clean slate" was a possibility, particularly as it was done when the Eleventh Doctor made his debut in "The Eleventh Hour."
Of course, the mysterious vault was discussed with the crowd as everyone tried to guess who The Doctor had locked in there for 70 years. The most popular choices were a version of the Master, the Rani, the Valeyard, and the Doctor's granddaughter Susan Foreman. Ben hoped Susan would make a return this season or the Rani would have a chance to encounter Missy. An audience member was hopeful about the Sixth or Seventh Doctor making a television return, but Ben noted that both Doctors have said they are done with TV canon. I mentioned Big Finish audios as an excellent way to experience new adventures with those Doctors.
Everyone seemed skeptical about Thirteenth Doctor rumors and preferred to be surprised by the forthcoming announcement. There was some contention in the room about whether the next Doctor should be played by a woman with several audience members disagreeing with changing the Doctor's sex. Panelist Bryan agreed with them and thought there was nothing wrong with the Doctor "just being a guy" and said it didn't seem necessary to change his gender. However, he did say he enjoyed the Master's regeneration into Missy. Jenny believed the gender change was easier to do for the Master because he is not as iconic of a character as The Doctor.
Like the TARDIS, the panel veered a bit off course with conversations about the best jumping on point for new Doctor Who fans and thoughts about how a person's first episode affects their perception of the show. Jenny said a fan's first episode made a strong imprint and used her experience as an example. She came into the fandom through Tom Baker (Fourth Doctor), so in her mind, he will always be THE Doctor. The panel agreed that the "Eleventh Hour" was a great jumping on point for fans because it was a clean slate and explained enough about The Doctor to help viewers begin to grasp the complex concept of the show. Audience members also said they got the same vibe from season 10 opener "The Pilot." Jenny thought the best place to hop on for new fans would be "Rose" – the first episode of the modern series.
The panel ended on a comical note with the room drawing a parallel between Doctor Who and Cartoon Network's Rick and Morty. Bryan said Rick is like the terrible truth of the Doctor. The traveling elements with Morty acting as Rick's companion (and moral compass) and Rick's eccentric behavior made the comparison seem plausible.
Liking Things Is Okay: Positivity in Nerd Culture
Panelists Matthew Montoya, Whitney Brundage, and Cody Holock
Image Credit: Tai Gooden
This panel was designed to reinforce that there are no benchmarks to cross to be a fan, it is okay to (dis)like something, and to respect other's choices to engage (or dislike) a particular TV show/comic/book/movie, etc. The panelists started off by doing a poll to see who liked Batman vs. Superman and if they had gotten backlash from their friends for their "unpopular" opinion. They also used D&D of an example of how ridiculous hierarchies in fan groups can cause an argument. Matthew was told if he hadn't played a specific edition of the game he was not a real D&D player. He also talked about how Tumblr had turned into a cesspool of hate and made it hard for him to enjoy Steven Universe. Whitney said many people in the Steven Universe fandom were friendly people but, like any other fandom, there is always the small subset of terrible people who manage to be the loudest group.
The conversation turned to the never-ending Marvel vs. DC debate as the room discussed Suicide Squad. Several people in the audience thought the movie was a fun time while a few admitted to not seeing the movie because they were not interested in it at all. Whitney believed that people have preconceived notions about certain properties and look for reasons to nitpick because of their allegiance to either DC or Marvel. She also thought positivity didn't mean a person couldn't hate or have valid critiques of a body of work. And, if someone is morally offended by something, it is not an opportunity to force them to change their mind. An audience member agreed with her and said people are just toxic. Most Internet trolls are people who don't like anything but an argument, so it's not always worth the energy to engage their comments.
The panelists ended the conversation by saying there are no requirements to meet to be an "authentic" fan. A person doesn't have to read every comic book since 1965 or watch every movie to be a fan. And, a person critiquing something they love doesn't mean they are not "loyal" to their fandom. If anything, it means they care enough to want it to be excellent.
Tidewater Comicon had a successful 2017, but they aren't done with the Hampton Roads area yet. On October 21st, they will come to Hampton, VA for Hampton Comicon. Check out their Facebook event page for the latest information about passes.
Guest Blogger
BGN works to feature strong, unique content from writers who speak to our niche. If you are interested in having your work highlighted contact jamie@blackgirlnerds.com to be featured as a guest blogger on the site.