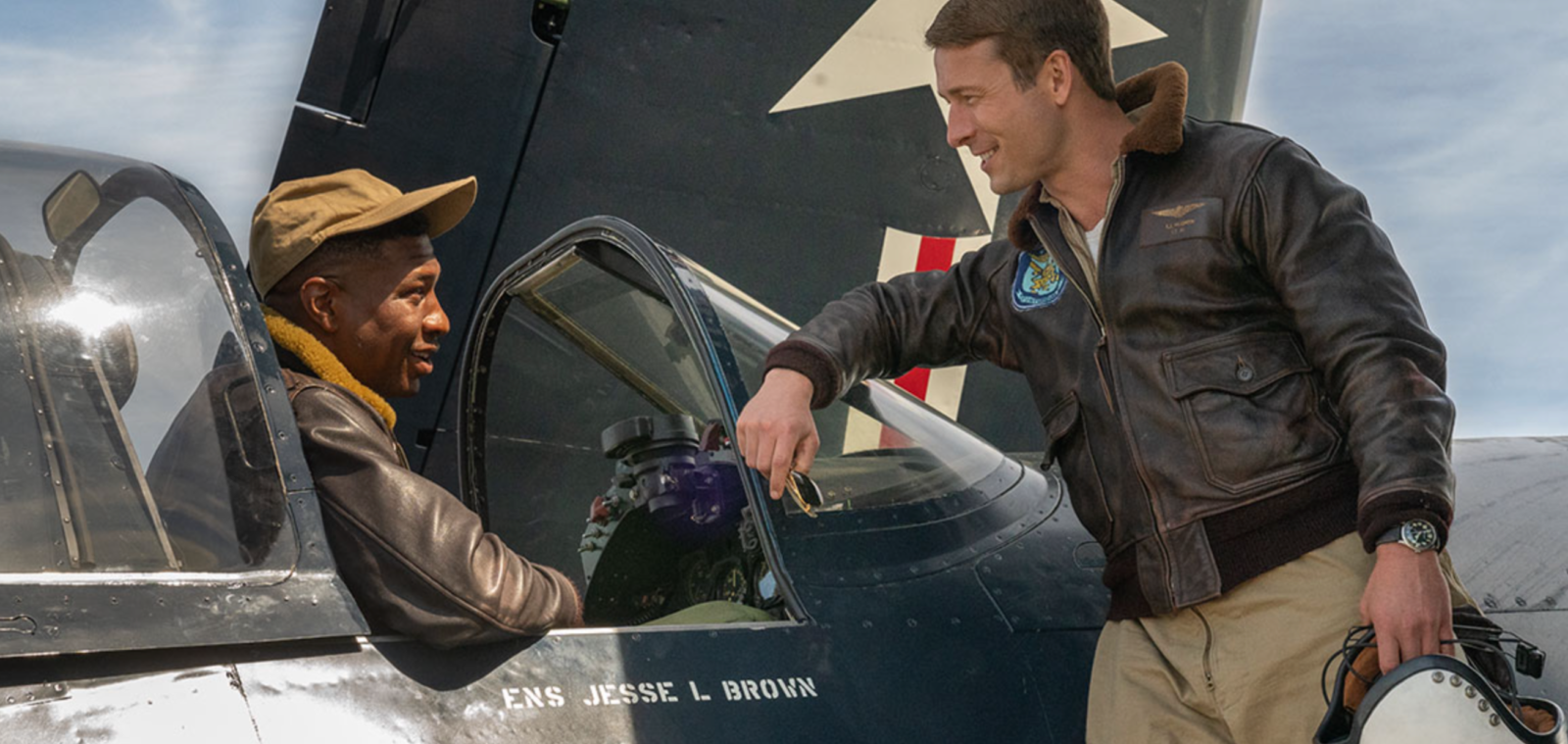 Jamie Broadnax
Jamie Broadnax is the creator of the online publication and…
In the same year that Top Gun: Maverick grossed over a billion dollars worldwide and is Tom Cruise's highest grossing film to date, there's still room for yet another aviator story with heart. In this case, the story of Devotion cannot be compared because it's not rooted in fiction. It stems from the real life story of Jesse Brown — the first Black American naval aviator.
The Sony Pictures film Devotion, directed by JD Dillard (Sleight) tells the story of two fighter pilots Jesse Brown (Jonathan Majors) and Tom Hudner (Glen Powell) and their friendship within the confines of navigating race, fighting a literal war, and learning to trust themselves as well as each other as they work in the armed forces.
Devotion is an impactful tale about truth, valor, honor, and sacrifice among wingmen. The setting of this narrative takes place in the '50s, but it is a message that still needs to be indelibly printed in the minds and hearts of our politically polarized society today.
Jesse is a family man, and we meet him, his wife Daisy (Christina Jackson), and his little girl. He lives a nice quiet suburban life and wants only the best for his family. We also understand through the psyche of Jesse that his racial identity does not define who he is. When journalists stage an opportunity to use his race as a method to sell a news story, he doesn't take the "clickbait" (pun intended). While the photogs ask questions about what it's like to be a Black pilot, he answers with what his experience is just being a pilot. 
Tom Hudner, who is a lieutenant commander in rank, is very loyal and dedicated to Jesse, so much in fact that he spends time with Jesse's family. Hudner says the best way to get to know your partner is to get to know who he cares about the most.
What is pretty remarkable about this group of pilots is that there is a beautiful camaraderie between all of them. It's as if they've all been friends for quite some time. Of course Tom and Jesse have the closest relationship, but they each get along quite well as a corp unit. However, not everything is perfect and pristine with these relationship dynamics. There are a crew of soldiers who serve in the army who do not like Jesse and are flat out racists. At every turn make it very clear to let him know he's not wanted.
When those interactions occur in various scenes, Tom comes to Jesse's rescue. However, in a moment overseas in Cannes, France, during a brawl at night after some heavy drinking, Jesse refuses Tom's aid. It's at this moment we see that while Jesse is a man who understands that Tom is a good loyal "ride-or-die" kind of friend, not every battle is necessarily his to fight. And he can't always be there to save Jesse as well.
As always, the performance of actor Jonathan Majors is absolutely incredible. He's been a breath of fresh air on celluloid since I witnessed his performance at Sundance in the film The Last Black Man in San Francisco. Majors has a way of providing so much range and depth to each and every character he plays. As Jesse, we get to see the weaker parts of who Jesse is and heroic parts of who he is. Not every actor can achieve this, and Major nails it flawlessly.
The sweeping score of this film is beautiful and will linger and resonate with you long after watching it. The composition is well done and works well during the film's highs and lows. There were some pacing issues in the second act of the film, as the movie was focusing on more story building and exposition. There was a bit more time spent on Jesse's home life than I would have preferred, which I can only assume was to help provide a bit more development into his character and create more depth into the psyche of who this man is, but in my opinion those scenes could have been better off on the cutting room floor.
I think more scenes with Jesse and Tom would have served a better purpose given the fact that ultimately, at its core, this film is about the devotion between these two men. However, that nitpick aside, I think this film is well done in terms of direction, writing and acting.
Sony Pictures releasing Devotion on November 23 (Thanksgiving weekend) is an excellent choice since this is a family film. The message is quite universal and has cross appeal so releasing it around the holidays is certainly ideal. We all need a wingperson in our lives. This is a film worth devoting your time to this year.
Devotion made its World Premiere at the 2022 Toronto International Film Festival this week and will release in theaters nationwide November 23.
Jamie Broadnax
Jamie Broadnax is the creator of the online publication and multimedia space for Black women called Black Girl Nerds. Jamie has appeared on MSNBC's The Melissa Harris-Perry Show and The Grio's Top 100. Her Twitter personality has been recognized by Shonda Rhimes as one of her favorites to follow. She is a member of the Critics Choice Association and executive producer of the Black Girl Nerds Podcast.