Guest Blogger
BGN works to feature strong, unique content from writers who…
If we learned anything on Once Upon a Time this week, it's that the Black Fairy is very much like the Evil Queen. I am a little disappointed by that revelation. I expected the Black Fairy to be much more ruthless and sinister. So far, everything she has done, I can visualize the Evil Queen doing them as well.
The epic battle between savior and evil is quickly approaching. We have been warned: we may not like what we see. According to the last author, Isaac, we should run away and never look back because we won't like what's coming. The revelation leading to this announcement of an epic battle, was that Gideon was being controlled by the Black Fairy who had taken his heart. I think Gideon is a great villain. He has a likable quality that made his act of tricking and almost killing Emma, very surprising. I really thought he had changed!
Now I feel bad for Gideon. He is stuck, unless someone realizes that he is missing his heart, and perhaps the Black Fairy is to blame. There should be some type of warning or sensitive magic alarm that lets you know who is missing their heart. Rumple and Belle are going to continue having a hard time convincing Emma and Snow, their son is truly good and has not blackened his soul. Part of me is super intrigued when it comes to what the Black Fairy can bring to the table beside dark curses. I want to see how truly bad she is. The other part of me worries for our heroes and hopes no one on the hero squad dies.
Meanwhile, in another realm, Killian and Blackbeard gave a much-needed release of the tension in Storybrooke. Those scenes made Once seem fun again. Killian showed that he could still hang with the big boy pirates, while still being a good guy. That fact that his magical bean took him to Neverland is awful, but I also wonder how bad can it be with Peter Pan dead and gone.
With the end nigh and the Black Fairy in Storybrooke, this means a tough battle for our heroes. Since Regina can't break the twisted sleeping curse on the Charmings, I wonder who will play a part in the epic battle. I still have hope that Emma and Killian will reunite and get married, hopefully by the end of this season.
I am excited for the next episode. Bring it on Black Fairy.
Make sure to catch up on everything Once, on Sundays, only on ABC.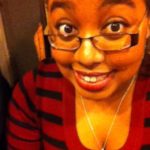 Catalina Combs is an aspiring film critic from California. She loves reading, writing, film, baking, music, drawing, traveling, Disney, and playing soccer. Her life usually revolves around all of these and her family. The oldest of six, Catalina tries to set a good example for her siblings. She graduated from Santa Clara University in 2010 with a BA in English Creative Writing and is pursuing an MA in Film. I also blog on WordPress and contribute to the website Examiner.com. Twitter- @tiggercraze | Facebook- Cat Combs | Instagram: @tiggercraze
Guest Blogger
BGN works to feature strong, unique content from writers who speak to our niche. If you are interested in having your work highlighted contact jamie@blackgirlnerds.com to be featured as a guest blogger on the site.