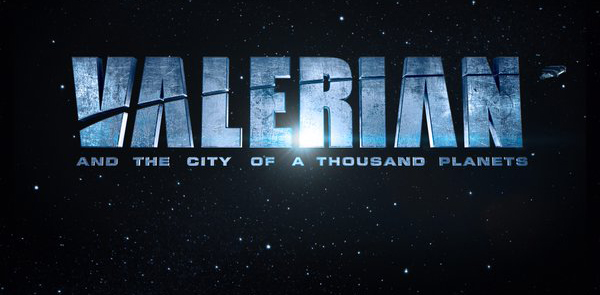 Written by Cat Combs
I have spent years reading DC and Marvel comic books—since I was a kid. Upon learning of a new film being released based on a graphic novel called Valerian and Laureline, I did some digging to see what I could find. I had never heard of it. But upon reading of space adventures with a dynamic duo…I was intrigued. When I realized the man who gave me The Fifth Element was in charge of this production, I knew I had to see what Valerian and the City of a Thousand Planets was all about.
Two days after seeing the film, I attended a press conference in Beverly Hills at the Four Seasons. I got my chance to learn what went into such a marvelous production. Luc Besson, the director and screenplay writer, was present along with the stars of the film, Dane DeHaan and Cara Delevingne; they were ready, willing, and excited to talk about the incredible experience they had filming.

The amazing Besson has summoned the visual effects style of James Cameron's Avatar and created a world all his own. Valerian is a colorful rollercoaster ride through space, with Valerian and Laureline at the helm.
In a bright, stunning, and somewhat world peace vision of a film, Besson has combined his passion for the Valerian graphic novels with the advancement of film technology and created a one-of-a-kind 3-D trek through space that has captured the novelty and brilliance of this generation's film scene.
Valerian will capture hearts and turn heads because "the visual effects are so incredibly, mouthwateringly overwhelming," as put by actress Cara Delevingne who plays the smart, strong, and fearless Laureline. Fortunately, it all works well, from the extraordinary special effects to the actors who seem to embody their characters with style.
Like the graphic novels from which it comes, the film centers on the characters Valerian and Laureline and their adventures among a variety of alien species. In this story, Valerian and Laureline must find and disable the threat to Alpha, a giant metropolis, and home to more than a thousand species. Valerian is played by the dashing Dane DeHaan who seems to be everything Besson was looking for in his Valerian.
"He's obviously not Schwarzenegger, and it's a different kind of a hero. Maybe a little bit more European, in a way more fragile, more, you know, kind of different. Sometimes he's even spoiled, or pretentious a little bit. But I like that. I really love that from the character." –Luc Besson
Valerian is your classic hero who is a bit of a lady's man. He's kind, brave, and determined.
Dane embodies Besson's version of Valerian with ease. He just oozes charisma. The film's "coupley" moments between Valerian and Laureline are somewhat fun to watch because they differ from your usual hero movie moments. Besson wanted to portray something real on camera between his characters. "The woman is in charge and we pretend we are," he says of real life. "I want to have this flavor. Like this little tiny story of this real couple in a totally, incredible, amazing story in space…I want the salt and the sugar in the same story."
Cara, although not very consistent, does a pleasant job of embodying Besson's version of Laureline. We all know how great of a job Besson does with his female characters. Directing or writing, his action females are always tough, skilled, and complex. Some of my favorite characters derive from The Professional, Lucy, and Colombiana. Although seeing such powerful women in films should be normal, it's not. I commend Besson for his strength in showcasing diverse films with strong females. Here's what he had to say on the matter:
"I think it's normal. The way I see it is, I think that in the 70s and 80s that movies were totally on the men side, and it's not fair. I pay exact same attention, believe me, to the female part as to the male part. Exactly the same. So, I don't see any difference. In fact, for me, you make the difference because most of the other films, it's really "Hasta la vista, Baby" and that's it. The Girl is in the back, crying, "When are you coming back?" Uh, that's not my vision of a relationship between men and women. And, maybe I was raised a certain way that was lucky enough to see that they are both very strong. And so, same attention for me." –Luc Besson
For the body of the film, the story is great but the dialogue is a little excessive. There are times when Bubble, Rihanna's character, as gorgeous as her scenes were, would just babble on and on. There needed to be more quiet moments amidst all the active special effects and colors. Besson strives to keep us engaged for the entire 2 hours and 17 minutes when he should let us marvel at the cinematic universe he has created on screen—it's truly gorgeous.
The fast pace of the film can get a little overwhelming at times, but I can see the love behind the film due to all the fleshed-out details. As Cara put it, "the detail of the sets that were made was so incredible. I never wanted to leave. Like, just discovering all the kind of different moments was really special."
If you want to check out more of the world of Valerian, download the mobile game Valerian City of Alpha from Spil Games, available 7.12.17
Riddled with familiar faces and voices from Clive Owen and Ethan Hawke to John Goodman and Herbie Hancock, Besson pulled out all the stops in his repertoire. But, amidst the glorious display of space and its inhabitants, these players get a little drowned out.
Despite the collection of little things wrong with this film, I hope audiences give Valerian and the City of a Thousand Planets the chance it deserves to be a hit at the box office. Seeing it in 3-D is more than necessary. The color, the magic, and the wonder of space are presented through the lens of a brilliant director whose passion for Valerian and Laureline makes this film easy to watch for kids and adults alike.
Valerian and the City of a Thousand Planets lands in theaters on July 21, 2017.