Afiya Augustine
Afiya Augustine is an eternal student and dreamer from Brooklyn,…
I must admit that I knew nothing of virtual reality aside from the overall concept — and whatever I could remember of that 1995 film, Virtuosity, starring Denzel Washington and Russell Crowe.
And it's for this reason, I wasn't sure what I was getting into when I attended the ViacomNEXT — the emerging technology group for Viacom —  event, "Night of Virtual Reality," in New York City this December.
Upon entering the venue, I was met with several stalls of along two walls, divided by long, black drapery. At each station, were several engineers with their computer monitors and screens, setting up their devices.
I decided to partake in a drink while engineers continued to set up and make a few last-minute adjustments to their projects.
One set that was completed was the forthcoming Smash Party VR game. Though I didn't take the plunge with the game during the more quiet time, I was able to watch other attendees jump into the game.
After circling the room for a bit, I began to get the hang of what to expect: guests would be fitted with an HTC Vive headset and given one or two controllers and then prompted into playing a game or participating in some virtual world.
The first VR experience I had was a musical one with Withdrawal.
I was told by ViacomNEXT creative director David Liu if I loved music, I'd really enjoy the Withdrawal VR and as an avid fan of music, I decided to try it.
With my special eye gear fitted on my head, I was then given a pair of headphones to tune in. In moments, I was transported into a virtual sound studio where I was accompanied by recording Max Frost. There were five of him, each playing a different instrument, and each singing along to the song, "Withdrawal."
Billed as a "volumetric music video beta" and "new take on live performance," I found myself enjoying the song more than anything. The visuals were on par, but could definitely use a bit of work and there was no interactive component. Viewers were forced to stand in a circle in the sound studio as the entertainer bopped, and danced around.
Despite the inability to interact with the jam session, I did instantly see the potential for this kind of VR. I could imagine huge musical acts like Beyonce capitalizing on this for fans who are unable to fork out tons of cash to see her perform live opt out for a virtual one-on-one concert with Queen Bey before their eyes — obviously, for a fraction of the cost.
After Withdrawal, I once again glanced around the booths to see what was available. By this time, more guests have been pouring into the event and lines had begun to form around various VR booths. While peering at yet another person engaged in the Smash Party, I was ushered to play the game next.
It was explained to me that Smash Party is a collaboration with animation company Titmouse (the Emmy award-winning animation studio behind Nerdland, Metalocalypse, Superjail!, Venture Bros), which had actual "smash parties"; the company would have a room filled with objects that its employees would go into and break with a barb wired baseball bat to de-stress. Apparently, the smash fest got so huge, the company moved the smash fest from a room to the garage of their building and made it an annual party where all the employees could join in.
And now, everyone can get in on the fun with this VR experience.
In Smash Party, participants are placed in a cage with a slew of colorful, cartoonish bystanders hovering around. Just when you think you're about to cage fight, you're really given 60 seconds to smash the hell out of objects that appear out of thin air.
I was yet again fitted with a pair of HTC Vive goggles and headphones and handed a remote, which simulated a hand. There were several glitches when I first started to play the game wherein the virtual hand would not appear, nor grab the baseball bat needed to play. However, a few minutes later, I was finally dropped into the raucous party of people crowded around me to just break things.
The game was a 360-degree experience pumped with sound and visuals. The ghoulish-looking crowd roared and cheered as I whirled around, smashing vases, plates, cups, commodes, and anything else in my way.
At one point, a side of the cage dropped down and a character stood like a pitcher at a mound, hurling items my way. You must break them in order to rack up points — and cheers from the audience.
As the clock dwindled down, it became a frantic mad dash to smash as many things as possible before a bonus round saw the ground dropping out beneath me while I stood on a metal beam. From the darkness, more breakable items popped up looking to be bashed to smithereens.
Once you get past the idea of looking rather foolish in reality for swinging your arms aimlessly, this game can be nothing short of fun and therapeutic.
By this time, lines started to form around the remaining VR games, which included something called Chocolate (that press/media were not allowed access to), and Melody of Dust.
Since I couldn't get access to Chocolate, I waited on line to play Melody of Dust, a "musical world featuring original compositions by Hot Sugar contains objects that unlock unique melodies."
From the outside, the game didn't seem like much fun. I watched on the monitor as the player before me walked around giant rooms, grabbed items, and threw them into a spinning vortex of color. At times the game seemed to drag, but still, I wanted to know more about the game.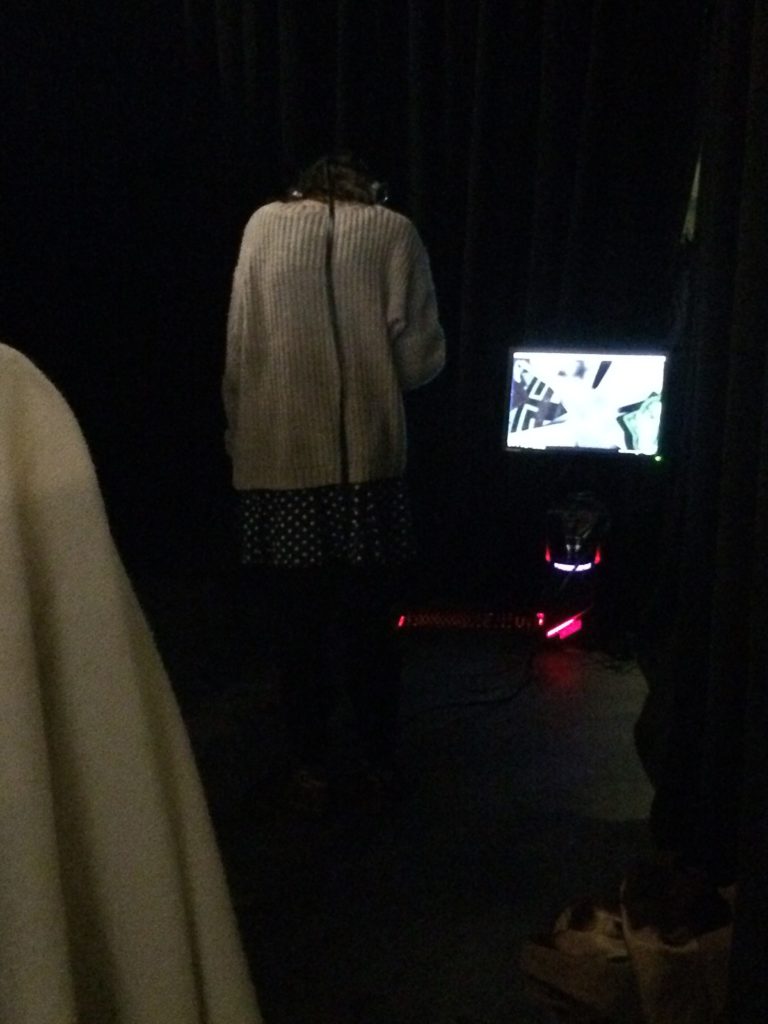 I asked one guy who played the game for his thoughts on it, and he too relayed he initially thought it was a bore, but after getting into the world, he thought it was a lot of fun. This prompted me to make a commitment to my place on the line and secure the next game play.
Again, I was fitted with an HTC Vive headset, headphones, and controller — and again, I ran into technical difficulties. Luckily, this time around, things were cleared up pretty quickly, and the game began.
The intro screens were impressive with their bold color and lettering and after a few prompts, I was pushed into a giant room with colors spinning in the vortex at the center.
Doing what I saw the others do, I used both controllers to move around the world and grab items to toss into the vortex. This, was no easy task, however. This game made you really work to grab an item.
While one remote may have created a zoom effect, you still had to walk over to the object and handle it as you would with anything in reality. This was both fun — and scary as I was literally finding myself walking into the curtains and trying my best not to smash into the monitors in the real world.
When an object was collected and thrown into the vortex, a new sound would emerge and this would cause the vortex to react by growing larger and spinning faster. Suddenly, you're filled with this desire to throw more items into the vortex just to see what will happen and so you're moving around the room looking for things to grab, which even included a "live" bird that flew around.
Unfortunately, I didn't have the patience to go after the bird (as I'd seen many other people do), but I was told that catching the bird was a great deal of work as the controller interaction gave the user a feeling like it was fighting with an object trying to escape its grip.
Once I threw enough items into the vortex, it eventually exploded into this galactic scene where everything was slowed down. Items glided past my face and I could reach out, touch them, and throw them back into the vicinity of the vortex. The musical experience of it all was pretty amazing and when you completed, there was a symphonic melody that made you feel like you accomplished something.
There was a third experience called Open Your Eyes, however, it was shut down during the course of the night. Though I didn't get a chance to delve into the world, I did get a glimmer of others who got a chance to and one person gave it rave reviews.
Overall, for a person who never experienced VR before, the ViacomNEXT event was an eye opener on what's to come in the world of virtual reality and the many ways it can influence the entertainment industry whether it's gaming, music, or art.
It would probably take a few more tries before I became a fan of VR, but I could definitely see the potential for its reliance in the future where we'll all want to escape the norm.
Be sure to stream Smash Party now for FREE on the HTC Vive by clicking here.
Afiya Augustine
Afiya Augustine is an eternal student and dreamer from Brooklyn, NY. On the occasion she's not trolling for her blerdy pleasure, she's a freelance writer and editor. She's also a crafter and jewelry designer for her online shop, Pretty Poet Ink. In Afiya's spare time, she enjoys listening to music, live-tweeting TV shows, and writing on her blog, Alja the Writer, Follow her on Twitter at @LaJoliePoeta and get to know her.