More Latino television series are proudly on the horizon for appearing on American screens. Tanya Saracho, creator of Vida ("Life" in English), saw her show debut on May 6, 2018, with three impressive seasons thus far. Vida describes a Mexican American culture that contains traditions, family matters, and economic issues; it also includes an emphasis on female homosexuality, which builds altogether a powerful and unique show. 
Vida, a bilingual series, mainly focuses on the Hernandez family battling a complex of hectic problems, particularly in the Boyle Heights area. Vida, also short for Vidalia, a Mexican mother of two grown daughters, Emma Hernandez (Mishel Prada) and Linda "Lyn" Hernandez (Melissa Barrera). The Hernandez sisters are extremely challenged with the death of their mother. They are required to return to their hometown, which profoundly labels their culture, a community where they were once part of. Emma meets Eddy Martinez (Ser Anzoategui) for the first time, questioning Eddy's relations with Vidalia. However, Lyn simply knew Eddy from before, and Emma is agitated by the entire situation.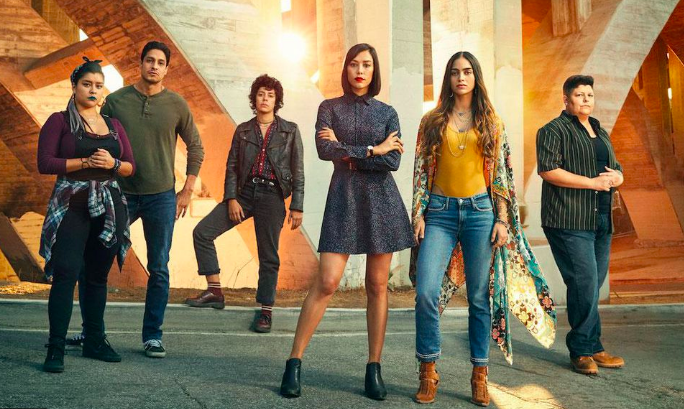 East Los Angeles is a popular area for setting a show with a Mexican American community. A recent series called Gentefied (the Spanish word "gente" meaning people, with the English suffix, -ied), created by Marvin Lemus and Linda Yvette Chavez, originally premiered earlier this year on Netflix. Lemus and Chavez continue the same depiction of a Hispanic society struggling with similar issues as Vida. Saracho expresses, "But when it comes to us and this industry, I can't shut up because I got here and realized that we were oppressed and pushed aside." The creator made a difference by enhancing the East L.A. community on television. Vida depicts vintage buildings with colorful murals painted on the outside walls, highlighting people from the proud Boyle Heights community. This Hispanic population has expanded immensely, and it should not be unnoticeable. Both Vida and Gentefied are valuable shows for Hispanic viewers.
In general, Latinos share a special greeting with one another by giving a hug and a kiss on the cheek every day, and the same manner applies when saying farewell, too. Also, this tradition takes place when people give their sympathies to the surviving members as seen in Vidalia's services. Emma, Lyn, and Eddy are smothered with delicious Mexican dishes and pastries from the community. This signifies a celebration of life for the deceased; in no way, shape, or form is it a sign of disrespect. Additionally, Eddy and her closest friends are gathered to pray for Vidalia's afterlife. In reality, this tradition begins the day after the funeral. The immediate family and friends pray the rosary for days, so that the person reaches Heaven. Altogether, this is a true custom to the Mexican and Mexican American culture. But Emma keeps seeing a little girl in a pink and white dress all alone in the apartment building who then swiftly disappears. Who is this little girl? Will Emma uncover what the little girl wants from her?
For centuries, Mexican ancestors performed a number of rituals, and they have passed it down to their generations. Doña Lupe (Mrs. Lupe) (Elena Campbell-Martinez) practices a handful of rituals, and viewers may find these scenes superstitious. Lyn is careless and uncontrollable, so when she can't handle her love life with Johnny Sanchez (Carlos Miranda) or Emma, Doña Lupe is her guide in solving these problems. One in particular is in Episode 6. Lyn is given a "shower for your spirit" act in the bathroom. Would these strange acts be the only way to help Lyn straighten her life? Could it backfire on Lyn? Reckless Lyn has a lot to learn about vida.
Many siblings are bound to argue with one another when finding the best funeral services for their deceased parent. The oldest sibling usually makes all the funeral decisions for the family, or the immediate family members work together. However, this is not the case for Emma. Eddy informs her, "So we're all set for the funeral. It's gonna be at Evergreen of course. Afterwards we're all gonna come back here for the reception, downstairs en el bar [at the bar], so it makes the most sense," from Episode 1. Each episode show constant disapproval between the three main characters. Furthermore, the relationship between the two sisters seems cold, distant, and very truculent. Will we see the sisters' unity as a family or not? How much distrust, betrayals, and secrecies will we see in Vida? The viewers must watch season after season and enjoy the journey.
There are not many television shows that illustrate Mexican American sexualities. Vida does not shy away from the powerful sexual scenes pertaining to Emma's love interests in women and men, including Lyn's love life with men. Saracho's series is quite courageous and impactful for the LGBTQIA+ community and all viewers. Clearly, other characters are noted as biased against the gay community and continuously confront the two main characters. This is one of the challenges that Emma and Eddy experience in their own bar and publicly. These verbal or physical attacks are dangerous and harmful in that many gays have sadly combated realistically. Saracho strongly incorporated Spanish music, respectfully signifying Latina lesbianism. She confidently states, "I cried when we got it because this is for Latin American queers, older generations, that have been hiding in the shadows."
Gentrification is another important subject established in this series. One particular vigilante character, Marisol Sanchez (Chelsea Rendon) loudly emphasizes that she will not accept any sort of redevelopment in Boyle Heights. Families are affected by these restorations because they live in a low fixed-income housing. For that reason, Vida's vigilantes are always on the prowl for any economical improvements within their community. Marisol and other characters protest and at times sabotage businesses with their unlawful and unrespectable acts. Unlike Marisol, Emma and Lyn are in debt with their inheritance. Will they strive together to boost their business and solve their financial situation, or will their memorable family's property they inherited foreclose? Altogether, Vida proves that both social classes are determined to voice their viewpoints.
Many viewers will be appreciative of this thriving show for celebrating aspects within the Latinx culture, from the first season and up to its final and third season. Creator Saracho says, "Right now, I'm super militant about 'no stories about us without us.'" Truly to the core, Vida did that." Tanya Saracho must remain in the entertainment industry to present more creative works for the avid audience.
Carla D. Morales
I am a Latina born American teaching Latinos in adult educational programs in Houston, Texas. In my leisure time, I enjoy watching movies and tv shows with my family. My favorite type of books to read are biographies, in addition, I take pleasure in freelance writing.