This morning, Wednesday will be engraved in our minds forever, as the teaser trailer for Frozen II was released. I personally have re-watched it numerous times trying to dissect and create my own idea of what is happening. In case you missed it, let's recap:
The trailer opens with an ominous view of Elsa standing on a beach with massive waves crashing in front of her. With a look I can only classify as fierce as hell, she sheds her cape and boots in an attempt to cross the ocean. Using her ice-queen powers, Elsa runs across the ocean, hop-scotching her way atop the water. It clearly takes her a few tries as we see her fail to get to wherever she's trying to go, the last time with icebergs crashing down on her.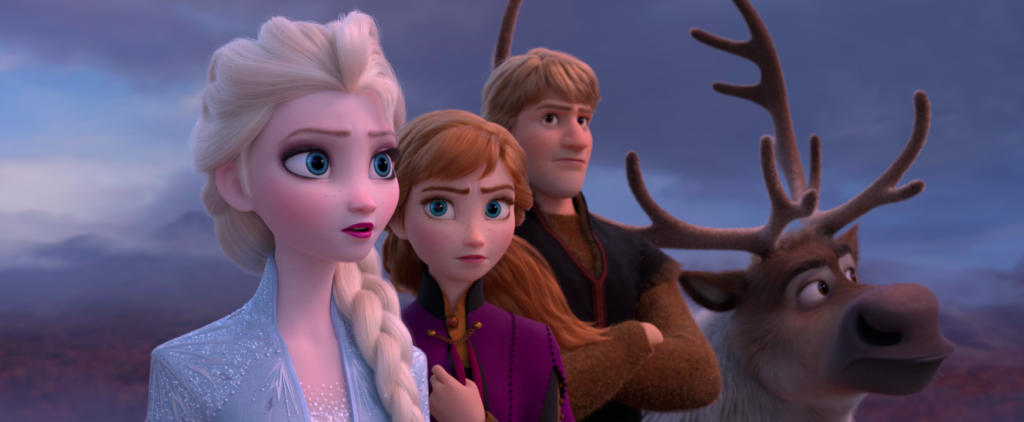 The trailer continues with Anna on the castle balcony surrounded by "frozen fractals all around" (yes that's a lyric reference). She is clearly worried about something. Then Kristoff and Sven are racing through a forest surrounded by a herd of reindeer. They all look angry and determined.
Just when the title comes up, Frozen II, and you think it's done, you see Elsa, Anna, and Kristoff standing in a misty wood, backs turned. Anna hears something, turns around, grabs Kristoff's sword from his belt, and attacks something.
If this didn't send your heart racing, then maybe you should watch it again. It's as if fall is coming to Arendelle and they don't know how to deal with it. I'm sure it's more serious than that. Take note, that literally every character on screen is in a foul mood. There were no smiles whatsoever. This trailer gave me so much tension and anxiety. But I am here for all of it!
According to the press release from Disney, the Academy Award®-winning team includes — directors Jennifer Lee and Chris Buck, and producer Peter Del Vecho. Featured voices are Idina Menzel, Kristen Bell, Jonathan Groff, and Josh Gad, and the music of Oscar®-winning songwriters Kristen Anderson-Lopez and Robert Lopez, are all back for Frozen II.
Sadly, we have to wait a little bit, as the film doesn't open in U.S. theaters until Nov. 22, 2019. But, feel free to watch the first Frozen and sing "Let It Go" until your heart's content. That's what I will be doing.