The second season of Only Murders in the Building came to an end last month, leaving fans without their weekly dose of comedy and crime. OMITB is definitely one of a kind and has the perfect blend of genres. But there are some series that can quench your thirst until the Arconia Three return to our screens.
Some of the obvious choices are Fargo, Veronica Mars, Psych, or anything Agatha Christie-related. However, if you're looking to expand your horizons, here are a few shows with unlikely partners, amateur sleuths, intriguing mysteries, and lots of laughs.
---
The No. 1 Ladies' Detective Agency (2008–09)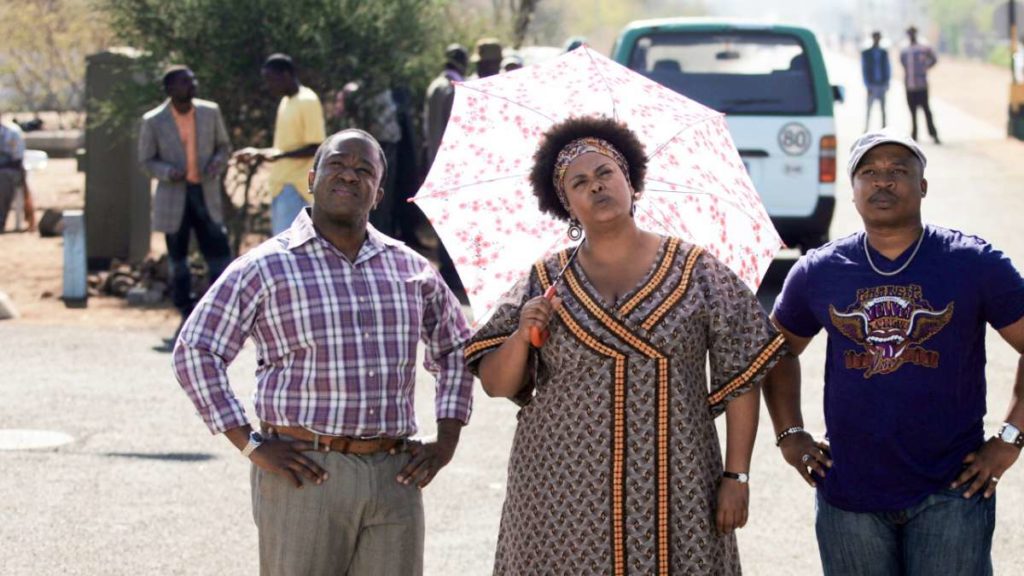 The one-season wonder The No. 1 Ladies' Detective Agency stars a talented songstress Jill Scott Mma Precious Ramotswe, a clever woman in Botswana who — you guessed it — opens her own detective agency. With support from her crew — assistant and friend Mma Grace Makutsi (Anika Noni Rose), lovable car mechanic Rra J. L. B. Matekoni (Lucian Msamati), and delightful salon owner BK (Desmond Dube) — Precious solves an interesting variety of cases from cheating partners to missing children. Idris Elba and David Oyelowo also appear in the feature-length pilot episode.
The scenery in Botswana is very different from the streets of NYC and probably not the setting you'd expect for a mystery series, which is partly why the show is so captivating, not to mention the incredible representation. It's cozy and generally lighthearted, though some of the crimes are dark in nature.
Where to watch: HBO Max
The Afterparty (2022–)
After their 15-year high school reunion, old friends and frenemies attend a party thrown by their famous classmate Xavier (Dave Franco), who had a massive glow up. His sudden death is high profile and highly suspicious. It's up to the ambitious and entertaining Detective Danner (Tiffany Haddish) and her anxious partner Detective Culp (John Early) to suss out the culprit(s) by taking everyone's statements, or as Danner calls them, "mind movies." As each person recounts the night from their perspective, the show adopts different genres fitting their personality — rom com, thriller, musical, etc.
Haddish leads an ensemble cast made up of some of the funniest actor-comedians around today including Sam Richardson, Ben Schwartz, Ilana Glazer, and Jamie Demetriou. The Afterparty has a very Clue vibe while having fun with various genre tropes.
Where to watch: Apple TV+
Search Party (2016–22)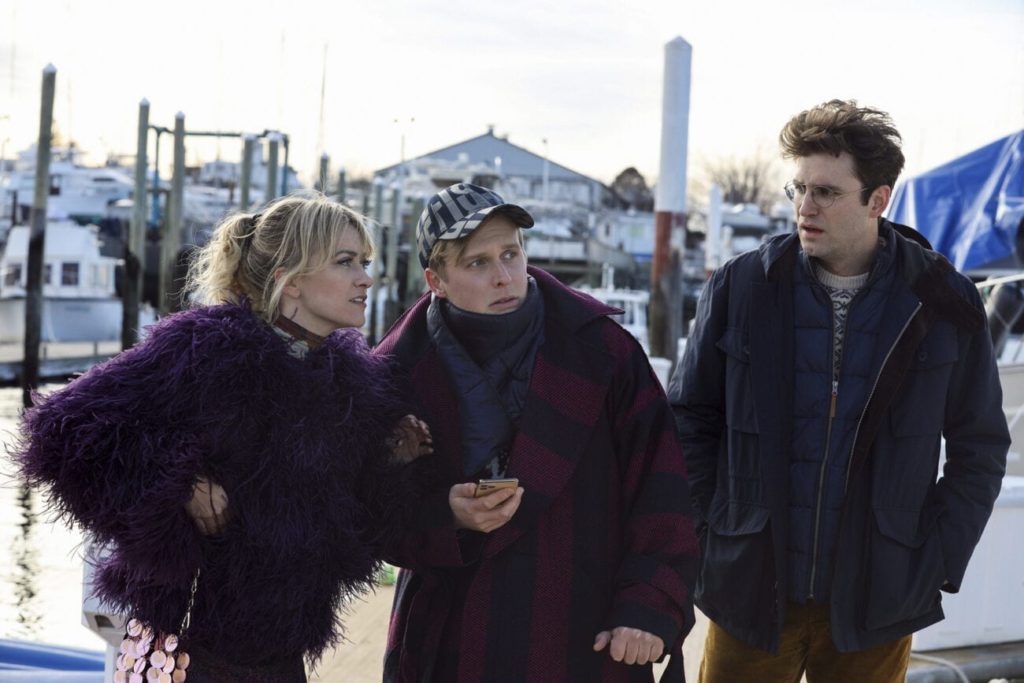 Dory (Alia Shawkat), an aimless twentysomething in New York, becomes obsessed with the case of a missing girl who went to college with her. She drags her besties Elliott (John Early, again!) and Portia (Meredith Hagner), as well as her boyfriend Drew (John Reynolds) on a wild journey of amateur sleuthing. The criminally underrated dark comedy went on for five seasons, meaning the group continuously found themselves in unnecessary danger. There's also cults, humorous fashion, and plenty of bizarre characters along the way.
I would've loved to see an Only Murders in the Building crossover episode with Search Party à la Scooby-Doo Meets Batman.
Where to watch: HBO Max
The Flight Attendant (2020–)
This mystery thriller stars Kaley Cuoco in the title role of hard-partying jetsetter Cassie Bowden. After a wild night in Bangkok, Cassie wakes up in a hotel bed next to a dead man. In addition to dealing with her alcoholism and past trauma, she gets in deep trying to clear her name and finding the real killer. She's repeatedly told to stay out of the way, and like the Arconia Three, she doesn't listen at all. In the second season, Cassie continues to be reckless, though she tries her hardest not to be a hot mess. Does she succeed? Watch and find out!
Like Only Murders in the Building, The Flight Attendant has stylized flashbacks and hallucinations, characters with enviable wardrobes, and a cool opening title sequence.
Where to watch: HBO Max
Archive 81 (2021)
This is one of the many great Netflix Originals that the platform canceled after a single season. Based on a podcast of the same name, Archive 81 follows archivist Dan (Mamoudou Athie) as he takes on a mysterious project in a secluded Ex Machina-like compound. He's tasked with repairing old footage filmed by Melody (Dina Shihabi), a PhD student doing her dissertation on the Visser Apartments in New York City. Melody's documentary was in progress when the building burned down in 1994, and a very wealthy and mysterious man Virgil (Martin Donovan) wants to know what she captured.
Okay, so this show doesn't have lots of laughs. The show fits more into the horror genre than mystery, which isn't exactly Only Murders in the Building's style. However, the Visser is full of dark secrets and eccentric, or downright strange, residents like the Arconia, but with a supernatural atmosphere.
Where to watch: Netflix
Evil (2019–)
In Evil, an unlikely trio establish a bond while investigating murders (and other crimes). Sound familiar? David (Mike Colter), Ben (Aasif Mandvi), and Kristen (Katja Herbers) are actual professionals but not specifically detectives. And there's not a generation gap but rather a scientific vs. spiritual dynamic, with Ben and Kristen being non-believers and David being a priest. They work for the Catholic Church assessing weird occurrences around NYC — everything from demonic possessions and miracles to deepfakes and clout-chasers. The show does that Law & Order: SVU thing where they come up with silly fake names for websites (example: Face Union). But Evil is also self-aware and manages to comment on the dangers of the internet and social media without any finger-wagging. It definitely gets gory, but the sheer absurdity of their jobs and situations add the perfect amount of levity.
You know how Only Murders in the Building has those surreal moments like Charles being haunted by Looney Tunes characters and Mabel seeing floating puzzle pieces? Evil is like that…but with demons.
Where to watch: Paramount+
Cassondra Feltus
Cassondra Feltus is a St. Louis-based freelance writer best known for film, television, and pop culture analysis which has appeared on Black Girl Nerds, WatchMojo, Mental Floss, and The Take. She loves naps, Paul Rudd, and binge-watching the latest series with her two gorgeous pups – Harry and DeVito.