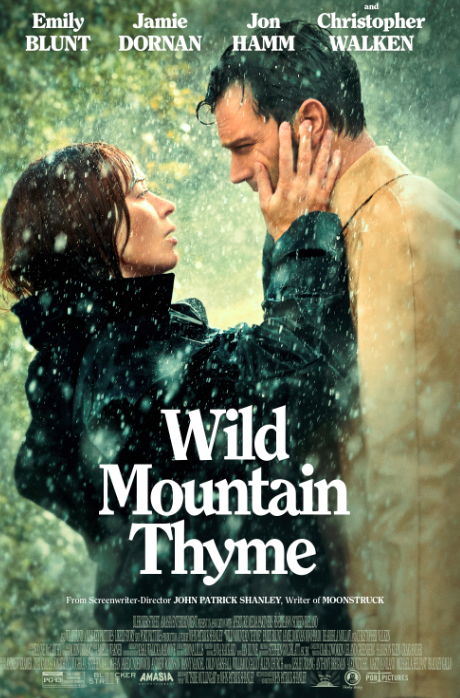 I am a sucker for a rom-com set in Ireland, the United Kingdom, France, and honestly, anywhere outside the United States. No judging, but Leap Year and P.S. I Love You are absolute guilty pleasures. Nowadays, the only ones who have given me excitement over romance in the States is Nicholas Sparks and anything starring Sandra Bullock or Rachel McAdams. This year we are blessed with a romantic comedy set in Ireland. While the accents may be slightly off, it's a lovely film that embraces what Ireland has to offer.
Wild Mountain Thyme is the latest from writer and director John Patrick Shanley (Moonstruck). The film is about a headstrong and head over heels in love farmer named Rosemary Muldoon (Emily Blunt) who has her sights and heart set on marrying her neighbor Anthony Reilly (Jamie Dornan). They have known each other since they were kids. Anthony is oblivious to the admiration of Rosemary but also stubborn in refusing to confront how he feels. When Anthony's father (Christopher Walken) plans to sell the family farm to his suave American nephew (Jon Hamm), Anthony and Rosemary must make a stand for love before it's too late.
With a story that is easy to spot a mile away, it's still fun to watch. We know how it will end, but it's the journey that is still bearable to watch. The success of the film stands on the acting, direction, and cinematography.
Blunt and Dornan have the chemistry to sell that tricky crossover from life-long friends to lovers. Blunt can show she's smitten while remaining true to her character, who is a strong and smart female lead. She is a woman who runs her own farm and knows what she wants, but she still has feelings. She isn't the plucky, doe-eyed girl who loses her senses around a man. Blunt doesn't play those characters, and for that, I am such a fan.
Dornan is no stranger either to playing the love interest. He is a major leading heartthrob, but that's not how director Shanley shoots him in Wild Mountain Thyme. The way Dornan presents is not as a man for all the ladies who watch the film to fall madly in love with, like his role as Christian Grey, but instead, as a true match for one person, Rosemary Muldoon.
Then there is Jon Hamm. He's handsome, likes the finer things in life, but dreams of being a farmer. He's clearly not going to get the girl, but not for lack of trying. He is attractive and does nothing wrong in the film, but it's clear his role is to show how some couples are just meant to be. Walken is Walken and easily commands the audience's attention.
Wild Mountain Thyme is a film adaptation of the 2014 Broadway play Outside Mullingar by Shanley. He took this chance to broadcast the gorgeous landscape that you cannot get from inside a theater. There are wide shots of sweeping Irish landscapes that are truly vibrant and beautiful on screen. This is one of those romantic films that utilizes the landscape to capture the essence of the film. If only we could see it on the big screen here in Hollywood.
I believe that Ireland is one of, if not the, most beautiful countries in the entire world. After watching this film, you might want to move there. Some of the images in this film are breathtaking as if they were painted with the purest colors with perfect strokes. With the addition of the countryside shots, Wild Mountain Thyme is a romantic tale that holds so much of the Irish spirit. From the landscape to the music, from the pub scene to the family dynamics, the spirit of Ireland comes through this film.
The father-daughter relationship on screen was my favorite, however brief it was. The musical talents of Blunt, of course, are showcased in a cozy pub scene. Family is an important element in the story. Who doesn't want an Irish love story? It is a mesmerizing place to fall in love.
The film arrives just in time, as a happy moment as we near the end of 2020. Wild Mountain Thyme is the film that reminds us to take a moment off from the grind and have a laugh or feel romance. It is okay to smile about something this year. I am sure you will see meaningful themes in there about seizing the day or going for what you want that can be acted upon in 2021, fingers crossed.
Honestly, I am here for this film as a beautiful little escape. I am also here for the music. I immediately downloaded a variation of the song "Wild Mountain Thyme" as soon as the film was over. So, enjoy.
Bleeker Street will release Wild Mountain Thyme in theaters and on-demand on December 11, 2020.