Soul food — two words that immediately bring a smile to my face, with a nostalgia reminding me of my Nana in the kitchen. Soul food is an offering of food that comes from the heart and feeds the soul. It's more than comfort food, having a legacy of its own. Soul food, in all its fried, pork-laden, and simmered-all-day glory, is a cuisine different from any other, brought by Africans to America during the days of slavery.
Historically, soul food began during the tragic years of slavery when the enslaved would get cuts of meat and vegetables that were considered inedible by their white masters. The Great Migration following the Civil War introduced soul food to the world.
Today, soul food can be found in every corner of the country. Many soul food restaurants focus on classic dishes, while others put their unique spin on them. These 10 soul food restaurants span from the East Coast to the West Coast and serve up delicious dishes that will please any soul.
Dulan's Soul Food Kitchen, Los Angeles
Adolf Dulan, known as the "King of Soul Food," learned to cook on a farm in Luther, Oklahoma, from his mother. He watched her prepare fried chicken, collard greens, and much more. It all set the foundation for what would become his soul food empire. Dulan's has two locations in California: one in Inglewood and one in Los Angeles. One of the best things about Dulan's is the huge portions. My personal favorite: the smothered chicken.
Esther's Cajun Café, Houston
This is probably the friendliest restaurant I've ever been to. Huge portions, and you can expect to find candied yams, oxtails, mustard greens, and cornbread. Esther's has a legacy of Cajun cooking and the gumbo definitely honors that spirit.
Lo-Lo's Chicken & Waffles, various cities
Lo-Lo's has locations in Arizona, Texas, and Nevada. The menu offers different variations on the classic combination of chicken and waffles. The Baby Ray has three pieces of chicken, waffles, homemade gravy, and onions. If your appetite is bigger, go for the KK's, which has waffles, chicken, grits, and eggs. The primary objective at Lo-Lo's is to infuse the fried chicken with as much love as possible.
Pearl's Place, Chicago
In the early 1930's, as the Harlem Renaissance was winding down in NYC, a new surge of Black creativity began to flow in Southside Chicago, known now as Bronzeville. This is where you'll find Pearl's Place — the perfect spot in Chicago for soul food. The menu offers Cajun food, in addition to shrimp and cheesy grits, smoked ham hock dinners, and fall-off-the-bone short ribs. The shrimp po'boy at Pearl's Place is so good. It's served on hot crunchy French bread.
Sweetie Pie's, St. Louis
If you've ever watched the television series Welcome to Sweetie Pie's, you will be familiar with Sweetie Pie's Upper Crust soul restaurant in St. Louis. The show centered Robbie Montgomery and her mission to spotlight her delicious cuisine. Yes, it's the real deal. You'll find fried chicken and big portions of creamy mac and cheese. Even the vegetables are a must on the plate. You have to leave room for the peach cobbler, or you'll regret it — I promise!
Sylvia's, New York City
Many of the picks on this list are from the South. However, New York City has to be present here because of the famous Sylvia's. This restaurant is a Harlem staple that has been serving up soul food since 1962. The catfish, mac and cheese, and candied yams are legendary, and the ribs are always fantastic.
Niecie's, Kansas City
My hometown certainly doesn't disappoint when it comes to the soul food game. Niecie's specializes in soul food and gives customers fast, great service, serving Kansas City for over 30 years. Their motto is "Good Food, Served Right." It's the fried pork chops (fried right), eggs, and grits for me.
Heard Dat Kitchen, New Orleans
Heard Dat Kitchen in the heart of New Orleans serves a tasty spin on soul food by offering reimagined dishes that have all of the classic soul flavors with a fresh and fun presentation. Owner Jeffery Heard Jr., also known as Chef Jeff, believes in building good memories and delicious food, and he does just that. The menu offers several meal options; many are served with fries, bacon, ranch dressing, and perfectly spiced red beans and rice.
Benne on Eagle, Asheville, NC
Benne on Eagle in Asheville, North Carolina, serves upscale soul food with an elegant twist. Additionally, the menu has unique cocktails that make this restaurant the best date night spot in the city. The restaurant offers several delicious dinner options such as crispy fried green tomatoes with rich roasted mushrooms, candied lemon, and tart jackfruit.
Delilah's Everyday Soul, Atlanta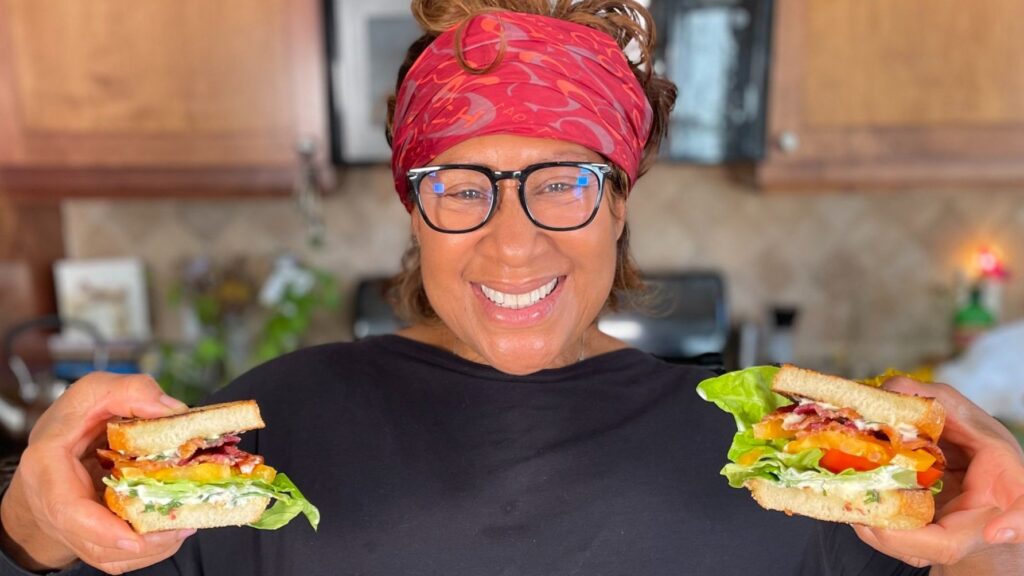 This restaurant features a Southern favorite: mouth-watering variations of fried chicken. Sides such as fried green tomatoes, as well as a mac and cheese recipe stamped by Oprah herself show up as key favorites on the menu. Add the freshly squeezed, homemade strawberry lemonade, and you've got everything you need. Delilah also competed on the Netflix series America's Barbeque Showdown.
As we celebrate National Soul Food Month, we remember the heritage and history of the foods of Black people and people from the African diaspora. All of these culinary contributions have made a deep-rooted impact on the American menu. Make your favorite soul food dishes for family and friends, or visit a soul food restaurant in your city.
Archuleta Chisolm
Archuleta is an author, poet, blogger, and host of the FearlessINK podcast. Archuleta's work centers Black women, mental health and wellness, and inspiring people to live their fullest potential.