It's that time of year when I put on my long Santa socks and try to get my family to wear matching pajamas. It's also time to settle in for my favorite holiday films — the ones I've seen a hundred times and could watch a hundred more.
In 2020, only 40 percent of lead roles in Hollywood went to Black actors and people of color. That same energy carries over to the Christmas genre. Growing up there weren't very many Black holiday films, so we took what we could get. There were great films but there's nothing quite like seeing people that look like you with similar narratives.
Now more than ever, it's important to show Black people being joyful on screen. Holiday movies present an opportunity for representation: they are positive and uplifting, and give characters endless chances for finding love, peace, and of course, redemption. They allow us to be inspired. We need options where that inspiration comes from a Black point of view.
When it comes to achieving equity on screen, we have a long way to go. Until then, the existing Black holiday films are the gifts that keep on giving. I've put together a list of five of my favorite Black holiday films that I watch on repeat every year, and hope you will too.
2007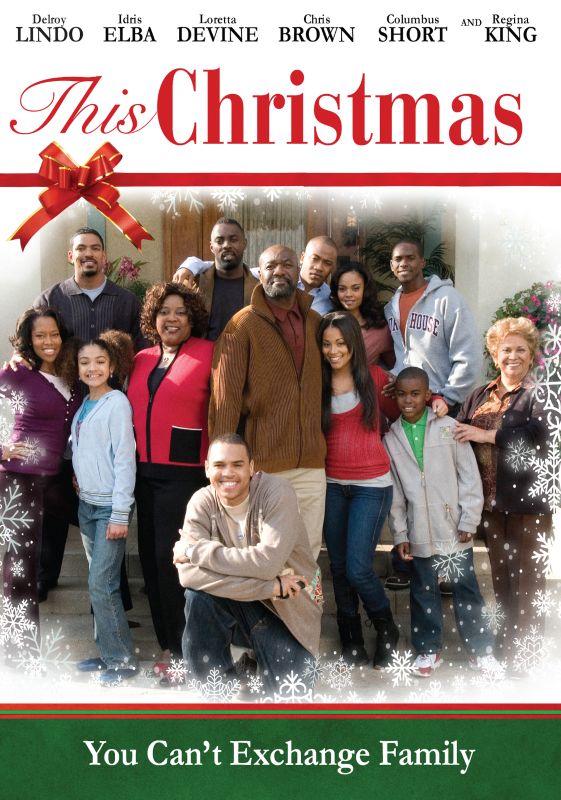 In case you didn't know, the official holiday song for Black households is Donny Hathaway's This Christmas, we should get a holiday film of the same name. If you're looking for the classic snowy holiday movie, this is not it, thankfully! The storyline is a welcome break from the traditional ones we're used to, and the star-studded cast does not disappoint.
The Whitfield matriarch (Loretta Devine) reunites her family for Christmas for the first time in years. But everyone is hiding secrets that could ruin everything. There's comedy, but also, shows the power of forgiveness and connection. Oh, and let's say that you'll never look at baby oil the same ever again!
2016
Another A-list cast plays the dysfunctional Meyer family, with who Walter (Danny Glover) reunites for a dramatic Christmas one year after the matriarch's death. He's not certain they can last five days together under one roof without fighting.
This movie is laugh-out-loud hilarious but also depicts realistic dynamics between siblings, parents, and children, as well as how we manage grief. I love the way Walter honors his late wife through her recipes. That is so representative of the Black family and how food brings us together no matter what. Mo'Nique steals the show as Aunt May, and we all have one in our family.
2013
Morris Chestnut and Taye Diggs? Ladies, we'll never have an argument about those two, right? Nearly 15 years after they were last together as a group, the college friends we love so much are reunited over the Christmas holiday. Each of their lives has changed so much, but some things still remain the same. With movie sequels always popping up left and right, it's rare to see one so long after the original. But I believe this one worked so well due to its fan base. A lot is going on — a big football game, a book release, a wedding. The Can You Stand the Rain scene will always be everything. Towards the end of this film, keep tissues nearby.
2006
After Georgia (Queen Latifah) believes she's dying from a terminal illness, she takes her life savings and decides to live it up in Europe. She charms everyone she meets, including a renowned chef. But the one person she really wants the attention of is her long-time crush Sean (LL Cool J). His character is so sweet in this film and you get all the feels. There's just something about watching these two on screen together that just works. It's a heartwarming film that teaches a lesson about living life to the fullest every day.
2002
In this cult classic, we find Craig (Ice Cube) and Day-Day (Mike Epps) back in the neighborhood where it all started. It's Christmas time, and a ghetto Santa Claus breaks into their apartment, and steals all the presents and anything else he can fit into the sack, including the rent money they hid in the stereo speakers. This is probably the most ridiculously funny movie ever, but it gives what a lot of our holidays look like: trifling relatives and lots of love and laughs. We would be so lucky, though, to have a pink limousine to save the day. So much foolishness ensues, especially from none other than Katt Williams, who is a gem as Money Mike.
These films are complete with exactly what we all need right now — a space where we can attach to people that we love, events of the past, places we've been and want to go, and happy memories. We all deserve that.
Archuleta Chisolm
Archuleta is an author, poet, blogger, and host of the FearlessINK podcast. Archuleta's work centers Black women, mental health and wellness, and inspiring people to live their fullest potential.