Jamie Broadnax
Jamie Broadnax is the creator of the online publication and…
https://twitter.com/samesmail/status/1178413553113534471?s=20
Hello friend, tonight is the series finale premiere of Mr. Robot and Sam Esmail has not come to play this final season.
TV showrunner and creator of Mr. Robot, Sam Esmail said that we are going to see a ton of spoilers. And as a Game of Thrones fan, when I see spoilers, that means a character or many characters will suffer the fate of death.
The Christmas season has arrived, Elliot and Mr. Robot return, Darlene is dealing with some major drama, Tyrell is bored as hell, and Dom is super paranoid.
Five minutes in and a Major Character Dies
Obviously this is some serious spoiler territory here, so I won't say who died, but it shocked us all when it happened. A conversation between Angela and Phillip Price discusses the aftermath of events that happened in season 3. A distraught Angela hasn't come to terms with the consequences and Price tells her, "Accept that you've been conned and find a way to live with what you did." This scene goes to show that the Dark Army always finds a way in.
Mr. Robot/Elliot Blackmails A Pedophile
Actor Jake Busey makes an appearance this season as a NYC attorney and creepy pedophile named Freddy. Freddy's phone rings in the middle of him watching a livestream of an underaged girl and it's Mr. Robot's voice on the other end. As it turns out Freddy's is connected with Shell Corp and Zhi Zhang helping to funnel money to the Dark Army. Mr. Robot/Elliot has the grounds to blackmail him by exposing his penchant for child porn to his family. However, while Elliot was tracking down Freddy, Freddy was being tracked by the Dark Army. When Elliot finds out his cover has been blown, he races through Grand Central Station along with Freddy. However, Elliot doesn't end up getting all of the information he wanted from Freddy. This is a nice throwback to an earlier season of Elliot terrorizing a pedophile. Get rid of them all I say.
Sam Esmail's wife Emmy Rossum Makes A Cameo
If you look closely, during a scene with Christmas carolers signing, actor-singer Emmy Rossum (Shameless, Mystic River) makes an appearance in this season 4 premiere. Rossum is married in real-life to TV showrunner Sam Esmail.
Dom DiPierro Is A Hot Mess
Can you blame Dom for looking a hot mess in this episode? She's gone through alot of trauma of being hunted down and nearly killed by the Dark Army, not to mention the drama with her former partner Santiago. However, it looks like a new sleeper agent is tracking Dom which gives creedence to why should be more paranoid than she already is. Janice (Ashlie Atkinson) is hot on her trail and will kill if need be if Dom doesn't comply.
Mr. Robot And Elliot's Relationship Is Why We Come Back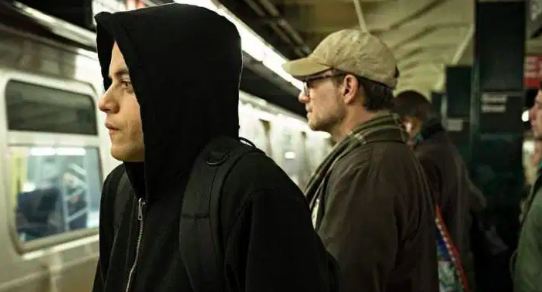 Mr. Robot may have missed a mark or two here and there with its character development, but we all come back because of Elliot Alderson and Mr. Robot. Elliot has now compartmentalized his emotions and is losing focus. Mr Robot says this used to be about saving the world, but now Elliot is letting his feelings cloud his judgment. Elliot says he's done with the therapy sessions and Whiterose is all he's focused on.
There's Another Huge Spoiler I Can't Giveaway
Again I'm wandering off into spoiler territory here, but let's just say that the final scene in Mr. Robot comes with an unexpected ending. Need more? Okay well, the very creator of the series puts his own finishing touches on Elliot and that's all I will say about that. And as another character exposes yet another sinister plot against Elliot, it's safe to say to trust no one on this show.
Tune in with me again for next week's episode of USA's Mr. Robot which airs every Sunday night at 10-11 p.m. ET. You can live tweet with the @blackgirlnerds community on Twitter under the hashtag #DatBot.
Jamie Broadnax
Jamie Broadnax is the creator of the online publication and multimedia space for Black women called Black Girl Nerds. Jamie has appeared on MSNBC's The Melissa Harris-Perry Show and The Grio's Top 100. Her Twitter personality has been recognized by Shonda Rhimes as one of her favorites to follow. She is a member of the Critics Choice Association and executive producer of the Black Girl Nerds Podcast.