Diedre Johnson
Diedre Johnson is a Los Angeles-based former staff writer covering…
Gorgeous Yetide Badaki gets right to the point about Bilquis and why she hasn't died in American Gods (spoiler alert). She also spills the tea on some new actors playing familiar characters.
I recently met the actress at 71Above restaurant in Los Angeles for the Starz TCA cocktail party.  Badaki was dressed in a blood-red, orange dress that worked perfectly for the event, held on the seventy-first floor (that's right) in a posh, refurbished space overlooking the downtown LA skyline.
You look gorgeous by the way.
Aww, thank you so much. I introduced you to Marianna, my publicist. Any time I am actually looking ok, that's because of her. She encourages me to explore a little more.
Now, we've got another season coming up and my editor thinks you're being phased out. She thought your character was going to die.
Probably from reading the book.
So what is going on?  What's changed?
Well, the great thing about this season and, the great thing about the whole show is that they have expanded several roles. In the book, Bilquis only existed for about two scenes. You met her and then she was gone. But now we get to see her go through a full journey.
Neil Gaiman and everyone included through this whole incredible creative team, Fremantle, Starz; all of them have been really instrumental in growing and developing this character, which I am very excited about because we get to see this powerful, black woman go through the experience of being a Goddess.
In reality, I think all women are that. And, we get to see her go through this journey in a world that has been hostile to her, which, she is learning to navigate in a whole new way by reaching back into her Herstory.
The whole show is very different in my opinion. In the beginning, what drew you to this role?
I think everyone knows what a nerd I am. From an early age, I was reading things like Tolkien, Stephen King and so when the book American Gods came out, I got to read it and it never occurred to me then that I'd be sitting here talking to you about being a part of a project like that.
So what drew me? I've always been a Neil Gaiman fan and I like to take on roles that scare me a little bit because often they teach me something. I've learned a lot with Bilquis.
Are you now getting to the point where people recognize you from the show?
It's interesting because I am still that nerd, so I am walking along and people are looking at me and I'm like, 'why are they looking at me?'  Did I spill something on me?
Then people come up to me and say, really enjoyed the show. 'Oh, do you know me?' It's incredibly flattering but I am still getting used to it.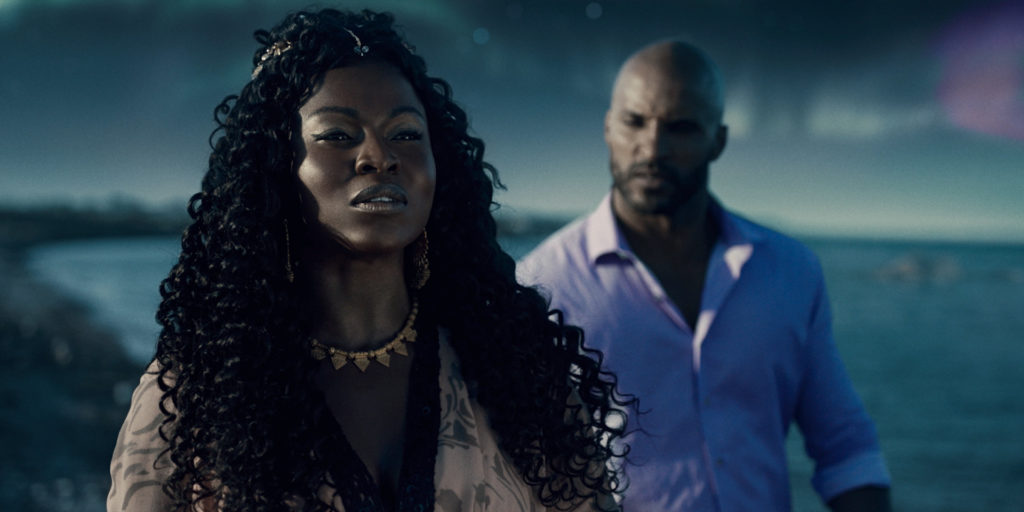 There are actually quite a few women in the show. For those of us who haven't read the book, is this a part of the book or a part of the show?
They have been expanded more than originally in the book but also this season we get to meet a lot of new actors. I cannot wait for everyone to meet Kawennahere (aka Devery Jacobs) who's an incredible actress; First Nation. She plays Sam (Black Crow). I cannot wait for everyone to meet Kahyun (K.AN) Kim who plays New Media and she's gonna knock people's socks off. Sakina Jaffrey who plays Mama-Ji is just as fierce as you can get.
We get to see more and more women and more of America as an actual tapestry. I'm really excited for people to come along on that journey.
You're Nigerian and you went to the midwest for college.
Chicago, yeah, I went to grad school there because I got a two-year scholarship for grad school and so I went out to Illinois state. Those winters are cold, oh my goodness, but in the summers we got to do Shakespeare festival and that's what led me to Chicago. A director had come down from the theater in Chicago and he said, 'What are you doing after school? I said I don't know and he said, 'Would you like to understudy and perform the role of Nina from (Anton Chekhov's) The Seagull?'
That role is not something a woman of color often gets to do. And I got to perform as well. That was truly a transformative experience because the stage manager from that then set me up in my first show at Victory Garden Theatre. That's where I became more known in Chicago theater because I got play some wonderful headlining roles. So the midwest was lovely.
There are a lot of creative people in [Chicago].
Yes! I would say some of the best theater. It's often overlooked because people go straight to New York, which has incredible theater too but Chicago — you can go into a little hole in the wall, up to an alley and watch a production of A Streetcar Named Desire and see the best Stanley Kowalski, you've ever seen in your life!
I think the Chicago theater community was doing inclusion before anyone was making it a conversation. I got to play Nina in The Seagull and no one made a fuss about it. It was continually like that. We were getting to play roles out of pure merit.
That is really good progress. What do you think, is Hollywood finally opening to women of color as actresses?
I will add as a caveat that everyone is focusing on the macro — the large issues. Yes, obviously everyone needs to get cast but there are still some micro issues that need to be addressed.
For example, when a man comes on the set, people are used to a man saying, 'Ok, you need to do this and you need to do that.' It's still ingrained when a woman says, 'Ok, you need to that and you need to do this,' people have a reaction and all of a sudden she's bossy.
Now that is something that is not addressed on a macro level and I people don't even stop to think, 'Why am I having this reaction? Am I having this reaction because she's being bossy or am I having this reaction because it's an ingrained part of the patriarchy?'
And those are the micro issues that if we are going to really successfully create change, while we're doing the macro, we also need to address the micro.
A few years ago, at the Oscars — everyone seemed like we've got to change, we've got to be more liberal.
We're deep in the process though. Here's the thing. We're at a place where people are calling things out. We see it and we say something. That keeps me very optimistic. It's not going to overnight just shift. I mean, we don't love that. We wake up in the morning and we're like, 'Hello everybody, everything is all-inclusive!'
But people are becoming aware. People are hopeful. People are pushing and making moves. Brie Larson even saying for Marvel publicity, that she wants to see a diverse room. As people do things like this and are aware of the responsibility and accountability, even though we took one step back, we might be able to push three steps forward.
Season 2 of American Gods debuts March 10.
Diedre Johnson
Diedre Johnson is a Los Angeles-based former staff writer covering entertainment whose work has appeared in Variety, The New York Daily News, TV Guide.com, The Crisis, Vogue Japan and Italia, and Harper's Bazaar China, among others