Jonita Davis
Jonita Davis is a writer, mother, a certified nerd, and…
BGN met with George Tillman Jr. after experiencing his masterpiece The Hate You Give the previous night. There, in the elegant Roy Thomson Hall in Toronto, we sat out in the audience as Angie Thomas's words sprang to life onscreen thanks to Tillman's direction. We sat down to discuss the film's intensity and the themes it lifts from the book to tell Star's – the story of her family — onscreen.
On the intensity of the film
It was very emotional and intense, getting into those scenes. But, the actual production side of it, we had a great time. We're a family making the film, and it helps like with Regina Hall [who plays Lisa], who likes to have a great time in between takes. Anthony Mackie, these guys been doing it for a long time.
It was some very complicated scenes like the Khalil [played by Algee Smith] death scene. That was over two days, very emotional. The uprising at the end of the film, that was 4-5 days and it was very intense. We did it with emotion, so these are emotional scenes if you want to be honest. But, we were able to come out of that because we spent a lot of time together as a family unit and it felt like we were doing it for the right reasons.
On creating complex characters
I thought that was the key, to make sure they stayed three dimensional because they were, in a book. Angie really did a good job with that. I loved it because in the first scene of the movie you see him [Maverick played by Russell Hornsby] with braids and tattoos. You think he's running with a gang or something but he's doing something completely different than you can imagine or have seen in films before. That's what we really try to do is break down some of these stereotypes. Even King, played by Anthony Mackie, he is a gang member in the neighborhood, but he does have a daughter and he does protect her. He's sort of like a weird surrogate uncle to Star until the idea of snitching comes up in the community.
That was all things that we talked about is how do we keep it honest in what we[have] seen and what we know in our own community, that's what you see. Everybody's three dimensional. Why does Khalil sell drugs? That is actually explained in the film. I just felt like that just what the book had, we should honor that.
Also, people are tired of seeing stereotypes and cliches. We all are human beings and all the stuff that happens. There's a hope factor that's still underneath the family dynamic. The family still has hope. And that's what happens with us as African Americans, no matter how tough things get, we just keep pushing. We are resilient, we find ways, we navigate, we maneuver, and we keep pushing. I think that was something that was inspiring for me as a director.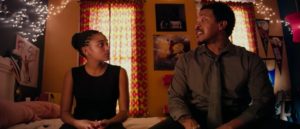 On the pivotal shooting scene and the other major tropes in the film
It was very intricate, and it did really come down to that particular scene. It was a very interesting and complicated scene because not only Khalil protects her at the party, he explains the Tupac analogy and she takes it in. Then we just see these two individuals, they're talking about adult issues about Tupac and the philosophy. But then, they go right into kids and talking about Harry Potter and their childhood friendship and the childhood connection that they have. Then they get pulled over by a cop. This is the kind of day to day activities that people who, an individual who lives in a community, has to deal with a lot. That particular scene we had to do a lot to get across to understanding that Kalil.
As a director, you just try to find the honesty and the humor and the emotion. All that all into one. It was a very emotional scene to shoot, especially during pre-production and seeing our Filando Castile situation in Minnesota. All that is being, trying, to have the responsibility to get it right, but also to humanize. So, that's something that I always try to keep in the back of my mind. Keep everybody humanized. Keep them real humans and not as cliché stereotypes.
On the emotion held in the imagery of a single Harry Potter Wand
That was something that was in the book, and I felt like I had to put it in the movie because that was the connection to all three. And I just loved the moment when Kalil said he didn't have it, but he did. It's still the connection, he still remembers Natasha, still remembers their relationship just as much as Star. I felt like that was something I had to put in the movie because that shows the friendship. I think we all had experienced that in life, moments that sometimes we forget, moments that we overlook. Things come back to us for a reason, and I think Khalil was in her life for a reason.
On prepping for the "nontraditional" family scenes
What I try to do is I ask for two weeks of rehearsal with everybody. The first thing the family did, we broke things down. We went out to dinner and then they hung out. They went bowling and playing those games. We went to those places where you ride the go-karts and all that stuff. So they spent a lot of time together. Then, we started breaking down into individual rehearsals with Mav and Star or Lisa and Star, and what their relationships was like. Lisa/Star is very interesting and complicated and we see that in a very pivotal scene when Star talks about the mistakes they had made in their life. So, a lot of this stuff is talked about in rehearsals. Then really going to the house.
I remember I first introduced them to the house [that] was going to be their home in the movie. I remember Regina came and was like, "George this house is too dirty. Look at this. I would never have a porch like this. I would never have this right here."
I said, "okay, you don't like the house, how you going to fix it? What you going to do about it?" Then she would tell me what she would do, and I was taking notes.
The next time she came back, all that was done almost as if she put it together. So, they had time in their house. And Star, I had an idea for her room, and Star decorated her room. It became them. I wanted them to own it, own each other, and that family unit became one community. By the time we got on film, they were a real family.
And they felt like it.
And it felt like it.
Even to the point where Seven's mom was like an intrusion, you just wanted to throw her somewhere.
Exactly.
The Hate U Give is in theaters everywhere this week.
Jonita Davis
Jonita Davis is a writer, mother, a certified nerd, and writer of Black Girl Nerds. Davis is a critic and journalist. She has been writing for 13 years about the way pop culture and politics affect our lives as parents, women, black women, nerds, and people of this planet.