Krystal is a comedy-drama written by Will Aldis and directed by William H. Macy in which a young man falls in love for the first time. Taylor Ogburn (Nick Robinson) has a heart condition which prevents him from having any sort of excitement in his life…that is, until he falls for Krystal (Rosario Dawson), a beautiful woman with a dark past. Although this sounds like your everyday boy-meets-damaged-girl, boy-falls-in-love-with-damaged-girl movie, rest assured that it is not. Taylor is your typical sweet southern boy with a passion for the arts, which makes sense, as his brother Campbell (Grant Gustin) is a painter, his mother Poppy (Felicity Huffman) is a poet, and his father Wyatt (William H. Macy) is a writer. His heart condition restricts him from doing a lot in life, and when he first sees Krystal, his heart beats out of his chest (quite…literally) like a cartoon character in love. He joins Alcoholics Anonymous for her, quickly getting a sponsor named Vera (Kathy Bates), then starts drinking, smoking marijuana, and changing into the bad boy he thinks she wants. He is the quintessential good guy corrupting himself to get his fair lady's attention.
Then there's Krystal, who is every bit the opposite of Taylor. She's had it rough and made some terrible, life-altering mistakes, and is also single mom to a son in a wheelchair (played by Jacob Latimore). She's done the most she could possibly do to ruin her life. Now, she's trying to turn it around by attending AA meetings and distancing herself from her past.
The themes and overall messaging in the film are great. Everyone has a past, and it doesn't have to define who you are or who you can become. The cast is diverse enough to showcase that a rich, white southern boy can have the same demons as a Black pimp out of New Orleans. It's all written beautifully, and Will Aldis seems to have a natural talent for writing diverse characters. The subject matter is great and is showcased brilliantly in certain scenes. The drama is there. The comedy is there.
There are a few things that didn't mesh well with the film. The first being the southern accent that the majority of the cast employ—it's a bit over the top and wasn't consistent throughout, drawing more attention away from scenes than establishing the setting. The second thing that didn't work out too well is Tip 'T.I.' Harris. He has a pretty substantial role as the bad-boy ex who comes back into Krystal's life, threatening Taylor's chances. T.I.'s not a bad actor, but he stood out among actors like Kathy Bates, William H. Macy, and even Jacob Latimore, and not in a good way.
While William H. Macy stars in the film, Krystal is also the third feature film where he shows off his directorial skills. There's an unexpected touch of magical realism that fits well into the comedic aspects of the film. I personally wouldn't mind seeing more of his abilities behind the camera. If you are looking to dive into a good dramedy then, by all means, give Krystal a go.
Krystal released in theaters on April 13th and is out now.
---
Written by Catalina Combs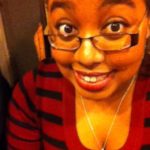 Catalina Combs is an aspiring film critic from California. She loves reading, writing, film, baking, music, drawing, traveling, Disney, and playing soccer. Her life usually revolves around all of these and her family. The oldest of six, Catalina tries to set a good example for her siblings. She graduated from Santa Clara University in 2010 with a BA in English Creative Writing and is pursuing an MA in Film. I also blog on WordPress and contribute to the Examiner.com.
Twitter: @tiggercraze | Facebook: Cat Combs | Instagram: @tiggercraze
Guest Blogger
BGN works to feature strong, unique content from writers who speak to our niche. If you are interested in having your work highlighted contact jamie@blackgirlnerds.com to be featured as a guest blogger on the site.