From Screen Media Films brings us the heart-warming drama One Last Thing. The film stars Wendell Pierce,Jurnee Smollett-Bell, and Joanne Froggatt. The story is centered on protagonist Dylan Derringer (Wendell Pierce), a reclusive dentist who loves golf and lives in Florida. For over 20 years he's been searching for his long-lost daughter Lucy (Jurnee Smollett-Bell). The two meet after being several decades apart, and engage in a momentous and life-changing journey — they learn more about themselves as well as each other in their discovery.
Dylan Derringer is an interesting man who owns a dental practice and shares a loyal friendship with his dental hygienist Jaime (Joanne Froggatt) whose friendship is so much intact that she's willing to get up at 1 A.M. in the morning to talk to him about pressing matters he's dealing with in his personal life. He drops the bomb on Jaime that he has a daughter and hired a private investigator twenty years ago that he may have a child he didn't know existed.  Dylan finally gets a location on Lucy and although Dylan is reluctant to pursue this, Jaime convinces him that he should try to connect with his daughter.
Dylan travels to New York City and spots Lucy, but rather than approach her directly and inform her who he is, he spies on her for two days.  Although it sounds a bit creepy to spy on your daughter for two days, Dylan is bundled up with emotions such as fear of rejection and anxiety about meeting his daughter after a 25-year lapse. Taking a couple of days to muster up the courage to tell Lucy who he is, seems pretty normal to me.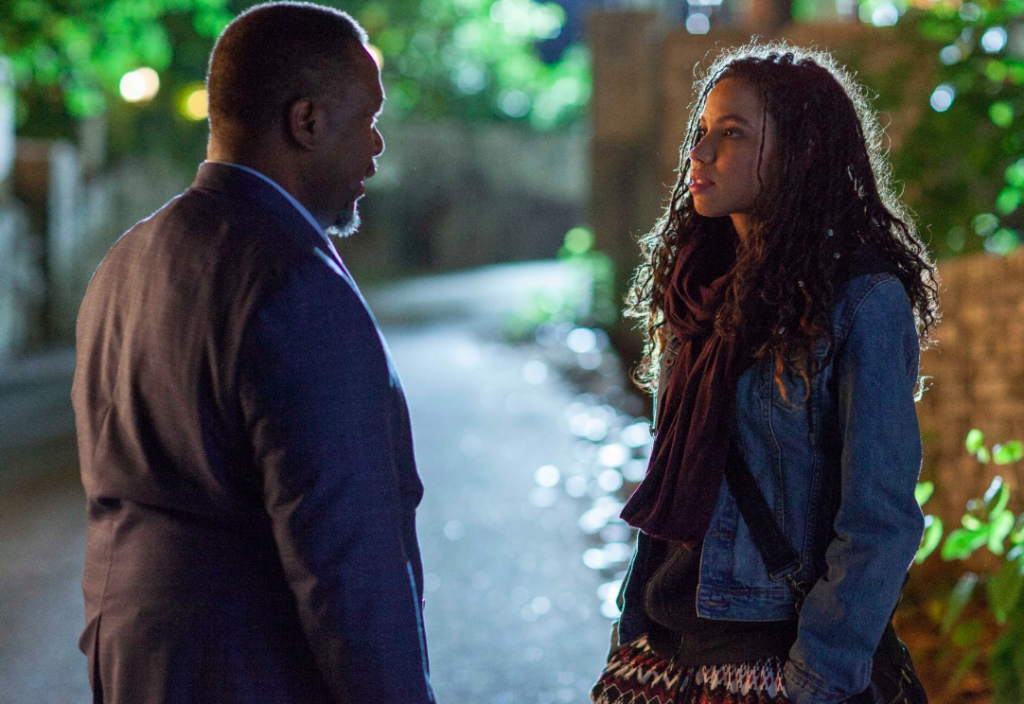 During Dylan's espionage, he discovers that she drinks coffee, hates hipsters and that she's involved in a relationship with another woman. On day two he also discovers that Lucy has been going to a medical facility. When he finally informs Lucy who he is — her dismay at the news is not only unbelievable but difficult for her to process. She recognized Dylan from a family photo from years ago which was enough for her to be convinced to talk to this complete stranger claiming to be her father.
Dylan is candid with his daughter and although Lucy is completely freaked out over the fact that he reveals that he's been spying on her for the last two days, she takes down his number and gives him a call the following day. Lucy too is looking for a connection. Her mother died when she was a teen and was raised through the foster care system. When Dylan explains his relationship with Lucy's mother, who was a heroin addict, Lucy informs him that she was diagnosed with kidney dysplasia which is why he saw her visiting the medical facility. The two slowly develop a friendship, however, things get complicated when Lucy grows sicker and a tough decision is made by Dylan that could change his life forever.
One Last Thing is an inspiring story that deals with love, loss, and rebuilding. The portrayals by both Pierce and Smollett-Bell are compelling and their chemistry is palpable. The pacing of the story tends to slow down at times, but overall the movie provides an incredible storyline and the character development evolves well and in sync with the narrative. It's definitely a Lifetime movie-of-the-week kind of story but with solid performances. One Last Thing is the kind of movie I'd like to watch on an early Sunday afternoon in my pajamas with a cup of milk and a plate of cookies. It's a cozy and comfy watch.
The film is written and directed by Tim Rouhana in his feature film directorial debut. One Last Thing is in theaters nationwide today June 13th for one night only and available on demand June 15th.
Jamie Broadnax
Jamie Broadnax is the creator of the online publication and multimedia space for Black women called Black Girl Nerds. Jamie has appeared on MSNBC's The Melissa Harris-Perry Show and The Grio's Top 100. Her Twitter personality has been recognized by Shonda Rhimes as one of her favorites to follow. She is a member of the Critics Choice Association and executive producer of the Black Girl Nerds Podcast.