Mel Perez
Writer. Podcast contributor. Costume design enthusiast. Lover of fantasy movies…
Last night the second trailer for Star Wars: The Last Jedi dropped and we all collectively lost our minds over how amazing it was. Thanks to the editing of it the trailer somehow managed to walk the line between giving us new scenes and revealing almost nothing concrete about the plot. That leaves us a lot of room for speculation and debate. Here's a selection of what BGN contributors thought about the trailer and what will happen in the movie.
My Kylo didn't kill Han theory: Han is dead, but not by Kylo's hand. Han knew that there was still good fighting inside him, so he took the saber and killed himself to keep Kylo from going fully to the dark side. It's why we weren't able to see the saber in that scene.
What was your favorite part of The Last Jedi trailer? 
I love the cut of the trailer because while we can all speculate what we think is going to happen no one truly knows and that's the best part.
-Kayla Sutton
DARK REY DARK REY DARK REY. My biggest theory coming from the trailer is Rey's turn to the Dark Side. I think Snoke isn't speaking to Kylo in that scene, he's speaking to Rey. And the end of the trailer clearly, to me, shows Kylo offering his hand to Rey. Is it all misdirection? Perhaps. But I think the rest of the series will be a story of redemption, just like the original series, but not of main villain Kylo. Rey will explore the dark side and perhaps fall in a little too deep. Luke failed once and he may think he's failed again, but in the end, Rey will achieve TRUE balance of the force. Not pure Jedi but definitely not Sith. Somewhere in between. The end of the Jedi is near.
What was your favorite part of The Last Jedi trailer?
PORGS! I wasn't in on the porgs until the trailer. So. Darn. Cute.
– Connie Gibbs
It looks like Finn allowed himself to be captured or is pretending to go back to the first order, so he can infiltrate them. I think that's when Poe's speech is happening. I agree with Connie about Rey finding balance, therefore creating something that is no longer 'pure Jedi'. I don't think it's Kylo she's speaking to in the firelight scene. She's sitting where as Kylo is standing when he puts out his hand.
What was your favorite part of The Last Jedi trailer?
My favorite part was seeing Leia. It's a bittersweet moment for me and Finn fighting Phasma. He's facing his past and literally fighting not to give into it. The snow foxes look amazing. I think I read they're part CGI and practical effects. Their fur is made from fiber optic wires I think.
– Carolyn Hinds
Luke Skywalker says "This is not going to go the way you think". This line alone is the theme for every story arc in this film. Everything that you expect may happen will go in the complete opposite direction. Those who you think are good, will become evil and those who are evil will become good. But who? I also think Maz Kanata being absent is intentional…perhaps a change in her appearance?
What was your favorite part of The Last Jedi trailer?
I really loved the fight scene between Finn and Phasma. Their costumes were spectacular and the special effects were amazing!
-Jamie Broadnax
Chewie is my favorite part of the trailer even though he's barely in it. He's fighting on without Han.
-Cherra Hampton-Mitchell
Kinda looks like Kylo Ren is deciding whether or not to kill his mother. I don't think he will as I don't think he killed Han (I agree with Kayla's theory). I think Kylo and Rey are reincarnations of The Ones and Luke Skywalker represents The Father from The Clone Wars. In the end, he will have to take them to a newly established Force temple and balance will return to the Galaxy. It would be interesting if Rey represents The Son while Ren is the Daughter fighting her true nature, which is goodness.
-Jahkotta Lewis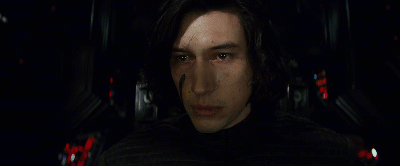 I think the hints were in the first trailer and poster they released and this built upon it. Luke asked Rey what she saw. She answered: light, darkness, the balance. In the poster, Rey is between Luke/light and Kylo/darkness. I see her as the balance. She is going to walk the grey path between the light and dark sides. I think Rey is talking to Luke at the end of the trailer, not Kylo. Luke is broken and scared after Kylo's betrayal and is shying away from training Rey. That opens the door for Snoke to sneak in. I think Kylo is going to struggle with killing his mother. "Let the past die. Kill it if you have to. That's the only way to become what you were meant to be," he says. But I think he will ultimately not be able to. It's going to affect his relationship with Snoke and may eventually lead to him coming back from the darkness.

What was your favorite part of the trailer? Every scene with Finn especially the fighting one. Seeing Kylo's flying skills was a nice call back to Anakin. That cut scene between Leia and Kylo was heartbreaking. Seeing how powerful Rey is now and will be.
-Mel Perez
I think we are going to get tons of info about wild space, Snoke, and the new story groups take on the early foundations of the Force in the Jedi. It's going to widen the universe like Empire Strikes Back did for the original trilogy.
-Kai Charles
What did you think of the trailer? Comment or tweet your reactions.
Mel Perez
Writer. Podcast contributor. Costume design enthusiast. Lover of fantasy movies from the 1980s and bizarre deep sea creatures. Can be found tweeting about comics, Yuri on Ice, Doctor Who or Star Wars at @jane_anon or on the Nerds of Prey podcast.