Jamie Broadnax
Jamie Broadnax is the creator of the online publication and…
A huge departure from Steve McQueen's award-winning film 12 Years A Slave, the 20th Century Fox film Widows gives women agency and positions them in the front seat of an action-filled caper. Co-written by McQueen and Gone Girl's Gillian Flynn — who is notably known for depositing a series of plot twists in her narratives — Widows delivers twists and turns through each act leaving us stunned. The film is also adapted from the 1980s-era British TV series.
When four women whose criminally connected husbands are all killed in a heist gone wrong, they are left to their own devices not only to find a way to support themselves but clean up the mess made after the heist failed.  As it turns out, the money stolen belongs to a man named Jamal Manning (Brian Tyree Henry) and his second-in-command Jatemme (Daniel Kaluuya) is someone who is not to be played with.
An opening scene with a passionate long makeout session between Veronica (Viola Davis) and her husband Harry Rawlings (Liam Neeson) sets the tone for the picturesque relationship this husband and wife have, but is sadly ripped to pieces when Harry tragically dies in an explosion inside of his getaway vehicle after being cornered by police. The other men in the vehicle are the spouses of Alice (Elizabeth Debicki) and Linda (Michelle Rodriguez).
The women meet together in a sauna — the perfect location to convene and put together best-laid plans — and without any experience are poised to steal $5 million to pay back the money stolen from Jamal and his cohorts. When the driver for their crew suffers a tragic ending, the women recruit Linda's babysitter Belle (Cynthia Erivo) to take over and the four take on an adventure that will change the course of their lives forever.
The first act of Widows does take some time to get through exposition which includes flashbacks (mostly of Harry Rawlings) and the political corruption built into a family dynasty by Jack Mulligan (Colin Farrell) who uses his power and political leanings to be above the law. However, once the first act ends and the second one begins with a major plot twist, the film picks up steam and preps you for the wild ride it's about to become.
Believe it or not the stand out performance in Widows is from actor Daniel Kaluuya who gives the fiercest death stare ever witnessed on celluloid. Kaluuya plays a pretty convincing villain in this role and it is quite memorable.
Actress Adepero Oduye who we know best from her leading role in Pariah, plays Breechelle who owns a salon and is a recipient of the Minority Woman Own Work which Mulligan is persuading his constituents to support. There's also the legendary Robert Duvall who plays Tom Mulligan, Jack's father. He's explicit racist that doesn't apologize for his opinions and draws some strong parallels with his Trump-like tactics. The stellar cast rounds out with performers Carrie Coon, Jacki Weaver, Michael Harney, and Lukas Haas.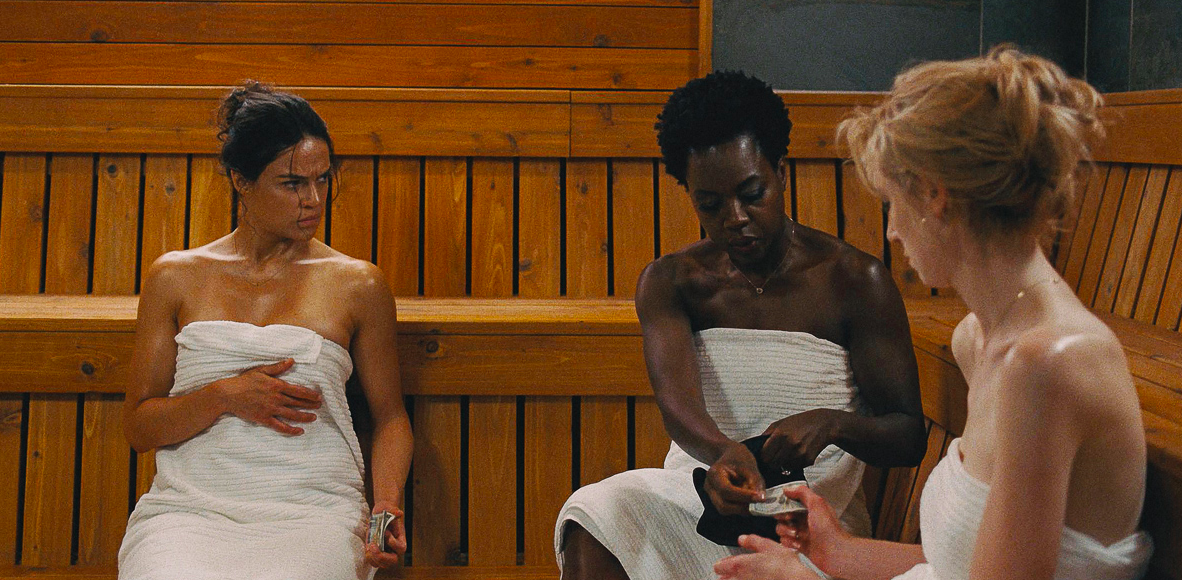 The film does a great job and keeping us interested in whom to root for, even if the motives of the women aren't ethically-sound we still want them to win. And we root for them, even more, when the plot twists into a major loop that angers and shocks us just as much as the protagonist.
Widows has a slow start but buffers out its screentime with an awesome finish.
One thing that is refreshing about Widows, is this multi-cultural cast of women are not reduced to stereotypes or bad film tropes due to an underserved script that doesn't know how to write women. You can tell both McQueen and Flynn worked hard to avoid any tacky clichés. Hopefully, more films like Widows will be the just the beginning of what is to come in Hollywood making movies with women as leads are ones filled with substance.
Widows premieres in theaters nationwide November 16, 2018.
For more of our reviews from TIFF check out the following:
Jamie Broadnax
Jamie Broadnax is the creator of the online publication and multimedia space for Black women called Black Girl Nerds. Jamie has appeared on MSNBC's The Melissa Harris-Perry Show and The Grio's Top 100. Her Twitter personality has been recognized by Shonda Rhimes as one of her favorites to follow. She is a member of the Critics Choice Association and executive producer of the Black Girl Nerds Podcast.