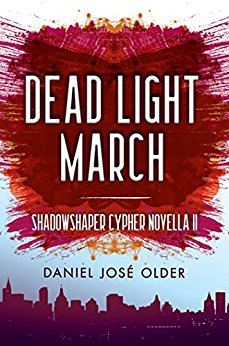 Guest Blogger
BGN works to feature strong, unique content from writers who…
Written by: Kortney
Daniel José Older's Dead Light March, the second novella within the Shadowshaper series, is a fast and thrilling ride from beginning to end.
It begins with Mina, who's on the move in the middle of the night and clearly up to something pretty sketchy. I was immediately intrigued by this character with her tough-girl attitude who often takes to reciting her favorite serial killers as a sort of mantra to keep herself grounded. She arrives at the abandoned Mother Immaculate Convent and Rectory, and her anticipation – and mine – arises as she learns what she's gotten herself into.
Meanwhile, the scene jumps, and we get to listen in on a practice session with Culebra (a music group comprised of Juan [older brother of Sierra, the star of Shadowshaper], Pulpo, Ruben, Kaz, and Gordo) as they jam together and subsequently show off Older's musical knowledge and background. Culebra's dynamic is jovial as they practice and try to figure out their sound for a new song when Sierra and her best friend Bennie enter the scene.
As the entire neighborhood is buzzing about the upcoming West Indian Day parade, Sierra is dealing with a world of problems on her own (pun intended). Feeling conflicted and lost about her destiny of inheriting the mantle of Lucera (the "central spiritual force in the churning universe of darkness and light that the [shadow]shapers worked their magic in"), she's distracted from the goings-on around her as she tries to figure out this new life she's been thrust into.
It's understandable why Sierra's mind is anywhere but in the present. During events later in the novella, we see that Sierra is just plain cool, full of strength, and already has a reputation in the spirit world of her awesome power. Imagine adjusting to this responsibility while not even knowing this world existed only a short time ago!
After our key characters have been introduced, the rest of the story effortlessly flows in a page-turning adventure that beautifully sets up the events of Shadowhouse Fall, which releases later this year.
So I have a confession to make… Dead Light March is the first story in the Shadowshaper series that I've read. (I know, I know. If you're a fan of Daniel José Older or any of his works [including his incredible Twitter account!], you're probably rolling your eyes at me or giving me some serious side-eye. It's cool, I deserve it.)
Rest assured, I feel properly initiated and well-immersed into the colorful, spirited world Older has created within the Shadowshaper universe. Plus, the crash-course I received through Dead Light March got me even more interested in reading the Shadowshaper novels, Ghost Girl in the Corner (the first novella in the series), and learning more about the characters and their gifts.
First off, Older's realistic depiction and inclusion of the Afro-Latino and Latino communities is one of the many things he's known for in his previous works, and Dead Light March is no exception. Readers get a peek inside the lives of each of the main characters and true-to-life, Brooklyn-esque settings, while still giving us a down-to-earth story of fantastical elements.
I enjoyed the underlying themes of having a great power and being a part of a much larger story than yourself but still having doubts and not being sure what's right and what's wrong. It was incredibly easy to connect with the characters on this level – even if when I squint my eyes I can't see into the spirit world as they can.
This experience of being unsure of one's place in the world is a familiar one that we all have been able to relate to at some point in our lives and that I'm not sure ever really goes away.
I found parts of the novella a bit jumpy and the dialogue choppy in places, but overall I enjoyed Dead Light March and thought this novella was a great introduction to the Shadowshaper series for me. It was a quick read, great for a weekend in or a couple of quiet evenings with a quality book that shines a diverse light on the young adult urban fantasy genre.
Not to mention the multiple Lord of the Rings and Hamilton references that made the events of the books even more relatable, relevant, and timely (and gave me more chances to geek out).
Dead Light March is available wherever books are sold.
Disclaimer: The writer of this article received an advanced copy from the author/publisher in exchange for an honest review.
Kortney Hinton is a writer, photographer, and crafter of too many things to feasibly list in a bio. She resides in central Arkansas where she tries to keep her natural hair from frizzing up too much in the ridiculous Southern humidity. She is Chief Creative of Verve House Collective, a site dedicated to audacious creatives, entrepreneurs, and intention-seekers and can be found tweeting up a storm through the VHC handle @VerveHC or through her personal handle @iamkhinton.
Guest Blogger
BGN works to feature strong, unique content from writers who speak to our niche. If you are interested in having your work highlighted contact jamie@blackgirlnerds.com to be featured as a guest blogger on the site.