Evolution Issue 1 is an interesting exploration of three groups of people encountering recently-transformed humans, with different results.
The Plot… 
The story opens with Dr. Abe Hurley examining a young boy, who has been cured of his life-threatening Asthma. The cure, however, is a set of gills which developed on the boy's throat.
Next, readers meet Sister Hannah a nun in Rome, Italy, who finds a man undergoing a painful transformation. He holds a gun on Hannah while screaming a mysterious word to her.
Our last group is Clare and Rochelle, a couple in the midst of clearing out the remains of a family film business. A simple delivery to a longtime client puts the pair in danger.
Evolution is a story that can go in many different directions. There is a horror vibe to some of the scenes, as well as a touch of medical thriller, and maybe even an element of science fiction as Abe tries to discover if there is a consciousness behind the "evolutions."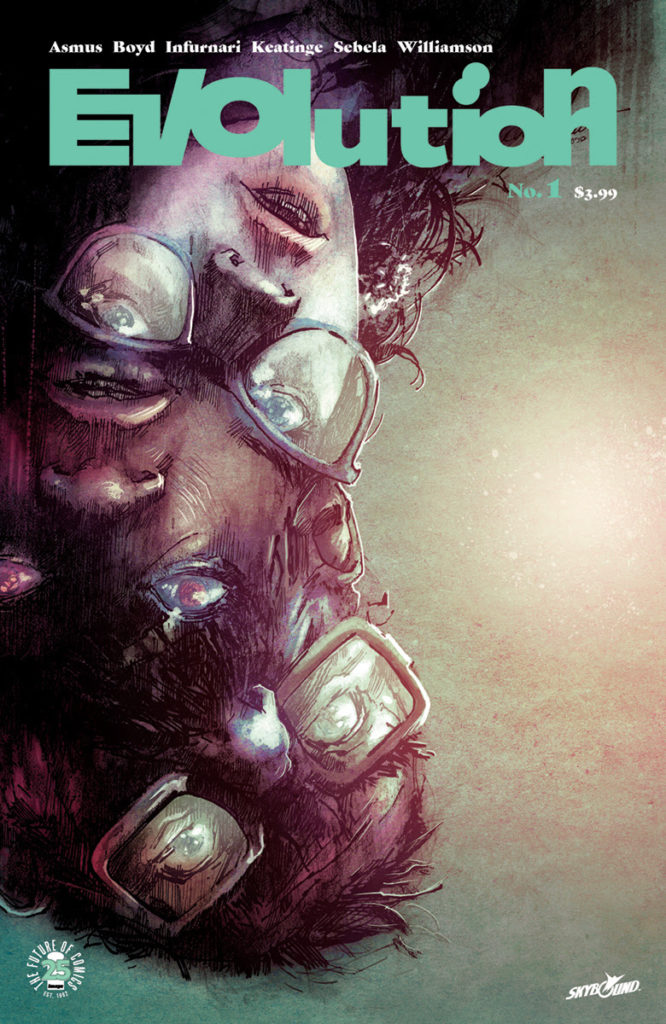 As you can tell by the credits, there are a lot of creative hands in this comic. What's wonderful is how easily the stories connect. There is a definite tonal shift between the three stories, but I was able to switch easily between the various characters narratives.
The creative team does an excellent job with the characters and their experiences. After about ten pages, I was very invested in the story. I also loved the diversity shown in the book. I'm used to seeking out the POC in comics, trying to see if any of the supporting cast will rise to a prominent position. With Evolution, my mind never strayed in that direction once. It has a nice ratio of male to female characters of various ethnicities.
This oversized first issue (31 pages) lays a wonderful groundwork for the series. I'm intrigued enough by this issue to continue with the book.

By: Kai Charles
About the Author: Kai Charles is a medical professional, Jedi hopeful, and independent book reviewer at Fiction State of Mind. You can also find her on Twitter at @yogikai tweeting about all things related to Books & Geek Culture
Guest Blogger
BGN works to feature strong, unique content from writers who speak to our niche. If you are interested in having your work highlighted contact jamie@blackgirlnerds.com to be featured as a guest blogger on the site.