Stacey Yvonne
Stacey Yvonne is an entertainment journalist who is often found…
Written By: Stacey Yvonne
F9: The Fast Saga proves that the Olive Garden isn't the only place for "family." The epic franchise continues its billion dollar run with another thrilling installment. Helmed by director Justin Lin, the Universal Studios film stars Vin Diesel, John Cena, Michelle Rodriguez, Tyrese Gibson, Chris "Ludacris" Bridges, Jordana Brewster, Nathalie Emmanuel, and Sung Kang. The expansiveness of the main cast only speaks to the growth these movies have experienced during the past two decades.
The Fast Saga started as a simple story about LAPD officer Brian O'Connor (the late Paul Walker) infiltrating the world of DTLA street racing. The franchise grew to our heroes globetrotting around the world and facing an escalating set of foes and circumstances. The fact of their mortality is not missed on the F&F crew. A throughline in F9 is Roman (Gibson) questioning their longevity. They've been through "ridiculous" events and he finds it remarkable that he's survived without a scratch. While on the road to declaring himself invincible, he begins to wonder if he's supernatural; instead Tej (Ludacris) suggests maybe Roman's just a dumbass. The combination of perilous and mortal danger, lighthearted humor, and heart are what set the Fast & Furious franchise apart from other action properties. Its self-referential and often ridiculous to the point of camp storylines and action sequences are what keep audiences engaged. 
F9 is the immediate followup to The Fate of the Furious. It's labeled as the ninth film, though that does seem to be a dig at the Hobbs & Shaw release, which has led to debate within the franchise. It's interesting because the situation regarding the placement of Hobbs & Shaw into the Fast Saga appears to be metaphorically paralleled in F9. We find Dominic Torreto laying low off the grid with Leti (Michelle Rodriguez) and his son Brian "Lil B." Of course it wouldn't be a Fast & Furious movie without their peaceful world being shaken up this time by a deceitful family member in Dom's past. Their relationship mirrors the relationship Diesel has with Duane "The Rock" Johnson and with the sequel in general.
I'm going to level with you, there's a lot happening in this film. Like its predecessors, F9's many storylines read like a Stefon SNL sketch. This movie's got everything: long lost family betrayal, landmines for no reason, a magical orb powered by DNA, Helen Mirren, a Pontiac with a rocket engine, Charlize Theron in a box, Cardi B for some reason, magnets, a megalomaniacal dictator's son, drone jets that can pick up cars, and bittersweet vague allusions to Brian (Walker), who is still alive in the verse and just babysitting. 
Mere mortals would call this movie bloated, convoluted, or even self-aggrandizing. And they might be right, but wrong about the effect. Movies in this franchise thrive on the ridiculous and excel at new and exciting ways to push the boundaries of what's expected. I'd only seen the first four movies years ago so I felt pretty unprepared going in as names like Cipher (Charlize Theron) and Mr. Nobody (Kurt Russell) flew around. But there was enough helpful exposition that didn't seem clunky and pulled me right back into the storyline.
The plot revolves around Dominic and his estranged brother Jakob (John Cena). Always living in his brother's shadow has caused Jakob to become angry and motivated. There are delightful moments that introduce the Torretos and Leti as teenagers. The young actors playing these roles do so in a way where you recognize their older counterparts immediately (Young Dom's Vinnie Bennett is a notable standout). After getting effectively pushed out of the family, Jakob does everything in his power to prove that he is the superior Toretto and becomes a spy, attempting to steal Aries, a cunning doomsday device, for the highest bidder. When he reveals himself to Dom as the villain, Dom must come to terms with his view of family. He's disowned his brother, but he consistently preaches loyalty. He's a man of few chances, but can he also be a man of second chances and forgiveness? As the film takes us through beautiful locales such as Montecinto, London, Tokyo, and Edinburgh, we learn that the divide between the brothers is just as large as the distance between these cities, but the connection and how they're needed to fulfill a common goal still persists. It's a surprisingly poignant and quiet comparison in a movie full of loud.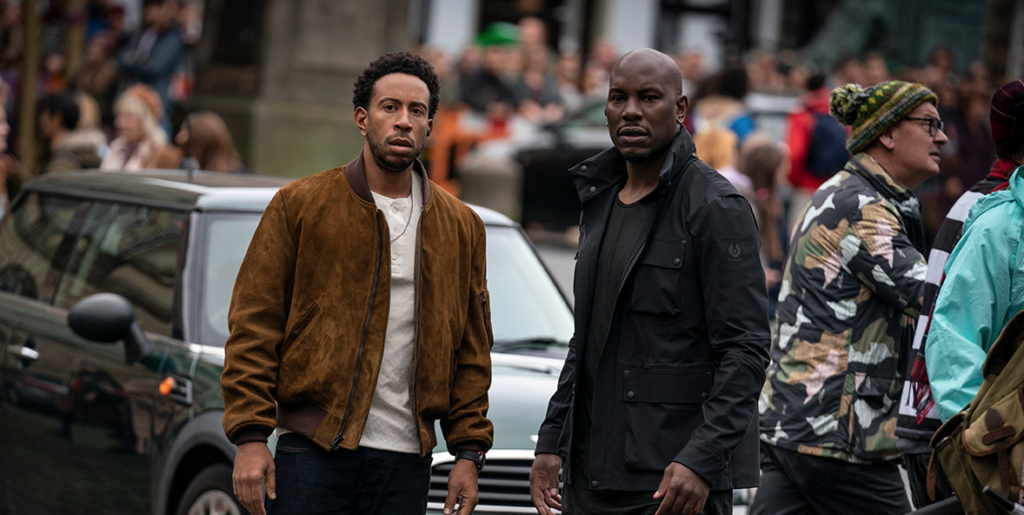 Within the first 20 minutes of the film we see the gang get shot at while inspecting a downed plane, after which they board random vehicles (Leti chooses her motorcycle) and roll haphazardly through a minefield. This is before they're run off a cliff in which one car seems to skate over a crumbling pedestrian bridge made of wood planks and cable. And the other car holding Leti and Dom, does something (you really have to see it to believe it) that is probably scientifically sound, but makes no practical sense. In fact, as is a staple of the Fast Saga films, very little of the stunts make sense but darn it if they're not fun to watch, which is one of the strengths of F9. Do I cringe thinking of the collateral damage being done when a magnet drags a car through a building? Sure, but I also laughed out loud when Dom punches a wall and a literal chunk of it appears to explode at the impact. Are human bodies capable of such things? No. Do I care? Nope! Because the beauty in the Fast & Furious franchise is the beauty of watching beautiful people who have committed their lives and love to these projects for the last 20 years. They are heavy handed with the "family" talk, but it's earned since that's not only what the movies are about, but the cast and crew as well. It's why Hobbs & Shaw is such a tense topic with diehard fans. Regardless of where you land on the debate, if you have an opinion it means you're invested.
Much like the Marvel Cinematic Universe, while the individual films are fine to watch on their own, they're bolstered by watching the previous films to meet the characters. This won't allow the movie to make more sense; it's just a fun thing to do to supplement your viewing.
Overall, F9: The Fast Saga is a worthy entry into the Fast & Furious catalogue. I could only see a couple of rough spots. The first being the exorbitant amount of pursed-lip acting — when you see it once, you will not unsee it for the entire film. The second was some of the editing choices and timing. For a movie that never seems to slow down, there were moments where even the action was plodding. Additionally, the comedic relief was light and welcome, but didn't land as solidly as it could have. However, these are minor flaws in a project that delivers on every outing. And the end credits scene gives us an exciting glimpse as to what comes next.
F9: The Fast Saga premieres in theaters June 25th.
Grade: 4/5 stars
Stacey Yvonne
Stacey Yvonne is an entertainment journalist who is often found in some corner of the internet pontificating about pop culture and its effect on women, Blackfolk and the LGBT+ community. You can see more of her work at https://syvonnecreative.com