The denial of their existence and lack of representations are just some of the daily struggles of Afro-Puerto Ricans living in Puerto Rico. Many Afro-Puerto Rican writers, poets, and storytellers combat this issue. Puerto Rico's history involves being colonized by Spain and then the United States. Despite their oppressed past, there is a beauty and strength that runs through the veins of Puerto Rican people, which was evident through my conversation with Gloriann Sacha Antonetty Lebrón.
I was recently approached by Ketchum, about interviewing Lebrón on the amazing work she has done and continues to do to represent Afro-Puerto Ricans. BGN spoke with Lebrón over Zoom on February 23, 2022, about the importance of representation in Latin America and the Caribbean.
Lebrón is an impressive woman with many titles, including poet, author, communicator, professor, and more. I, however, was very interested in how she defines herself without these titles.
"I love to call myself an Artivist. I also consider myself a strategist. I love to communicate in different ways. I recognize the power of stories. The stories that they try to forget about, the stories about the contributions of Black people. My grandfather was a writer and journalist and I helped him with his radio station. He spoke and wrote about Black women. Now I have the opportunity to gather information about Black culture and present that beauty and resistance through different forms of art."
What was it like growing up as an Afro-Puerto Rican in Puerto Rico?
"It's hard growing up here as a Black person, no matter your gender identity. Colonization is still impacting society. The belief system is that Black people are less than every other person on the island and the world. They say that [racism] happens in the United States, but it doesn't happen here. We grew up with books saying that Puerto Rico is the most white of all the Caribbean islands and people think that Black Puerto Ricans are few."
This question led her to speak about the hyper-sexualization of Black women and how they often get told they do not belong in spaces that allow them power and influence. Through Lebrón's work, she proves that Black women deserve to be in whatever space they choose. As she transcended into various careers such as working as a professor, working within an Ad agency, and corporate business she often had to remind herself that she deserved to be there.
What was it like to break into corporate spaces where you didn't see people that looked like you?
"I have to come back to my family. I understood that I deserved to be a part of every space. That I have to go with my chin high. I know I deserve to be here, and I'm here paying this debt to my ancestors. I'm creating a space for future generations to understand that they belong in every sector of Puerto Rico and every part of the world."
Her parents spent their lives moving between Puerto Rico and the United States and experienced movements that amplified Black voices. Her mother grew up in communities that preserved Black history. She got her sense of pride from her parents, and she carries that pride into spaces where Black people aren't represented.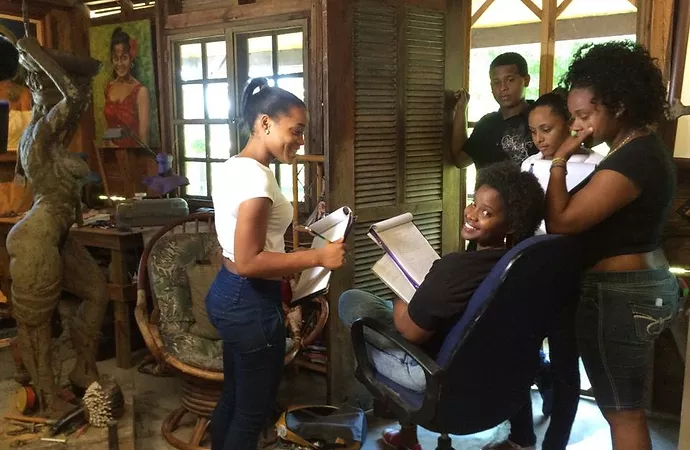 You have a deep connection and talent for words. Why have you chosen to express yourself through written form?
"It's one of my biggest expressions to heal. If I'm going through something, I heal through writing. I understand the power of stories and words and how that impacts film and music. If you have strong stories or words, that becomes art. Words are how we can take back our power."
Over the past few years, Lebrón has created Revista Ethnica, a magazine that represents the full shades of Puerto Rican people.
What was your dream for Revista Ethnica, and how have you seen that dream come to life?
"I've had a strong fascination with books and magazines since I was a little girl. In Puerto Rico, we have a lot of magazines that come from America Latina, Cosmopolitan, Vogue, and I stood in front of those magazine racks and never saw myself represented. I never saw the beauty of my family, friends, and culture. I remember telling my father that there are no magazines representing Black people. I don't know how he did it, if he called one of our uncles in New York, but he received Ebony and Essence magazine through mail. When I saw them, I thought, I can do this, and I can do this in Spanish. I'm working to continue the legacy of Black writers."
Revista Ethnica is now opening a publishing company to support other Black Puerto Rican writers.
How can others support Revista Ethnica?
Among the other Black communities within Latina America, the United States, and the world, it's important to recognize that Afro-Latinos exist. We need to create more things together and see how we can create more sustainable enterprises and always present ourselves as valuable.
When you hear the word Afro-Puerto Rican, what does that word mean to you?
It's everything.When I listen to that word, I feel the love and power of our grandmothers, our mothers, our girls, and our Black men, who have struggled so much with things that didn't deserve. Our aesthetics are that word. You can hear music with Afro-Puerto Rican. It's magic and dignity.
What are some of the projects you are currently working on?
We are working on the 4th edition of the magazine, hopefully launching on the 12th of March. We investigated women who have been killed because of gender violence. Since 2013, over 60 percent of the women killed were Black women. What's most important is healing. We created a creative writing project for the survivors to heal. We finished with an anthology, and it's going to be the first published book with Ethnica publisher.
What would you say to other writers out there?
You have to start with your family or community, with the people who inspire you.Try to look for the story you would never hear about. Some ancestor or family member will call you to write that story. We can also start working on our own stories. You can create whatever you want. Start writing and put it out here so someone will notice and understand the struggle, beauty, and magic we create every day.
Kiersten Brown
Kiersten is a freelance writer and coach. As a writer, she has written for Travel Noire, Passion Passport, BAUCE mag, and various travel and lifestyle blogs. As a writer, her goal is to write content that inspires others to take action. As a coach, her goal is to empower women to be their most authentic selves. In her free time, you can find her dancing to any song any where.