Afiya Augustine
Afiya Augustine is an eternal student and dreamer from Brooklyn,…
Can Issa come back from being ditched by her Tindr date? Will Lawrence move on from his failed threesome? Will anyone top Kelli's under-the-table finger play? Here's everything that went down on Insecure Season 2, Episode 5, "Hella Shook":
Issa (Issa Rae) goes through the regular day-to-day stresses and makes her way over to someone to make a "special delivery" for a package. Turns out, the package belongs to Daniel (Y'Lan Noel), who takes her in with tons of sexy kisses.
In Chicago, Molly (Yvonne Orji) meets with her Chi-Town partner, who tells her she should look into leaving the firm since there are other good law firms out there willing to treat her — and pay her — a lot better than she's been treated now.
Meanwhile, Issa makes her way to leave Daniel's place, and he asks her if she's making plans for the rest of the week. It causes a little back and forth between the two of them which ultimately leads to them heading out to dinner at a food truck.
Issa heads over to Molly's who is working on decor for her parents' vow renewal ceremony. At this point, Issa lets it slip that Daniel is a part of her "hotation," and the two are definitely "cool" and even shows her a photo of a man she's looking to add to the mix.
Thanks to his jury duty summons, Lawrence (Jay Ellis) finds himself at jury selection scrolling through Kelli (Natasha Rothwell)'s Instagram and sees a picture with Issa and Daniel talking in the background.
Frieda (Lisa Joyce) is completely over Issa at work and continues to distance herself from her. She admits to feeling weird about the two going along with Vice Principal Gaines (A. Russell Andrews). Frieda tells Issa V.P. Gaines is being racist towards the students, but Issa rebuts there are many racists in the world and she's trying to make the best of the situation because life is hard. Frieda tells her she wishes Issa was above it.
At her parent's home, Molly bumps into Dro (Sarunas J. Jackson) (and they talk about their lingering feelings following their night at the club. He asks her if she thinks about him, and she reveals she has, but she's not really into the relationship he's trying to have.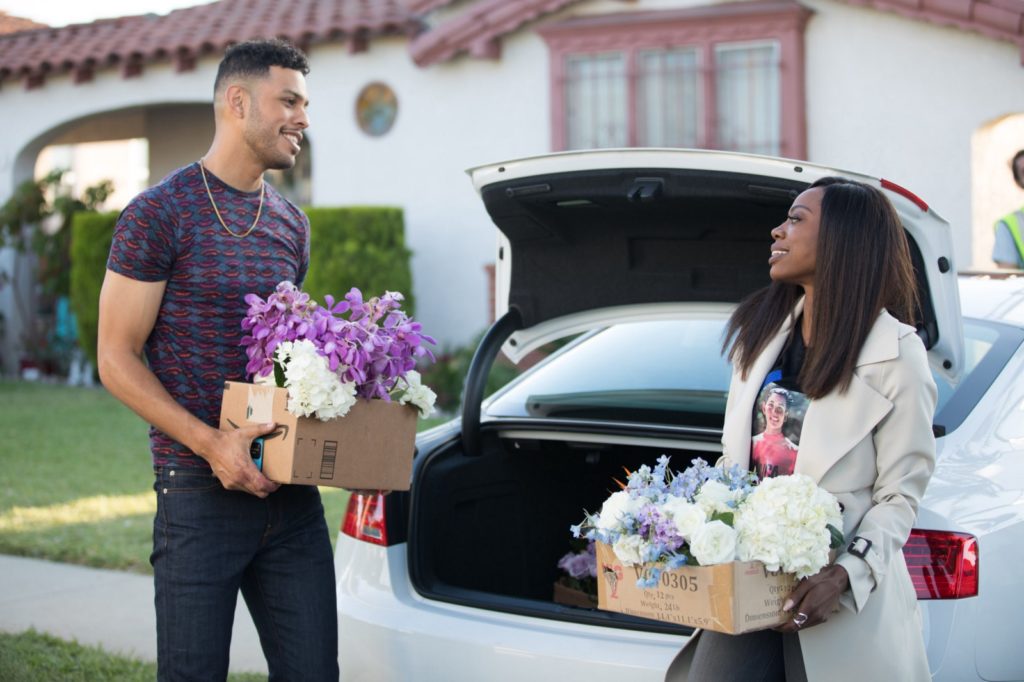 Lawrence goes down a rabbit hole following Daniel on Instagram, while later that evening, Issa heads out to make a 46-year-old Tindr profile, Niko, her next in her "hotation." As the two chat, Issa fantasizes about having sex with Niko, who turns out to be a nice date. She blows off Daniel in favor of her date, who makes it clear he'd like to see her again.
Back at We Got Y'all the next morning, Issa and her staff workers engage in a workshop ahead of their retreat. Issa is paired with Sarah (Sujata Day), as Frieda refuses to work with her.
Molly, who has asked Lionel (Sterling K. Brown) to be her date at the vow renewal, sees Dro yet again. As the pair talk, Lionel grabs on to Molly as to claim her in front of Dro, who keeps it moving when he sees Molly's brother and friend.
Lawrence meets up with Derek (Wade Allain-Marcus) to get any tea he can about Issa dating Daniel. Derek says he doesn't know and doesn't want to know since Issa and Lawrence's relationship is causing issues in his own relationship. Lawrence questions whether or not Issa had been cheating the entire time, but Derek drops some knowledge on Lawrence by saying he should take some responsibility for not being a good boyfriend and provider for two years.
At her parents' vow renewal, Molly is confronted by her brothers for dating a guy that's stuck up. Molly tries to brush it off, but her date seems to have caught the eyes of her aunts, who are happy to see her with a decent man. When probing about the comment, one of her aunts let it slip her dad cheated on her mom. When Molly confronts her parents about it, they tell her they got over it, but she blows up and storms out, with Dro running behind her to console her.
Issa gets a message from Eddie the neighbor bae and gets caught trying to send him a topless Snap. On her way home, she's again engrossed in her Tindr exploits and is so distracted by a penis pic, she slams nose first into the car in front of her.
Later that evening, Issa calls Daniel to tell him she can't make it due to her accident and Daniel insists on picking her up to take her home. When Daniel comes to pick her up, he tells her "I got you," which she immediately replies by questioning the status of their relationship. She says she wants to make it very clear they're both "out there" and he says, "cool."
Meanwhile, at home, Lawrence goes into a deeper rabbit hole regarding Issa and finds himself combing through her Facebook page.
As Dro drops Molly home, the pair talk about her dad and Molly laments on how she'd been looking for a man like her dad her whole life and it turns out, her father is just as messy as all the other men out there. Dro walks Molly to the door and just when he's about to leave, Molly pulls him inside… and then lets him slip inside her goodies. *Insert head slap emoji here*
Catch a new episode of Insecure Season 2 airing Sunday, August 27 at 10:30 PM ET on HBO.
Afiya Augustine
Afiya Augustine is an eternal student and dreamer from Brooklyn, NY. On the occasion she's not trolling for her blerdy pleasure, she's a freelance writer and editor. She's also a crafter and jewelry designer for her online shop, Pretty Poet Ink. In Afiya's spare time, she enjoys listening to music, live-tweeting TV shows, and writing on her blog, Alja the Writer, Follow her on Twitter at @LaJoliePoeta and get to know her.