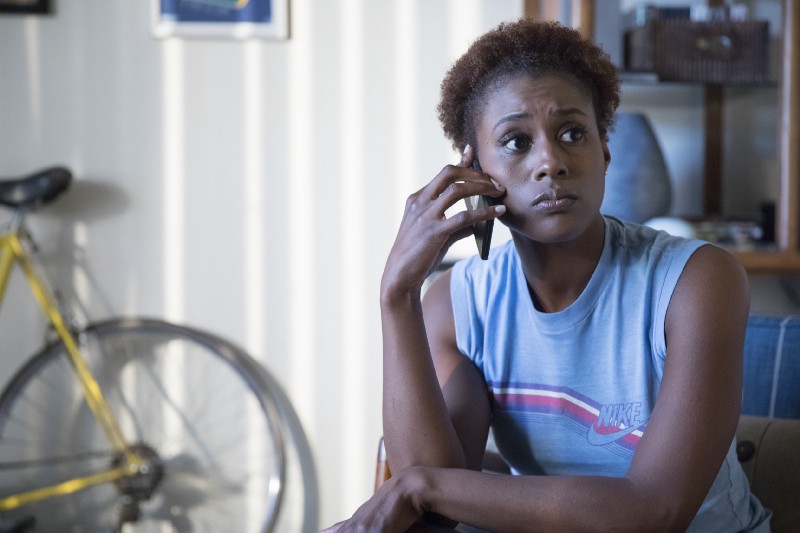 Afiya Augustine
Afiya Augustine is an eternal student and dreamer from Brooklyn,…
Is this the end for Issa and Daniel? Will Molly get used to being No. 2 in an open relationship? And will Issa ever be able to see again? Find out the answers to all that and more in this recap of Insecure Season 2, Episode 7: "Hella Disrespectful."
Picking up the next day after getting a load in her eye, Issa (Issa Rae) chats on the phone with Molly (Yvonne Orji), who designs a plan of for shooting Daniel (Y'Lan Noel) in the face with cracked eggs using a water gun. Issa says she feels stupid and embarrassed by the whole thing, but Molly assures her that Daniel's desire to act like a porn star by shooting jizz in her eye is his fault.
In the spirit of not judging, Molly unveils to Issa she's still seeing Dro (Sarunas J. Jackson) and Issa expresses her worry over the idea of Molly seeing a married man — open relationship or not —because she's looking out for her. Molly tells Issa, "You do you, and I'ma do me."
While on the bus to work, Issa bumps into one of the Latino students who did a dine and dash at their We Got Ya'll studying for the PSATs. She invites him to the We Got Y'all tutoring, but learns that Vice Principal Gaines (A. Russell Andrews) has been telling the Latino students the program is full.
Lawrence (Jay Ellis) heads to work and learns his co-worker Aparna (Jasmine Kaur) told the rest of the staff they kind of went on a date together. When his other co-workers ask if they're a thing, he explains they just "hung out," but he and Aparna are given awkward looks. Later on, Lawrence approaches Aparna about letting everyone know their "business" and she asks if they have "business." Lawrence tells her he doesn't want to jump into things too fast, and she says it's cool.
During her trip out to Chicago, Molly is taken around town by her Chi-Town counterpart Quentin (LilRel Howery). He tells her he'll be heading to L.A. in a few weeks and hopes she can return the favor by showing him around her city.
At work, Issa approaches Frieda about ways to increase Latino enrollment for We Got Y'all. Frieda reveals she had the same thoughts and despite their fighting, they're still "synced." Issa apologizes for not being herself for a minute and Frieda apologizes for being "a bitch."
Dro stops by to visit Molly, where he is given her spare keys. He asks if she's going to Derek (Wade Allain-Marcus)'s birthday party, and he lets her know his wife Candice is coming. Molly says she feels awkward about seeing her while the two of them are a thing. He tells her despite them being new, they're still "us."
Issa gets a text from Tiffany (Amanda Seales) regarding Derek's birthday party and lets her know Lawrence was invited. While on Facebook, Issa goes to check his profile and sees she's been blocked, prompting a "n—a"-filled bathroom rap about Lawrence acting like Dikembe Mutombo. Either way, she lets Tiffany know she'll be there.
At the law firm, Molly puts together a meeting to discuss her progress with a client and the partners all agree she's a great asset to the company, however, they tell her they won't be taking her work into considering until her annual review next year, deeply disappointing her.
Meanwhile, Issa and Frieda (Lisa Joyce) corner Vice Principal Gaines about him deliberately turning away Latino students, and not only does he brush them off by saying they got what they wanted with the program being full, he chastises them by saying they need to "calm down" and if they want "Mexicans" then so be it.
Lawrence tells Aparna he has to cancel their drink plans because of Derek's birthday, but she offers to be his date instead and he agrees.
Daniel calls Issa to apologize for being "f—ked up" in the way he handled their BJ session. She accepts his apology, but in the midst of their conversation, he lets it slip that she now understands what it feels like to be embarrassed after she treated him the same way months prior. Issa takes his comments to mean him shooting in her face was an act of revenge and she calls him petty and tells him to never call her back again.
While chatting with Kelli (Natasha Rothwell), Molly sees Dro and wife Candice (Gabrielle Dennis) arrive. Dro tells Molly (in Spanish) that she's wearing his favorite dress, before having a bit of an awkward encounter with Candice causing her to spill her drink. When Dro leaves to grab Molly another, she and Candice have a small talk before they're joined by Dro just before sitting for dinner. Molly accidentally sits near Dro before being told to move by Tiffany.

Issa shows up with her brother Ahmal (Jean Elie) and sees Molly in a somewhat sour mood as she looks over to Dro and his wife. Moments later, Lawrence shows up with Aparna, startling everyone with his decision to not dress for the sit-down dinner as well as bring a date. Aparna tries to make light of the situation, but Issa is clearly bothered and asks for alcohol.
At the dinner table, everyone is having separate conversations and Molly does her best to join in the convo between Dro, Candice, Tiffany, and Derek, but they're unable to hear her from her position at the table. Meanwhile, other dinner guests (including Awkward Black Girl alum Andrew Allan James) question Lawrence about his connection to Derek, and they learn Issa is his ex.
The awkward glances between Issa and Lawrence grow to a pitch and Issa steps outside. Urged by Molly, Lawrence goes out to check on her, but the two get into a heated fight where Issa bashes Lawrence for bringing Aparna, sleeping with Tasha, and blocking her on social media. Lawrence fires back by saying he's over seeing her in photos with Daniel and asks if she's still sleeping with her. Finally, Issa takes a jab at Lawrence being depressed over his failed app, while Lawrence retorts by calling her a ho. WHOOOOH….

Aparna comes outside to check on him and the two leave Issa standing on the street.
Back inside, Molly catches Dro on the way to the bathroom and tries to break it off with him, but the two end of having sex on the sink. Dro tells her to hang back to not make their sessions so obvious, but as Molly exits, she sees Issa… who adjusts Molly's dress and hair. Molly yanks the tag off Issa's dress to Issa's dismay as she planned to return it.
On the car ride home, Lawrence is beyond furious, but Aparna offers up the two still grab drinks. At the lounge, the two chat and Lawrence leans in for a welcomed kiss.
After dinner, Molly finally calls her mom back and asks how she was able to get over the hurt of her father's infidelity, to which her mother replies he made her feel special more than he hurt her. A little later, Dro texts Molly about meeting up again and she texts she can't be a part of their relationship anymore.
Issa comes home to find a rent increase notice on the door and the drama of everything — including the burn stain on the ceiling — causes her to lose her ever-loving mind and she trashes her apartment. Damn girl. Damn.
Afiya Augustine
Afiya Augustine is an eternal student and dreamer from Brooklyn, NY. On the occasion she's not trolling for her blerdy pleasure, she's a freelance writer and editor. She's also a crafter and jewelry designer for her online shop, Pretty Poet Ink. In Afiya's spare time, she enjoys listening to music, live-tweeting TV shows, and writing on her blog, Alja the Writer, Follow her on Twitter at @LaJoliePoeta and get to know her.