Lisa D. DeNeal
Lisa D. DeNeal, of Gary, IN, is a freelance journalist,…
In 1991, John Singleton made history as the first Black film director to be nominated for an Academy Award for his breakout film Boyz N the Hood. He continued to make his mark in the '90s with Poetic Justice (1993) and Higher Learning (1995). Singleton's movies are not only known for telling stories from the Black lens, but also introducing audiences to talent including Regina King, Omar Epps, Morris Chestnut, and Cuba Gooding, Jr., to name a few. He even turned rappers Ice Cube and the late Tupac Shakur into actors.
In anticipation of the February 5th Blu-ray release of Poetic Justice and Higher Learning, BGN talked to Singleton about these two films that were clearly ahead of their time.
Before we talk about Poetic Justice and Higher Learning, the Oscars is near. You were the first African-American director to receive an Academy Award nomination. Now, Spike Lee is the sixth African-American film director to be nominated (other directors include Lee Daniels, Steve McQueen, Barry Jenkins, and Jordan Peele) for BlackKklansman. How do you feel about the fact that no Black film director has yet to win an Oscar?
It's going to come. It's going to come, you know? In good time. We have a shot this year.
When you did Poetic Justice and Higher Learning, do you believe that the narrative of these films are relative to what's going on today? With issues like depression and violence?
Yeah, I did. One film is different from the other, but I do feel that some of the things the characters go through, especially in Poetic Justice and Higher Learning. Like Black women are still going through things that they went through in the '90s. They're trying to hold back their emotions and are going through depressing thoughts. And dealing with what they have to deal with, especially in the urban environments.
You were in the forefront of topics with Higher Learning — issues that are big now. The one scene where Ice Cube's character, Fudge, is having the conversation with Omar Epps' character, Malik, about the National Anthem. Fast forward and you have former San Francisco 49ers quarterback Colin Kaepernick not standing for the National Anthem to protest the country's mistreatment of minorities.
(Laughs) Oh, yeah! Yeah, I know. I watched the movie recently, and I was like, "Whoa!" I can't believe that I was on that back in 1994, 1995!
And also the mass shooting scene. A few years after Higher Learning was released, the mass shooting at Columbine High School happened, then more shootings. Did you ever think that you would see these things actually happening?
Not at all. I was just writing what was on my mind and on my heart in my early twenties. I was writing about what I was concerned with and other people were concerned with.
Hypothetically speaking, if you were asked to do a remake or a sequel to these films. Let's say, a sequel to Higher Learning, what would be the main basis? Because you touched on a lot of subjects in that film. What would be your focus?
I couldn't think of doing that. Once I do a movie, I move on to the next one. I have different thoughts, concepts and ideas, so I don't think like that.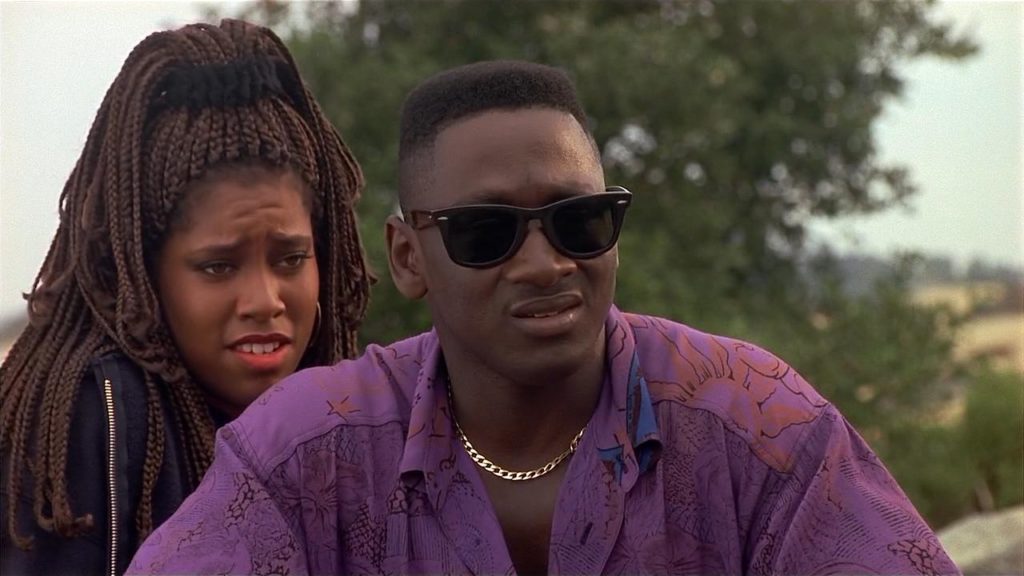 Did you ever think that Regina King (Boyz N the Hood, Poetic Justice, Higher Learning) would get to the point of where she is today, including an Oscar nomination (Best Supporting Actress for If Beale Street Could Talk)?
I didn't think about it in the forefront, but I actually felt that she should direct. She was acting for a while and was trying to find different things to do. I told her that she should be a director, and now, she's a director in demand. She's directing TV shows, and I am pretty sure she will be directing films.
In Poetic Justice, was there anyone who stood out as an actor?
Tupac Shakur.
What was it about him that stood out?
He just had a whole lot of soul. A lot of heart and soul. He was an artist and he expressed himself in different ways, artistically. You know, outside of being an actor and a musician, he wanted to write screenplays, direct movies, and, do other things. And, he could have.
Did you two have a good relationship on set? Did you talk about creativity?
We had a good creative relationship. He was like a little brother. We had fun, we fought and made up. But we were always in the service of what we were doing, you know what I mean? And that was to express ourselves creatively.
A friend wanted me to ask you this. Did either Poetic Justice or Higher Learning impact the urban community in the way that they were intended, or was there any intentions other than creative freedom?
People love these films because they found something in those films that basically they think about amongst themselves. Like you said, women watch Poetic Justice, and they thought about their own situations or some unspoken fears.  
What can people expect from the Blu-ray editions of Poetic Justice and Higher Learning?
Well, for Poetic Justice, there will be extra scenes cut from the film, and the screen test that solidified Janet Jackson and Tupac being in the film. They did a screen test together and after they did it everyone went crazy, and we said, let's make this movie!
These special editions of
Poetic Justice
and
Higher Learning
are available on Blu-ray February 5.
Poetic Justice
includes never before seen footage.
Higher Learning
is newly remastered, and both films include commentaries from Singleton.
Lisa D. DeNeal
Lisa D. DeNeal, of Gary, IN, is a freelance journalist, editor, and, author. Her latest novel is the romantic comedy, "Extra! Extra! Love!" Other books include, "Dead Lies," "The Panthers Club (with Alethea Pascascio-Gordon) and, "Unflappable (with Carolyn E. Mosby)."