Roland Buck III is an up and coming actor in Hollywood. Currently, he stars in two prime time TV shows—NBC's medical drama Chicago Med as Dr. Noah Sexton, and in the National Geographic miniseries The Long Road Home, based on the bestselling book by journalist Martha Raddatz. I recently had the opportunity to speak to Roland about his experiences as an actor and the characters he portrays.
Carolyn Hinds: Roland thank you so much for doing this interview with me, I know you must be very busy so I thank you for your time.
Can you tell me a little bit about yourself and how you got your start in acting?
Roland Buck III: I'm from Chicago, but grew up in Texas, outside of Dallas. At a young age I didn't know acting was a job, I don't know why it didn't click for me that seeing people on TV, that it was a job. Growing up, when people would ask me what I wanted to be, it was never an option. I had never heard anybody saying anything like that, and I didn't have any entertainers in my family. But then I saw this movie called The Wood when I was twelve, it's a coming of age story about this group of Black friends, going from middle school to high school. It moves back and forth from present-day, and Taye Diggs's character is getting married, and for the first five minutes they're looking for him at the wedding and can't find him; "Where's Roland, where Roland at?". And I gasped real loud, and my mum thought that I was chocking, I was like "Mama, you hear that? He got my name", and she said "Yeah!". And so that made me watch it just a little bit closer, and as I was watching it, it seemed like so much fun.
The movie was hilarious, and when it was over I was like "Wait mum, is that that a job, can I do that?", and she said "Yeah, you can do anything you want", and I was like "Ok, well  want to be a football player and an actor like Jim Brown." So that was my goal, I kept at football through high school and college, and kept the acting close to heart. I didn't really tell anybody at school, because you know kids can be vicious at times. I didn't want people to dog my dreams before I even got it started.
I actually started pursuing acting at 18 when I graduated from high school, my mum again told me something that stuck with me. She said, "You're going away to college where no one knows you, and you can be anybody you want to be. You can reinvent yourself, you can change your name, you can do whatever," and it really hit me. "She's right, these kids knew me from like third grade, second grade on, and they tried to tell me who I am, and [how] I have to live up to a certain thing, but now I can reinvent myself. Now I can tell you who I am before you tell me who I am." So I was like, "Ok, I'm an actor." And I started to pursue acting.
Carolyn: It's great that you had a clear idea of what you wanted to be, especially from such a young age from a film such as The Wood. I watched it a couple of times growing-up because it was one of my brother's and his friends' favorite movies. It was kind of a precursor to all the other films that came after with Taye Diggs and Morris Chestnut.
Roland: That movie is hilarious, it was the first time I saw someone that looked like me, that I identified with. I identified with the culture and everything, and that's how important it is for us to be represented in different types of movies, and different types of light you know?
Carolyn: It's great that we as Black people, growing up, we were able to see ourselves reflected back to us. Recently, there was a series that Black Girl Nerds took part in with Netflix called "First Time I Saw Me", and for me the person I identified with was Rudy Huxtable. She was short and had big, puffy hair like me. I remember looking at her and saying "AHH she looks just like me," and I can relate to you seeing a character and saying "He has my name," and what it means to see someone who looks like me.
Roland: My sister had that same kind of experience. She's eight years older than me, but she went to NYU [New York University] solely because Theo Huxtable went to NYU. She was like "I want to go there, I want to live that life", and she applied and moved to NYU because of that. It is crazy how we can be influenced in great ways from entertainment and identify with someone.
Carolyn: Recently you were named one of People magazine's "People to Watch." What was that like for you, to be put on this list as an actor and person of color?
Roland: I was just like "Woah, they want to watch me? Thank you, thank you for picking me." It came out of nowhere. I've always just kept my head down and worked. I don't do the work for the notoriety, or anything like that. I do it because I love it, and I want to do the best work, it just humbles me and makes me gracious that people enjoy my work, and love it and want to put a spotlight on it. So I'm humbled and I'm grateful, and that's the first of any type of publication that has [done] anything on me print wise, I made an annual list of a magazine, which is dope. Now I have to live up to it, which I'm more than happy to do.
Carolyn: Currently you star as Dr. Noah Sexton in NBC's Chicago Med. This season you are no longer a student but a resident in the hospital, what has that transition been like for you as an actor and for Noah the Character?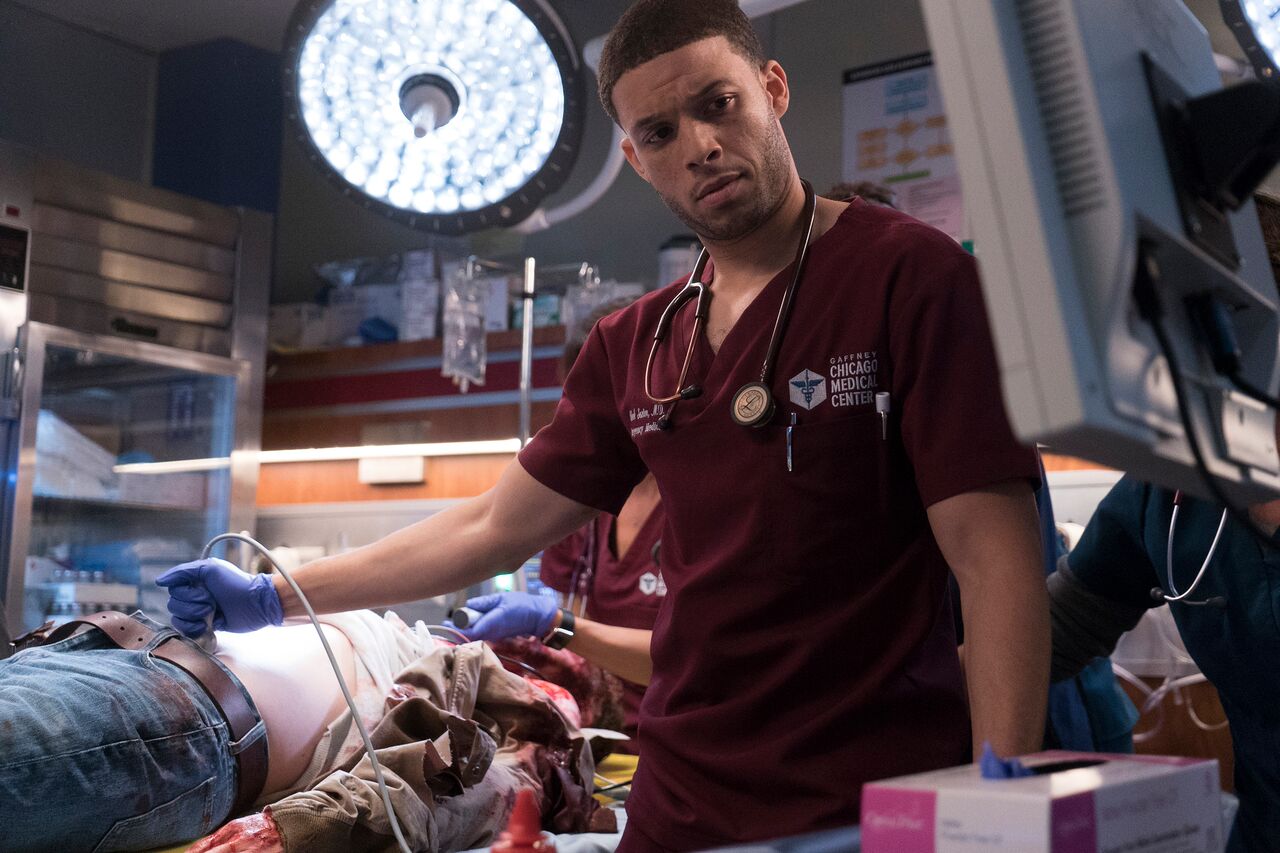 Roland: It's been challenging, just because, at first, I'm not really doing surgeries. The dialogue of medical terms is there, but it's not heavy. I'm learning, I'm a student so I'm nervous and unsure which comes natural when I don't know what I'm doing as a real person, so it's easy to act that. But now there is more preparation where I have to bust out like a paragraph of medical jargon, and I have to know what I'm saying, and I've never said any of these words ever before in my life. So it keeps me my toes, it's definitely not a role that I can get comfortable and complacent in, which I love because it continues to let me grow.
Now I'm doing surgeries and diagnosing patients, I have people's lives in my hands so it raises the stakes a little, and also Yaya DaCosta, who plays my sister April on the show, she is now my nurse. The power dynamic now has switched and it's a challenge between me taking the lead, and her letting me take the lead. You'll see in the next couple episodes where I'm going, "Okay, you're my nurse now, I know what I'm doing, back up a little bit from over stepping some boundaries." It's exciting and it definitely raises the stakes because I have to diagnose people and save lives. I'm definitely stepping up to the plate, but no one's perfect, so we'll see what happens with that.
Carolyn: Apart from your role in Chicago Med, you are starring as SPC Rafael Martin, in National Geographic's miniseries The Long Road Home, which is centered around a two-day fire fight that took place during the Iraq war. Can you tell me a little bit about Rafael and what it was like to play him?
Roland: Rafael Martin is a mixture of two different guys that were there, but they couldn't find them to get permission so he's a mixture of two guys, and basically represents all of the Alpha company. Rafael Martin was an ex gang member who had a choice of either going to jail or military, so he chose the military, turned his life around and changed his life. He goes from fighting for his life on the domestic streets to now fighting for his life on foreign soil, and it's kind of wild that he couldn't escape that. I think it's very interesting , I personally have seen a lot of people that have gone to the military because they're heading down the wrong path, and they wanted to change their lives. That's why I was drawn to the character, he was completely different to Noah, not one bit the same. It's intense, it's very intense.
He ends up bonding with Noel Fisher's character who is Tomas Young, he is the complete opposite of Rafael. They probably would've never met on the street, but now they've become brothers during this traumatizing moment of their lives, they have a lot more in common that they would've thought before.
Carolyn: What was it like filming on the set for The Long Road Home? I read that it was the largest active film set in North America at the time of filming. How was that different to acting on an enclosed sound stage, like Chicago Med?
Roland: It was crazy, they built [it] in Fort Hood, there were over a hundred buildings that they built and we were just blowing it up. It was easy to act because I didn't have to act, I could just react. They set the tone and the scenery with the explosions and the rifles that we were using, everything sounded real, coming all the way down to how heavy the equipment was. It was insane, I definitely missed wearing scrubs to work at one point in time and being in an air-conditioned set, but it was definitely a 180 from the Chicago Med set.
It was intense, and I knew to be present in these moments because you don't get the opportunity to do something like that very often, and they went all out setting the stage and the scenery.
Carolyn: What were your interactions like with the other cast members? The subject matter is very heavy because it's based on a true story. How it was being in that setting with other actors, and having to process what you had to do?
Roland: It was a very emotional experience. We had a whole month of night shoots; at one point we worked from 6am to 6pm, it was intense. I would come home physically sore and emotionally sore, definitely had to rest and prepare for the next day. The whole cast really bonded, they put us up where the army was staying in these houses that were in the same neighborhood, and we lived next each other. We would always go over to each other's houses and play games, there wasn't much to do on our down times from filming, so we'd all hang out and we bonded really well and really fast.
We had each other's backs, like when someone would go down in the script it wasn't hard to care for them, because I really did, and it was like looking at my brother going down. It made it so much easier to react instead of act in these situations, and I think it shows as well. It was emotionally draining because it was long, long hours, and as an actor my powers are between action and cut, and I'm competitive in whatever I do, I'm bringing it every single take. Whatever I have to do I'm bringing it, because I don't want the option of them maybe choosing a take I didn't like, so every take I'm doing is going to 110% intensity of whatever I need to be doing, and that's draining.
Carolyn: I know you have a film coming out next year on Netflix with Adam Sandler (The Week Of), which is a comedy. You've been stretching your wings by taking different roles in different genres. Chicago Med is  medical drama and The Long Road Home is action, but you've also done stage work. So, as an actor, did you make it your goal to seek out projects from different genres?
Roland: No, literally it's a blessing that I have all of these different roles, I couldn't have planned this, I just audition for stuff and I get maybe 5% of what I audition for. It's just that it's been these three things so far that are very major and very different and I'm thankful for that, because I'm not being typecast, [and] on a national level I can show my range early on in my career so that I can do more stuff.
I auditioned when I was in Texas shooting The Long Road Home. I self-taped for it, and then a couple weeks later my agent called me and asked me what my schedule was like for the next couples of days, was I working, and I said "No I have the next couple days off." He said, "They want you to get to New York City, to have a director's session, with the director and the producers." And I was like, "Heck yeah." So I bought a plane ticket and flew out to New York, put it all out there. Then a week or two later, he [the agent] called me and said "They want to offer you the role." They sent two takes to Adam, my tape was one of the two top tapes. Adam watched like the first minute or thirty seconds of mine, and said "I like that guy, pick that guy." He didn't watch the other one, so I just feel crazy blessed that I got the opportunity.
You can watch Roland in Chicago Med and The Long Road Home weekly, both on Tuesdays at 10/9c. Follow him on Instagram and Twitter at @RolandBuckIII
Carolyn Hinds
Carolyn is an aspiring film critic, Bajan nerd living in Toronto and an avid Jane Austen fan. I enjoy speculating on plot theories for my favorite TV shows, such as The Walking Dead, The Expanse, and black-ish. Oh, I will do karaoke anytime, anywhere. Follow on Twitter @Carriecnh12