Diedre Johnson
Diedre Johnson is a Los Angeles-based former staff writer covering…
Chantel Riley has a slew of jobs this year and she's taking them all!
Riley gives us the deets on the new Suits sequel, Pearson, and up close as Riley channels her inner nerd.
You may already know her from the Assassin's Creed video games or the Sci-Fi series Wynonna Earp. Now nerdy mystery fans will get to see another side of Canadian actress, Chantel Riley on the Canadian import; Frankie Drake Mysteries debuting June 15.
Frankie Drake Mysteries are set in the rip-roaring Twenties, a time of bootleg booze, shorter skirts, shorter hair, juke joints and for a while the races were brought together by a piece of relatively new music called jazz.
However, that's not the only place viewers can see Riley. She's filming a new Suits spinoff called Pearson based on the Gina Torres character.  Since none of her shows; 'Earp', 'Drake' or the new 'Suits' series film at the same time, she's good.
Riley talked to BGN about this exciting time.
You're busy, how do you do it all?
Well, by the grace of God honestly. [Jumped] from Wynonna Earp to Frankie Drake Mysteries to filming Pearson, which brought us into this year so it's been nonstop going, but it's also been nonstop blessings. I'm looking at it more like a blessing rather than, 'Oh God, I'm just so over it. There are artists out there that aren't working right now and so it is difficult. So to be in my journey — where I am — I'm grateful for every single second of it.
I feel like I don't deserve to say, 'Oh, God, I'm just so busy and how do I do this. No, I'm grateful for every single second. Keep coming, keep coming, thank you Lord.
So one's in Chicago, two are in Canada, so that makes it not so bad …
Well, Pearson, we shot out here in LA and then we did the external stuff in Chicago. 'Frankie' we shoot in Toronto so I get to be home in the summertime. In the summertime because I do not want to be there in the winter. Then for Wynonna Earp, we shot in Calgary so it was cold.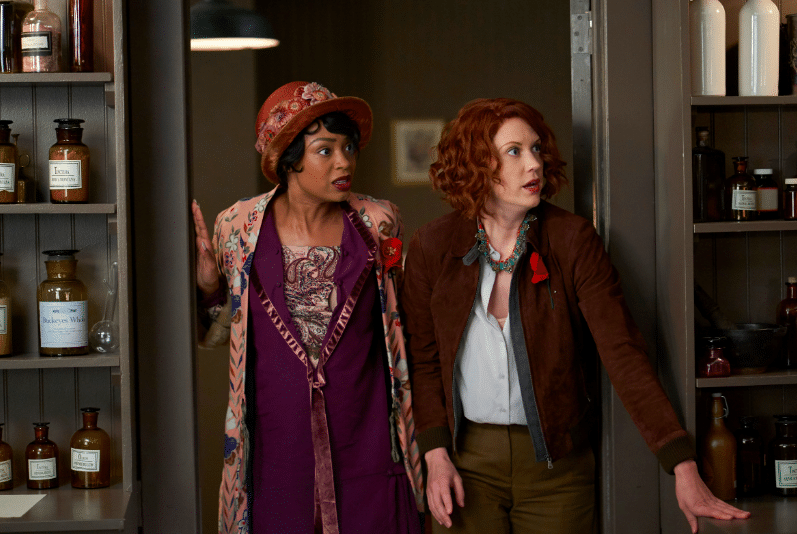 What drew you to 'Frankie Drake?'
The story, you don't really see anything like that on TV, especially the period that it's in, the 1920s. There's a bunch of mystery shows out there but I feel like ours stands out because we have two female leads, actually, four female leads and women that are working together solving crimes, kicking a.., just fearless women who have these genuine bonds on and off the screen.
Also to be a Black woman in a show like this, you don't see that ever. To be a part of that is a huge opportunity to tell another story that wasn't being told.
The show is set in the 1920s, how does a woman of color fit into a detective agency during this time?
Our story is not historically correct. We have some fantasy as well. But of course we have the aspects of history as well, some race does come in there as well.
We can't fully do a show without having some mention of race in that time period and so that's why the show has a great balance of both; touching a little bit but not fully going into it because we all know what it really was.
But it also uses that as an opportunity for Trudy to do more of the undercover work because black women were just so invisible and nobody really cared about us and so it was easy for Trudy to just get dressed up and go work in this factory or work at a jazz club as a jazz singer undercover, stuff like that.
What do you particularly like about your 'Frankie' character?
I love Trudy's fearlessness. I often take pointers on her because there are some creepy places that she ends up and things that she does, I'm like, 'Girl, I would never … ' So I feel I have been able to take some of that one in my life, just being a little less scared of things.
Whereas Trudy is just ready to do it. She loves her job and the excitement of it all.
Do you or did you read mysteries?
I used to read Baby-Sitters Club and Nancy Drew (mysteries). I watch a lot of what my friends call "crime porn" on Netflix, which is like Making of a Murderer and that kind of stuff.
So I'm really into that; solving cases that have gone unsolved. I start one episode and I'm like 'Wait a minute! What happened next?'
That's the 'Nerd' thing, yeah, yeah?
Yeah! It's there. I'm not afraid to admit it (laughs).
Tell us about your other show, the Suit's spinoff, Pearson.
We started shooting the backdoor pilot from Suit's seventh season. It was kind of their introduction to Jessica Pearson (Torres)'s new life. I play Angela Cooke who is Jessica's cousin. [Jessica] decides to come back to Chicago because she feels she needs time to give back to the city she left when she was young and I kind of welcome her with not-so-open arms.
Angela's not to happy. She's actually kind of suspicious of this sudden act of nobility; of trying to come back and help her town. I feel like Angela just might give Jessica a little bit of a run for her money and make her life a little bit more difficult.
That will make your part more interesting.
Right! I think so too! And the contrast where you see Jessica Pearson, this confident, you-can't-tell-her-nothing-she's-always-got-an-answer against Angela Cook, who is a challenge to her and tries to shut down everything that she tries to offer.
Were you a Suits follower before?
I wasn't but obviously, when I was offered the situation, I said, 'let me get in on this.' My best friend was like, 'I want to watch,' and so she binge-watches as well.
You were in Assassin's Creed and worked in voice capture, what did you find challenging about that?
Yeah, doing Assassin's Creed was my first time doing motion capture and voice over stuff so I had to get used to doing like, seven different takes of a line trying to emote it different ways and then watching it back and seeing which one they chose.
Even seeing myself in the movement, it was really weird to drop in that the first couple of times but then it got more fun and after you get to see the end product, it's really dope.   
Yeah, talked to a voice capture actor and he had that same response.
Yeah, it's like, 'Do I move like that? Why do I look so weird?' Maybe I should straighten my posture a little bit more. It's really cool though. I would love to do some more of that stuff for sure.
In real life, what do you do for fun?
I'm a gym rat. I love working out. I call it my superhero training because that's like the goal, to one day play a Marvel superhero.
OmiGod, I would love to. I've watched X-Man and read the comics so I've always fascinated by that, especially with Marvel, that whole universe. Even on my phone lockscreen is the Marvel logo. So I am visualizing it. It's going to happen one day.
For people who want to do what you do, any advice?
Dream, pray, believe and receive.
Frankie Drake Mysteries will air on Ovation TV.
Diedre Johnson
Diedre Johnson is a Los Angeles-based former staff writer covering entertainment whose work has appeared in Variety, The New York Daily News, TV Guide.com, The Crisis, Vogue Japan and Italia, and Harper's Bazaar China, among others