Guest Blogger
BGN works to feature strong, unique content from writers who…
Interview Conducted by Tora Shae
Tora: I am constantly inspired by your artwork! Whenever you post something new I drop everything, yell out "WITCHCRAFT!", and obsess! In all seriousness, do you mind listing some of the content you create and the mediums you use?
Raven White: Uuuuuww~ I love being called witchy even if indirectly! Haha, anyway, thank you and to answer your question, I manage cfbg tips;, a self-reflective webcomic about being "carefree" since I got the black part down and sharing tips for those that want that too, I illustrate and animate. I use adobe creative suite, primarily photoshop, for a lot of my content. I'm gearing to get back into Toonboom and I do love traditional mediums like charcoal, watercolor, colored pencils, and inks.
Tora: When did you first start realizing your potential and developing as an artist?
Raven White: When I found out art schools existed back in high school and realized, "Wait…I can make a career outta this." I've drawn since preschool age and it took me that long to realize it. I've always been serious about my art and getting better–it just never occurred to me that I could make it into a career.
Tora: Your work blends elements of black girl nerdiness, nostalgia, and black culture that often are erased and underrepresented. Why do you think there's such an outpouring of support for what you create?
Raven White: I think it's because we are erased and underrepresented and we want to be seen as the protagonist of these stories that we love. Sometimes, all it takes to inspire someone is to see that it is possible. I think that's why my Tracee Frizzle piece exploded like it did. Once people saw that it actually works, the support to make it a reality strengthened. Beyond that piece, all I'm doing is creating things I wished I had seen while growing up, it just so happens that those creations are attracting those that feel the same way.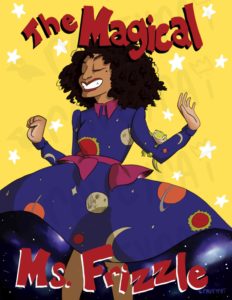 Tora: Your idea (and gorgeous artwork) of Tracee Ellis Ross /Ms. Frizzle left many with pangs of nostalgia for a show that has yet to exist. Imagine that the show has been picked up. If you could choose your own title what would your involvement be?
Raven White: The casting idea was Josh Gwynn's (@regardingjosh on twitter) and a follower of mine, Ari B. (@Aribody_loveme), tagged me in the thread, suggesting I should draw something for it because they had a feeling I would love to and I DID. You can see me gushing about it on there, haha. So when I had time to do it, I went for it.As for a job title for the show/or live action movie…storyboarding/storyboarder, definitely.
Tora: Ok, first episode of the series where does Ms. Frizzie Ellis Ross try to take the kids and where do they end up instead?
Raven White: I love space so much (as you can see in the illustration) so for the first episode, Frizzie would take them on a trip to a planetarium, one of the kids would inquire about black holes (especially now that there's a little more information on them) and Frizzie Ross would grin and say, "Well, let's go and see one, class!" The entire episode would get into facts and theories on black holes. It would be dangerous as hell but didn't Arnold take off their helmet in space one episode and froze (to death???). A trip to one of the black holes that we've found out there would be fiiiiiiine.
As for a movie, @sayitaintsyd on twitter mentioned imagining seeing Frizzie Ross taking kids to the African American History Museum and I–not even gonna lie–got emotional thinking about it because it would be amazing to go into our history and origins in a nuanced and inspiring way. We can get into a wide array of topics in it, while also sprinkling that magic in there. This would have to be done delicately though, for sure, but I like that idea a lot as someone interested in our history.
Tora: I am completely infatuated with your Pokemon Celebrity Team Project, so I have just one question: Solange vs SZA. What Pokemon do they bring for their lineup and who wins?
Raven White: how…how DARE you ask me this? God. Jesus.
Uh. Um. Hm…I have to think…SZA would probably be a dual-type team with Dark and Normal Pokemon (the followers would probably debate me on this, haha). I've already done Solange and she was primarily Fairy and Psychic (with a Scyther for giggles). So based off of types alone *eyes emoji* whew. It would definitely be a battle…it could go either way. I'll maybe have my twitfam go at it once I do a SZA piece to answer this better, haha. I could definitely see SZA with an Absol though.
Tora: What role does being a creator have in your personal mental health?
Raven White: An important one. There's so much control and freedom in it and one of the things that really threatens my mental health is feeling like I have no control over anything. Being a creator demands self-reflection and growth in asking what you want to create and how. It's thanks to cfbg tips; that I had an outlet that really demanded I sit and think about what it is I should do to get better. And it'll only get better as time progresses.
Tora: Another one of your projects that is so important to many is CFBGT. Can you tell us about your purpose for creating this and where you hope to see it expand?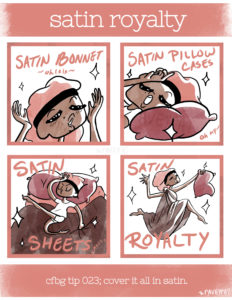 Raven White: Expanding from the last question, cfbg tips; purpose was answering this question, "What does it mean to be carefree…and how can I get there?" There was an entire movement on being a "carefree black girl" but how? How do we get there? The webcomic was an outlet for me during a time where I was going through the loss of my great grandmother, being traumatized by the brutalization and violence on our community, being gaslit, being stressed with finishing school and producing a short film. I needed to vent and heal a bit somehow, and this comic was it for me. Then I found out it was it for others too which was so validating. For it's future, I hope to see it as a physical book. And venture into video content for it.
Tora: With all of this black girl magic running through your veins I have no doubt that we can expect even more greatness from you! What would be a dream project for you?
Raven White: Just a dream project? Oh. I have plenty. But for the sake of time, I'll eventually produce a short animated series. At least 6 episodes–10 tops, like FLCL and Over the Garden Wall. Both short and sweet. I'll also have feature length-like films. Animated, of course. The dream would be to have multiple projects, finished, that are either one of those.
Tora: What amazing content can we purchase from you right now? Where and how do we support?
Raven White: Expect a store sometime in 2018. In the meantime, I do take commissions! So if you want me to draw you a thing you can go to my website to see how to order. As for supporting me, my favorite is pledging to my patreon so I can focus on more of my original content like cfbg tips; and other personal projects I want to get further into. You can pledge as little as $1 per month which adds up and you get to see pieces before the rest of the internet in that tier. If you pledge a higher amount you get other cool Behind-The-Scenes content.
If you can't do patreon but want to drop a one-time tip, I have a ko-fi. If you can't do either at this time, feel free to follow me on all social platforms; my handle is always @raveyrai. On twitter you can RT my art. You can make sure that if you see my art shared from someone that is NOT me, that it is at least properly credited to me by demanding my @-handle is in the caption, status, or within the twitter thread because there will always be someone that will ask, "Who's the artist? Who did this?" And traffic back to me helps tremendously. But yes, thank you in advance! I just want to keep creating things I would've liked to see and have while growing up and any and all support only helps me to keep doing that!
Guest Blogger
BGN works to feature strong, unique content from writers who speak to our niche. If you are interested in having your work highlighted contact jamie@blackgirlnerds.com to be featured as a guest blogger on the site.