Guest Blogger
BGN works to feature strong, unique content from writers who…
Written by: Peppur Chambers
Danielle Brooks and Marchánt Davis star along with Anna Kendrick in the new controversial film, The Day Shall Come, directed by Christopher Morris and written by Morris and Jesse Armstrong.
Brooks (Venus) and Davis (Moses) play husband and wife to one another in this film which resembles a comedic tragedy, "An impoverished preacher who brings hope to the Miami projects is offered cash to save his family from eviction. He has no idea his sponsor works for the FBI who plan to turn him into a criminal by fueling his madcap revolutionary dreams."
During an interview at SXSW 2019, we spoke of many things from dreams and goals, to how both actors had to navigate through a script that changed often — sometimes on the spot or after a take that mined new discoveries. We also spoke of Black love and partnership and what happens when this falls apart.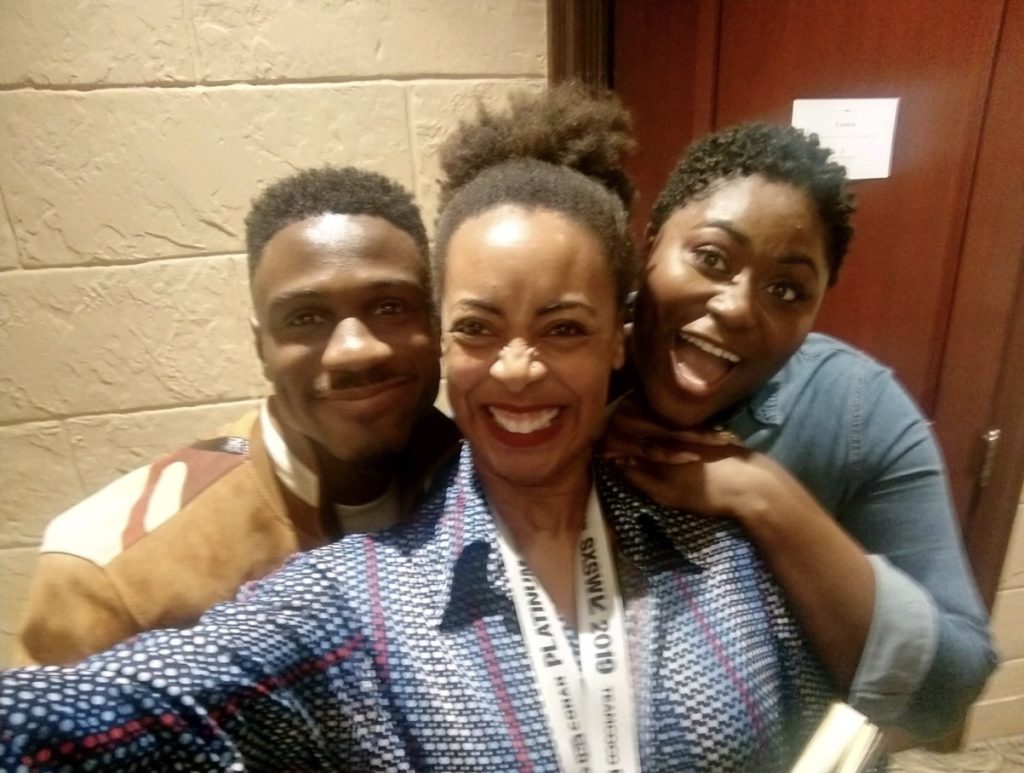 Their chemistry (tested via their improv audition) is wonderful off-screen and on, as you'll see in their responses below:  
Danielle, you're a graduate of Julliard; when you made it to Broadway in The Color Purple, you said that being on Broadway was a dream for you. Now, having been Tony-nominated and a Grammy winner, it seems the dream has expanded. What does that feel like?
God has surpassed my dream; my life has gone beyond every dream I could ever have! I used to keep my goals in a journal and go back to see if they were reached. Where the universe leads me, works better for me [now]. It never works out when you try to control things. That never works out; you're left eating ice cream! Think about those moments of depression caused by not getting what you want that have you eating a tub of ice cream on the couch!
And Marchánt, what does it feel like for you?
Marchánt: I'm living my dream. I wanted to be a working actor, to create a life in which I could go back home when I chose. My dream is ever evolving. God does things in his own time, not yours. You have to go with the flow; things will come abundantly.
Danielle: And you have to have patience with yourself. When I was younger, I wanted to be the youngest to achieve whatever it was on my list. Not so important anymore. Creative juice is more fulfilling than any other trophy (right now).
Danielle, you've recently dropped your inspiring single, 'Black Woman'. You've also said that you've been motivated by your own story. What parallels or similarities to you and your story (if any), are in your character Venus?
Danielle: I had to think about, 'what does that name mean…?' Venus. Earthy? Of that realm? I'd say I didn't really spend much time in that space.
Marchánt: I think it's naturally there for you. [You are Venus.] It would be artificial to add onto what's already naturally there. You can see her. You see that she is rooted.
Given that you both play a couple, are there any themes in the film that deals with the strength of Black partnership, Black men supporting Black women?
Marchánt: Her belief is dictated upon his belief. Black women supporting Black men as far and as much as she can.
Danielle: I see her as his rock. She is his glue for sure. His balance. If she's not there…
Marchánt: …He doesn't exist if she isn't there. There is no farm without Venus.
Danielle: His turmoil doesn't come to fruition until her departure. Now, whether our British director had as much consciousness about this as we do is not something we really explored; we did talk about it between ourselves.
What sort of stretches did you both have to make for these roles?
Marchánt: It was a level of belief. I wasn't sure how I could buy into this character. I had to look at his hope. What does it mean to be somebody like this? I had to make him more of a visionary and tap into his connection to a higher power.
Danielle: Believing in Moses. My stretch was to go with it, to go with him. To understand, 'why would she go along with him when they have so very little?' That was a stretch. But I had to go with him and with Chris (Morris; director). He helped us to get there. I had to put trust in the script. Trust in the process. Oh, and the chickens! I had to deal with the chickens. We spent all this time learning how to deal with chickens (for the farm scenes) and then on the day of the shoot I couldn't get the chickens to work!
Marchánt: The physicality I had to endure.
Danielle: He had to ride a horse!
Marchant as the lead character, what is your relation to the spirituality of the film?
My character believes in a higher power; he is a believer or some sort. He over believes. He doesn't know failure. What does that look like even when not failing? Moses succeeds until he doesn't, he doesn't know failure, and that's Jesus. He's leading his people. I could identify with that.
For both of you, what is your definition of salvation?
Danielle: You would think that we put people, place, and systems in to save us. We pay these people to save us — thinking they'd do their job for the betterment of people. It is just a job for some. But for others, it is their life. Your saviors can fail you. They will fail you.
Marchánt: They're designed to fail you. This story is about 100 stories put together. The government in the '60s was shutting down Black book stores; judges are purposefully sending people to jail.
Danielle: The system that is meant to save, doesn't. How do we define this? I don't know.
Marchánt: I think the one thing Moses and Venus are trying to do, they are trying to be the salvation of the country in their own way. And they're doing this on their own. They see how crazy injustice can be. They see the system, and then there are these people —the reality between what is set up and what really happens within the justice system.
What was it like working with British director, Christopher Morris?
Marchánt: He's great at listening and asking actors for their opinions.
Danielle: He's constantly asking, "What's the best way for us to tell this story?" We had reshoots to get more of the story.
Given the nature/topic of the film, what do you both think the impact will be? What do you hope the impact will be?
Marchánt: My hope is that people find a way, even in the darkest situation to find hope.
Danielle: Absurdity is sometimes not that absurd. You'll think, 'this can't be happening' and it does happen.
The Day Shall Come premiered at the 2019 SXSW Film Festival. The film is currently seeking distribution.
Peppur Chambers is a Midwestern Girl Out for a Twirl. Check out her debut novella Harlem's Awakening on Amazon. Read her blog www.penandpeppur.com where she tells stories of heroes, including her own. And learn about her sultry, sassy, sophisticated women's empowerment movement on www.brownbetties.com. IG/Twitter: @peppurthehotone
Guest Blogger
BGN works to feature strong, unique content from writers who speak to our niche. If you are interested in having your work highlighted contact jamie@blackgirlnerds.com to be featured as a guest blogger on the site.