Jamie Broadnax
Jamie Broadnax is the creator of the online publication and…
It was just announced by the Hollywood Reporter than Lin-Manuel Miranda has joined the cast of Ducktales for the Disney XD animated series.  Also slated to star are David Tennant, Danny Pudi, Ben Schwartz, and Bobby Moynihan just to name a few.
The musical maestro behind the brilliance of Hamilton and In The Heights is currently shooting in London for Disney's live action forthcoming reboot and sequel to Mary Poppins.
According to The Hollywood Reporter,
Miranda, said to be a "lifelong DuckTales aficionado," will provide the voice of Gizmoduck, who was featured in the original series. Gizmoduck is Duckburg hero whose true identity is Fenton Crackshell-Cabrera, a brilliant young intern working for Scrooge McDuck's personal mad scientist, Gyro Gearloose.
"Lin came to mind instantly for the role of Gizmoduck," executive producer Matt Youngberg said. "His rapid-fire earnestness paired with his wide-eyed yet determined optimism made him the perfect person to yell 'Blathering blatherskite!'"
Added co-producer and story editor Francisco Angone: "Growing up as a Cuban-American comics enthusiast, I was always hungry for a Latino hero to call my own. In developing the new series, Matt and I leapt at the opportunity to adapt DuckTales' marquee hero into a young scientist character with Latin-inspired roots."
We here at BGN got an easter egg to this news when he launched his music playlist and was featured as a guest on the #BGNPlaylist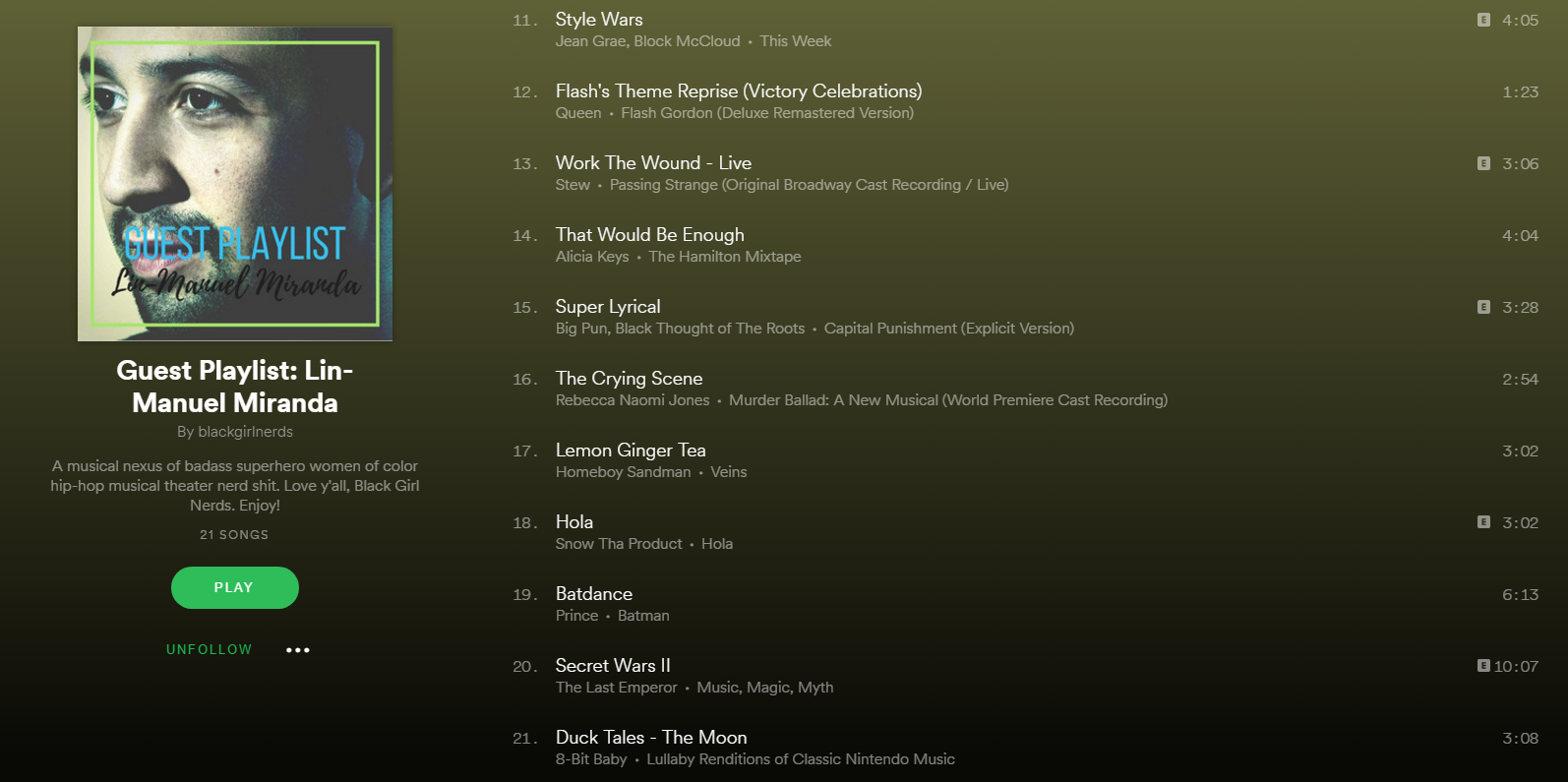 If you play attention closely at the bottom, Duck Tales – The Moon is one of his selections.  Did BGN get the exclusive before Disney announced?  Let's search for other items on this playlist that will give us some clues to future projects he is working on.  We see what you did there Lin.  We see you.
Congrats on the new gig!
Jamie Broadnax
Jamie Broadnax is the creator of the online publication and multimedia space for Black women called Black Girl Nerds. Jamie has appeared on MSNBC's The Melissa Harris-Perry Show and The Grio's Top 100. Her Twitter personality has been recognized by Shonda Rhimes as one of her favorites to follow. She is a member of the Critics Choice Association and executive producer of the Black Girl Nerds Podcast.