Kiersten Brown
Kiersten is a freelance writer and coach. As a writer,…
" I learned how to be free in my mind." —Joy E. Glenn
Joy E. Glenn is an author, a world traveler, a writer, a mother, a wife, and a sister. Beyond those labels, she is a dreamer and someone who was bold enough to go after her dreams. Three years ago she packed up her life in Florida and moved to the south of Spain. Through experiencing a new culture, becoming an ex-pat, and a reinventing herself, she decided to fulfill another dream. She wrote the thought-provoking book Spain Through the Eyes of a Black American Woman. BGN spoke with Glenn over Zoom about her experiences living in Spain and the impact of using her voice.
How would you describe your voice? What helped you find it?
I would describe my voice as subtle yet powerful. When I was younger, I grew up in an overly religious household. I was the second youngest of 7 children. It was very easy for my voice not to be heard. I began to read and that reading became a bit of an obsession. When I read, I felt free. I learned how to be free in my mind. That sparked my interest in writing. I began to feel even more empowered.
How has traveling contributed to finding your voice?
When you travel, you enter a different world because you're entering a different culture. [Traveling] also gave me more of an appreciation for being a Black woman. You're getting different pieces of different cultures, you're learning, and you add that to your database. That's what life is, adding and learning and progressing.
Why did you decide to settle with your family in Spain?
Coming from a military background, 7 years in the U.S. Air Force, our lives were being shaped by the military. Starting my career in the military caused me to feel like my life is my own but it's kind of not. Once I separated from the military, I felt freer. I have this deep respect and appreciation for Spain because I feel like I found this peace here that I didn't have before. We decided to stay because we just felt so much peace and freedom.
Take me to the day you arrived in Spain with your family. What were those first few days like? What did you feel? How did you handle all the changes?
That's actually a scene in the book. My husband had already been here for a few weeks before. I had to travel with three young kids, by myself. When we entered the atmosphere, I know it sounds kind of cheesy but there was a feeling I can't really explain. My husband drove into a small town [Utrera, which is near Seville, Spain]. I was just in a state of shock, but I was also in awe. I was almost on autopilot but observant. I could see the farmers selling fresh fruit and people walking around. I was also feeling a little lonely because my husband was working. I was home alone with the kids not knowing the language. There was a little sense of loneliness, but it was so overshadowed by being in awe.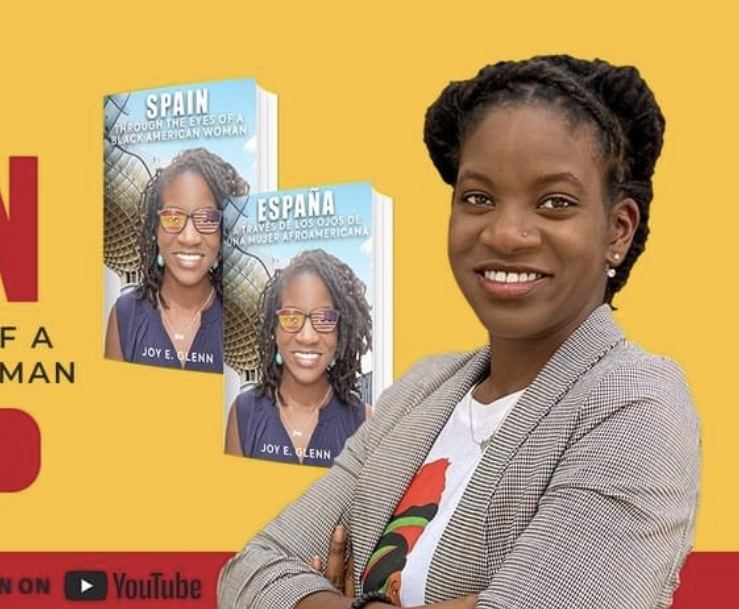 What inspired you to write this book?
In the 3rd grade I ended up winning a contest, and that gave me the confidence of knowing that I was destined to be a writer. When I got [to Spain], I had so many feelings, I just got a journal and started writing everything down. I started reading back what I wrote, and I thought I could turn this into a book. I thought, "Let me go ahead and do it." It was birthed from me turning my inner thoughts and my journals into a book.
How many of us have a dream or an idea but don't go through with it — but you did. What's been the response since the book has come out?
The book is exactly what it says, Spain through the eyes of a Black American woman. If you're not interested in that, it's not going to be good for you. The response has been great because it's the people who want a different perspective of their country or a different perspective of an ex-pat. My family members are kind of critical but from the people of Spain who are really interested in how people view their culture — great response.
"My thing is…to teach people perspective." —Joy E. Glenn
Why should someone read your book, and what do you hope they take away from it?
There are different aspects of the book. The book will be me breaking down myself. It's for people who want to just step out on faith and do the things you were always afraid to do. The perspective of a Black woman — you're going to get that. From the perspective of just being a traveler, you'll get that. I want to encourage people to not be afraid to achieve their dreams. I would like for people to learn to be more culturally aware. Part of my gift or my job is to teach people perspective.
Is the Joy who grew up in the United States different from the Joy who lives in Spain? If so, what are some of the differences, and what are some of the similarities?
The foundation of Joy is the same; my core is my core values. But I am definitely a different person from the young Joy and the Joy from the United States. I'm a more open-minded person with more wisdom and more knowledge. I'm a much better version of myself than I would be if I were to just be Joy in the States.
If you could sum up the African American experience in Spain as a woman, what would you say?
My experience here has been like a beautiful dream. With that being said, know that nothing is perfect. Have our experiences in Spain been perfect? Absolutely not. But has it been a beautiful ride? Absolutely yes.
Any last words for anyone who was like you, a young girl trying to find her voice? Any last words for families or women who are thinking about moving abroad?
Stay true to who you are but know that the world is changing so much. It's such a big world, and it'll always be a big world. Try to expand. If anyone feels like they want to travel or they want to live in a different community, just do a little bit of research and try it out. The world is a big, beautiful place to explore.
Kiersten Brown
Kiersten is a freelance writer and coach. As a writer, she has written for Travel Noire, Passion Passport, BAUCE mag, and various travel and lifestyle blogs. As a writer, her goal is to write content that inspires others to take action. As a coach, her goal is to empower women to be their most authentic selves. In her free time, you can find her dancing to any song any where.