Guest Blogger
BGN works to feature strong, unique content from writers who…
Written by Abbey White
If it's possible to remember as far back as March 2016, to the very last line Daredevil fans heard right before "A Cold Day in Hell's Kitchen" cut to black, you'll know the season 2 finale didn't just leave fans with any cliffhanger. That line was a name, and one that many comic fans have speculated will play a crucial part in revealing Matt Murdock's (Charlie Cox) backstory. That name was Sister Maggie.
For those who've read the comics, Maggie is the farthest thing from unfamiliar. For those who haven't, she's the Mother Superior of the nun who helped raise Matt at an orphanage. Maggie's a woman whose personality and convictions are rooted, curiously, in many of the same things as the man without fear. She's also remained long hidden in the shadows of Hell's Kitchen, silently providing aid for the most vulnerable. Now, she may be stepping out to help a man save a world he's seemingly dead to.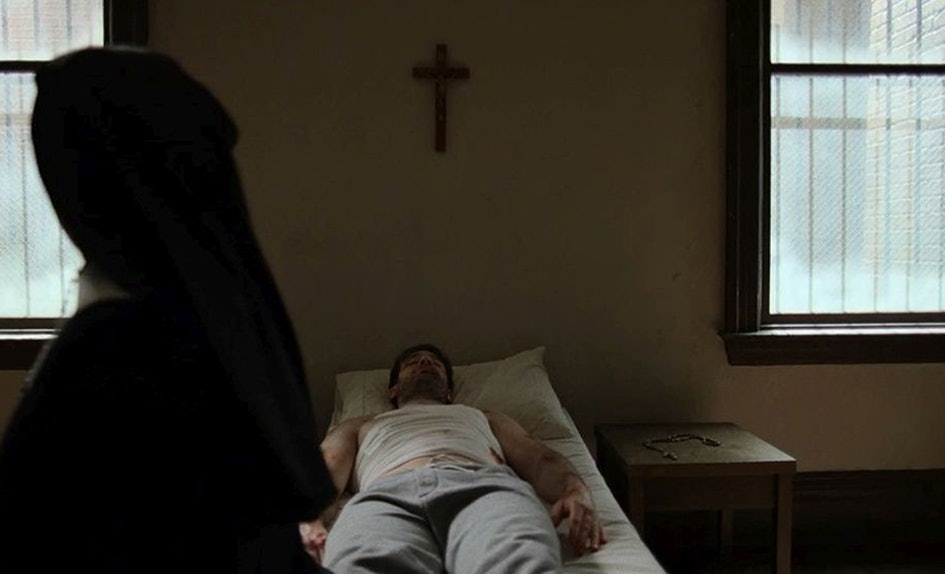 Marvel and the creative team behind the Netflix series have yet to publicly reveal almost any details about who "Sister Maggie" is, but Black Girl Nerds went on set this past March to talk to the actress behind one of this season's most mysterious and highly anticipated characters. Here's what we learned about one of Daredevil season 3's key new characters and the woman who plays her, Joanne Whalley.
Whalley and Maggie Have Been Entrenched in a World of Faith
During the interview, Whalley took very little credit for shaping Maggie for the screen. Instead, while acknowledging that there were things she "maybe brought unknowingly just because it's me playing it," she paid high praises to the creative team for filling out her character's compelling edges.
"I've really enjoyed working on this because the scripts are so good," Whalley said. "There's a lot of action and all of those extra elements, but it's so character driven. Everyone has stuff and baggage, and everyone has all these things they are wrestling with. Everyone has demons, and that's what drives all the episodes. So, there is a lot to play with, with all of the characters, not just mine. I mean, everyone has these multifaceted storylines."
Despite giving the writers most of the credit for character-building, Maggie's world isn't entirely unknown to the actress who plays her. Whalley admitted she drew a bit from her own Catholic school experience to help her find footing.
"Well, as it happens, I went to a convent school," Whalley shared. "I'm no stranger to nuns. I'm quite comfortable around nuns. I went to convent school from the age of 12 to the age of 18. Our headmistress was a nun – not the entire staff – but a lot of them were. The school itself was in the old convent building. … Although I wasn't actually born a Catholic, I ended up at that school."
Maggie's Wardrobe Will Reflect More Than Her Immediate Job
If you've never hung around any Catholic nuns, you might make the assumption that they wear nothing but the traditional religious "habit": a tunic covered by scapular and cowl, accompanied by a veil. Maggie will wear some of that familiar garb, but her role at the orphanage – and beyond – will see her in clothing that provides, perhaps significant, flexibility.
"At the end of the day, she is quite practical," Whalley said of how much we should expect to see Maggie in and out of the traditional garb. "Nuns get their hands dirty. They roll up their sleeves and get their hands dirty. There's times, certain occasions when they need to be more traditionally dressed, but you see her in different things. It's not just one. I've not got that thing on my head."
Don't Let The Habit Fool You
While Whalley said she couldn't reveal too many plot details about Maggie, she did tease some information on the kind of person we can expect Matt to encounter. And based on what the Daredevil actress divulged, fans should expect Sister Maggie to be as complicated as the Devil of Hell's Kitchen.
"I can't tell you too much without spoiling it for you, but she's a really interesting character," Whalley said. "She is a nun, and the place that he has taken to when he needs help is the old orphanage. That's what she does. She takes care of people and children, and they take him in."
"She's wise," Whalley continues. "She's tough. She's seen a few things. She's not afraid. She has the strength of her faith, and she runs an orphanage in Hell's Kitchen, so she ain't no sissy. But she is hugely compassionate. She's brave. She is decent. It's a funny old-fashioned word, but she strives to do the best and the right thing. The main pillar of that is her faith. She's a fighter, but she is also vulnerable. She is human and wrestles with that."
If Whalley's description of Maggie sounds a bit familiar, you might be onto something. In many ways, Maggie feels a lot like the Matt Murdock viewers met in Daredevil season 1. Whalley seems to confirm that, pointing to a potentially complicated and dark past.
"She's got a lot of strings to her bow and a few unexpected dark corners that we get to shine a light in," Whalley teased.
There Won't Be Immediate Clarity On Maggie and Matt's Connection
Whalley describes Maggie's relationship with Matt as "eventful." And while the audience may have some inkling that something's up between her and the vigilante, the actress says that you shouldn't expect the characters to. Their first encounter will prove to be more abrasive than revelatory. Maggie recognizing Matt – or Daredevil – will not be something that happens straight out of the gate.
"She learns more about him as we progress," Whalley said. "In the very first instance, no. In fact, she is really annoyed that Father Lantom has brought this mess to a finely tuned and finely run establishment. It's the wrong place. There are hospitals and police forces. We are not that kind of service. But then, she finds out who it is, and of course, it's a different story."
According to the actress, her character will begin the season spending most of her time with Father Lantom (Peter McRobbie), a priest of New York's Roman Catholic Archdiocese. But as the season unfolds, the nun will slowly become more involved in Matt's dark vigilantism.
Even for the Nun, Season 3 Will Be a Test Of Faith
Daredevil has always been one of TV's most fascinating superheroes for two distinct, but underrepresented reasons: His disability (blindness) and his faith (Catholicism). During the first two seasons, Matt not only happily (and somewhat advantageously) relied on both to guide him as a hero, but let them serve as influences on his non-hero self-identification.
Following the events of season 2 and The Defenders, Matt – and the rest of his team – will have their faith challenged in truly altering ways.
"We all question and all have doubts and fears," Whalley said. "I think that Catholicism and the religion aspect is obviously highlighted in this [show], but I think that it's just, in a broader sense, it's your own kind of faith. It's the sense of something bigger than us."
Whalley confirmed that those characters that will be challenged include Maggie.
"She does change because she is intelligent," Whalley continued. "She doesn't go into situations with a hammer thinking 'This is the only way to do something.' She is not self-satisfied. She is not smug about her religion or her faith or herself. She's no stranger to self-examination and self-doubt. She takes it on. She's always taken it on."
Guest Blogger
BGN works to feature strong, unique content from writers who speak to our niche. If you are interested in having your work highlighted contact jamie@blackgirlnerds.com to be featured as a guest blogger on the site.