Kyndal Wilson
Kyndal is a free spirit who is convinced she lived…
There is no question that Agatha Christie is the GOAT. She is the best-selling novelist of all time, and she is third behind only Shakespeare's works and the Bible in the rankings of the world's most-widely published books. Her skills as a mystery writer know no bounds, and her books were some of the first books I fell in love with as a child. I read And Then There Were None first. And shortly thereafter, I read Murder on the Orient Express.
I was hooked from that point on.
Murder on the Orient Express is one of Christie's many mystery novels featuring our favorite Belgian detective, Hercule Poirot. Poirot knows the answer to every question before anyone asks it. He notices things no one else notices. He is the premiere murder detective.
So, when Poirot boards his train, he is in for quite a surprise. What starts out as a necessary trip to take care of his business soon turns into a murder mystery all its own. A mystery only Poirot can solve.
The passengers on the train with Poirot are:
M. Bouc –  The director of the Compagnie Wagon Lits and formerly worked for the Belgian police force with Poirot.
Dr. Constantine  –  The coroner aboard the Orient Express
Mary Debenham  –  A governess
Mrs. Hubbard  –  An American woman who causes consistent disruption on the train
Colonel Arbuthnot  –  A tall British army officer returning from India
Princess Dragomiroff –  A Russian princess
Hector McQueen –  Ratchett's personal secretary
Ratchett  –  The murder victim
Countess Andrenyi  –  a young, dark haired and beautiful.
Count Andrenyi  –  the Countess' husband
Cyrus Hardman  –  The big flamboyant American who is also a detective
Antonio Foscanelli –  an Italian under suspicion by M. Bouc
Greta Ohlsson  –  a Swedish missionary
Hildegarde Schmidt  –  Princess Dragomiroff's Swedish maid
Edward Henry Masterman  –  Ratchett's valet
Pierre Michel  –  Conductor of the Orient Express.
The novel is laid out in three different sections: The Facts. The Evidence. And Hercule Poirot Sits Back and Thinks. This structure allows the reader to go through every bit of evidence alongside Poirot while he interviews everyone on the train. Then, we sit back with him and follow along as he synthesizes the information he received. However, even though the information is presented in this way, it doesn't make solving the mystery any easier.
I remember reading the end and being like…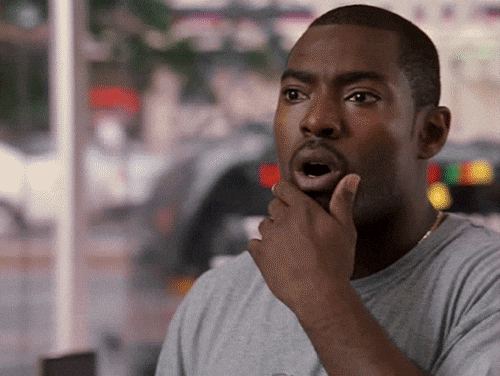 Murder on the Orient Express was written in 1934, so there are several comments from the characters that definitely hit on stereotypes–like women being too weak to commit the murder and the Italian being suspicious because he's…well…Italian.
And Then There Were None is (predictably) my favorite Christie novel, but I do still enjoy Murder on the Orient Express. It's such a quick read, even for the slowest of readers (no offense). Like most of her books, it's hard to put down, and you just want to know who the murderer is!
But I won't tell. I promise :).
In 1974, Murder on the Orient Express was adapted into an Academy Award winning movie starring Albert Finney, Lauren Bacall, Ingrid Bergman, and Sean Connery.
In November of this year, we'll get to see yet another adaptation of the novel on the big screen with Kenneth Branagh, Johnny Depp, Daisy Ridley, Michelle Pfeiffer, Willem Dafoe, and BGN favorite, Leslie Odom, Jr.
Agatha Christie novels are addicting. So, once you read one, you'll want to read more. If that's the road you take, then I'd like to suggest the following Christie novels for further reading:
And Then There Were None
Death on the Nile
Murder in Mesopotamia
The Mysterious Affair at Styles
The Murder of Roger Ackroyd
Have fun with the Queen of Crime!
Kyndal Wilson
Kyndal is a free spirit who is convinced she lived in Paris during the 1920's in a past life. Tea Snob. Gastronome. Wordsmith. Proud Ravenclaw. Sucker for a period drama. History, Fantasy, & Book Blerd. Professional Daydreamer. Cursed with Wanderlust. Obsessed with Hamilton (the musical). Always on the advent of her next adventure. You can follow her on Twitter: @ladykyndal and/or Instagram: @ladykyndal