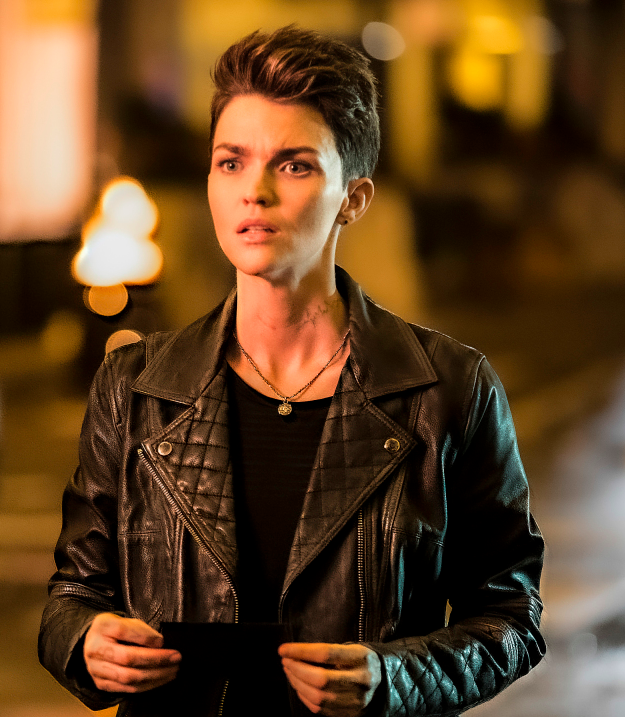 Jamie Broadnax
Jamie Broadnax is the creator of the online publication and…
One of the most highly anticipated DC comic book characters to appear in live-action format has finally arrived — Batwoman.
Actor Ruby Rose is now playing Kate Kane, otherwise known as Batwoman. The pilot of CW's Batwoman begins three years after Batman disappeared. Several residents of Gotham City have presumed him dead, and the community is torn apart. In a town riddled with hopelessness, law enforcement is outnumbered and outgunned by criminal activity.
Kate Kane's father Jacob Kane (Dougray Scott) run Crows Private Security, a militia that protects and secures the city in lieu of the Dark Knight. Jacob and Kate have a tempestuous relationship that ties back to her childhood.  In the pilot, we flashback in time to see a young Kate and her twin sister Beth. The two are involved in a vehicular accident with their mother at the wheel and the only survivor is Kate. Both Kate and her father Jacob are inundated with survivor's guilt, and this inevitably creates a fracture in their relationship.
Kate's life is further complicated when she is dishonorably discharged from military school shortly after her relationship with fellow student Sophie Moore (Meagan Tandy) is exposed. Kate decides if the school doesn't want her and doesn't accept her love for Sophie, she doesn't want any part of it. Unfortunately, Sophie decides to stick with military school, compromising both her values and her love for Kate and splits them apart.
The story of Batwoman is complicated further with Kate's new family, including her stepmother Catherine Hamilton-Kane (Elizabeth Anweis) — a wealthy socialite who funds the Crows — and her stepsister Mary (Nicole Kang). They are loving towards Kate but this doesn't replace the family she lost as a child.
Batwoman definitely has some hits and a few misses. Starting with what makes this story compelling is the subplot of Kate's back story. The complex relationship with her father, her traumatic childhood, and the loss of her first love ties into a substantive narrative that creates authentic character development.
Nicole Kang, who plays Kate's stepsister Mary, delivers a delightful and quirky performance that adds levity to each scene. Gotham is a very serious city with serious people, and seeing a bit of comedic flair every once in a while was refreshing. There are also some humorous exchanges between Luke Fox (Camrus Johnson) and Kate. He's the son of Lucious Fox, Bruce Wayne's business manager and tech support at Wayne Enterprises. Luke slips into his father's role for Kate quicker than one could predict. During their first encounter, he makes it incredibly easy for Kate to break into Bruce Wayne's hideout, but you can forgive him since security detail isn't exactly his strong point.
I do have a bit of a bone to pick with the suit. The Batsuit has certainly has historically had its share of controversy, from Joel Schumacher adding nipples to George Clooney's suit in Batman & Robin to the atrocious boob cups worn by Alicia Silverstone as Batgirl in the same film.
Major side-eye to the whole costume team on that film.
However, in this series, there are no boob cups, but instead, an oddly spherical-shaped mask that just looks…corny. I'm probably nitpicking here, but I prefer more of the traditional square-shaped headgear the caped crusader is best known for. I expect as the series continues, this will grow on me, but as of now, I'm not a fan.
The pacing at times is a little slower than I would like it to be and the choreographed fighting scenes with Rose need a tad bit of improvement. They're not terrible, but she definitely could use a few more weeks of combat training. Overall, Batwoman is an entertaining series and certainly worth a watch. I look forward to seeing some crossover from the now-defunct Fox Gotham series with this one. Even if it never happens, Kate Kane's story is intriguing enough on its own.
Batwoman premieres on the CW Sunday, October 6th.
Jamie Broadnax
Jamie Broadnax is the creator of the online publication and multimedia space for Black women called Black Girl Nerds. Jamie has appeared on MSNBC's The Melissa Harris-Perry Show and The Grio's Top 100. Her Twitter personality has been recognized by Shonda Rhimes as one of her favorites to follow. She is a member of the Critics Choice Association and executive producer of the Black Girl Nerds Podcast.