Cassondra Feltus
Cassondra Feltus is a St. Louis-based freelance writer best known…
Colin in Black & White is a coming-of-age biopic series inspired by the life of Colin Kaepernick. Created by Kaepernick and Ava DuVernay (Queen Sugar), the series shows how he struggled to navigate his identity in white spaces as a teenager. It also uses his personal story to explore Black history and systemic racism. 
The series stars Jaden Michael (Vampires vs. the Bronx) as Young Colin, Mary-Louise Parker (Weeds) as Teresa Kaepernick, Nick Offerman (Parks and Recreation) as Rick Kaepernick, Amarr M. Wooten (American Housewife) as Eddie, Mace Coronel (Wireless) as Jake, Klarke Pipkin (Escape from Mr. Lemoncello's Library) as Crystal, and Colin Kaepernick as the Narrator. It's produced by DuVernay, Kaepernick, Michael Starrbury (When They See Us), ARRAY Filmworks, and Netflix. Writing credits include DuVernay, Kaepernick, and Starrbury, as well as Evan Ball (Stargirl), Teri Schaffer (Marlon), Raynelle Swilling (I Feel Bad), and Josiah Johnson (Legends of Chamberlain Heights).
Colin in Black & White opens with our Narrator and transitions into his life as an eighth-grade athlete at Pitman High School in Turlock, California. The voiceover explains that he was born in Wisconsin to a white mother and Black father, then adopted by the Kaepernicks when he was still a baby. Though loving and well-intentioned, his parents failed to talk to their son about his cultural identity. In the series, Colin's face lights up when he's around Black people. Every discovery makes him feel like he is finally seen. "I wish I had a mentor to turn to in those moments to be able to have those conversations to help better navigate what I was facing," he told Ebony.
The series really doesn't show his parents in a positive light. Yes, they were supportive. Yes, they provided for him. But when it came to instances of casual racism, they were either oblivious or just didn't want to make race a big deal. For example, after Colin gets his hair braided, which is an entire ordeal all its own, the baseball team suddenly has a rule against long hair. Instead of questioning the coaches or the school, his parents make him get a haircut. His mother actually says he looks like a thug to his face.
Getting braids changed his life, for better and for worse. In exploring the importance of hair, Kaepernick discusses the controversy surrounding Allen Iverson's cornrows in the NBA. The style was deemed unprofessional, and even at 14-years-old, Colin was required to look professional. In the series, any time young Colin shows frustration with the constant discrimination he faces, he's told to settle down, don't worry about it, and keep his chin up by his parents, friends, coaches, and strangers.
These vignettes of Black historical figures interwoven with this story of a kid who felt like he didn't belong work so well together. While telling his story, Kaepernick is retelling the stories of other influential people. It's sort of like a mixed media art exhibit. The music is also a highlight, with everyone from Kendrick Lamar to throwback Missy Elliot.
I knew of Kaepernick from the widespread media attention surrounding his protest in the NFL. With any form of protest comes hate. However, I didn't know that the hate for Kaepernick is real. I won't get into the politics regarding the National Anthem, but how he's treated for his activism is ridiculous. Being biracial, raised by a privileged white family, and earning millions as a pro footballer somehow make him unfit for sincere activism, as if being Black isn't a hardship itself. He admits, "I thought their privilege was mine." The older he got, the more he realized that it wasn't.
Making yourself palatable for white audiences never feels good for a person of color, but the hope is for this biopic series to help detractors to understand where he's coming from. Jaden Michael told EW, "I think it's most important for people who maybe don't agree with Colin to find a safe place to watch something interesting and informative, where they can redo their research and try and understand Colin from a different perspective."
Jaden Michael's performance is exceptional. The way he communicates the confusion and pain of microaggressions is so intricate. All you can do is feel for him. Another standout for me is Mace Coronel as Jake, Colin's closest friend in the series. Coronel brings authenticity to the role, and it helps that his dialogue sounds real and not cringe-worthy like some lines written for teens. The character is honest, funny, and the least unpleasant.
I don't know how much of this is dramatized, and how much is pulled straight from real experiences, but most of the people in Colin's life come off as unlikable. In the dramatizations, his friends and family are quick to hype him up when he's achieved something. Every time he's disappointed, angry, sad, or offended, he's instantly called out for feeling sorry for himself. He's encouraged to suppress his emotions. Any setback is an opportunity for someone to tell him to work harder, chin up, and keep going. Those aren't inherently bad messages, but not allowing him to feel anything but determination is incredibly unhealthy.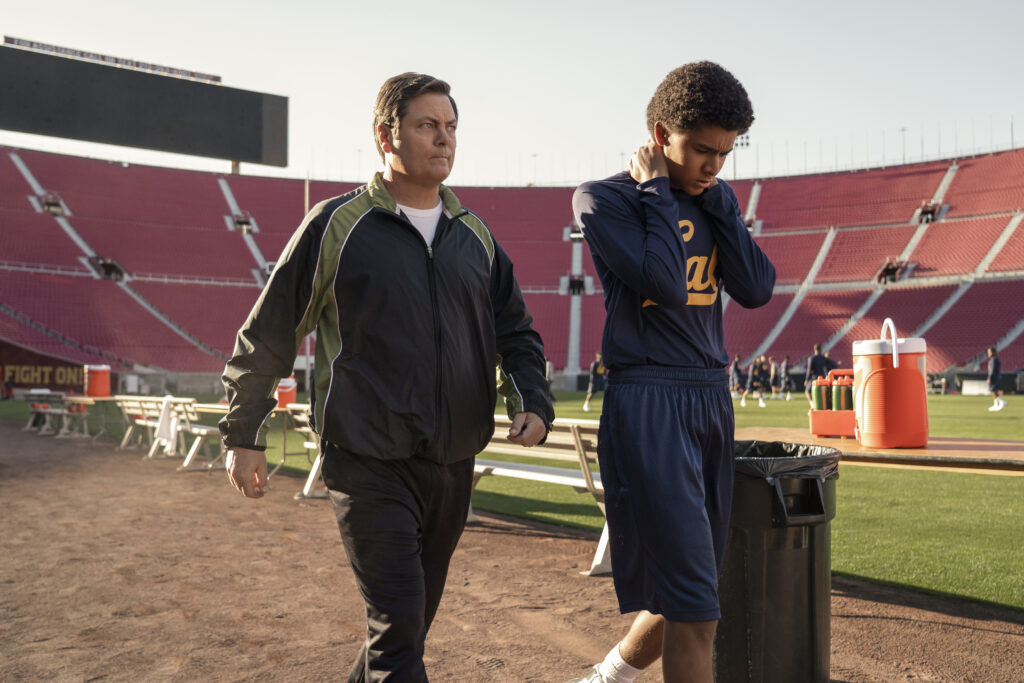 As a biracial person, I relate to this series a lot. Colin and I are also around the same age, so the music, fashion, and culture of his teenage years are very familiar to me. Plenty of scenes made my blood boil, wishing that someone would just come to his defense or, at the very least, address the racism he faced. I was fortunate enough to grow up in a household that celebrated diversity and Blackness. It upsets me that that isn't the case for everyone.
Colin in Black & White is sure to be a polarizing series, but it's also enlightening, intimate, and powerful. Your opinion of this series depends on how you approach it and what preconceived notions you have about Colin Kaepernick. Ultimately, it's the story of a boy who endured a lifetime of rejection and still worked hard to make his dreams come true, only for it to be taken away for standing up for his beliefs.
Colin in Black & White launches October 29th on Netflix.
Cassondra Feltus
Cassondra Feltus is a St. Louis-based freelance writer best known for film, television, and pop culture analysis which has appeared on Black Girl Nerds, WatchMojo, and The Take. She loves naps, Paul Rudd, and binge-watching the latest series with her two gorgeous pups – Harry and DeVito.