From Nowhere and Doom Generation, director/writer/producer Gregg Araki's aesthetic in many ways defines my 1990s, and in particular the club and rave culture he displayed and critiqued through his films. I was curious how Araki's specific and unique vision would translate to the Millennial era in his newest work Now Apocalypse, which follows a group of 20-somethings in Los Angeles as they navigate work, sex, sexuality, and love. Oh, and aliens. And also the end of the world. This is Gregg Araki after all. In spite of shifting his generational gaze, he remains perfectly on brand with Now Apocalypse, airing Sunday nights on Starz.
Ulysses Zane, or Uly, (Avan Jogia) came to Los Angeles to be an actor and now spends his days getting stoned and working temp jobs. His roommate Ford (Beau Mirchoff) looks like a Greek sculpture come to life and is also an aspiring screenwriter who might have just gotten his first big break. Ford's French girlfriend Severine (Roxanne Mesquida) is a pansexual astrobiological theorist with a top-secret job. Uly's best friend Carly (Kelli Bergland) is too an industry hopeful and currently makes her living as a cam girl with a distinct preference for domming.  
Uly has been having a disturbing and recurring dream that appears to come true after he has mindblowing sex with his longtime crush Gabriel (Tyler Posey). Uly is convinced that something profound happened — "the universe opening up" — and it has now expanded his mind to the presence of aliens, or reptilians, hiding among us on Earth. Carly thinks Uly needs to cool it on his constant CBD oil ingesting, especially before bed. As Uly's paranoia deepens, and more and more troubling events occur behind the scenes with Severine's job, the veil between what is real and what is a bizarre conspiracy theory begins to blur. Are these incidents coincidences? Or a pattern of a larger system of fate at work? This is a Greg Araki narrative so we won't know until literally the last five minutes of the season finale.
Araki's Los Angeles and perception of Millennials come with the healthy dose of hedonistic nihilism that seems to be older generations' biggest complaints with this age group. Gender identity is fluid, along with sexuality, and these youngsters take advantage of pleasure whenever they have the opportunity. Smart kids. They've figured out that the world is a steaming pile of guano and they need to make the best of their own happiness as they can. The sex scenes are wild and often weird and really made me miss Sense8 something awful. Now Apocalypse is the gritty and poetic Melrose Place you never knew you needed and now can't live without.
Now Apocalypse is also a huge step forward in queer South Asian representation with Avan Jogia, a multiracial Indian-British-Canadian, as a young gay man. As one of the few queer South Asians represented on screen at all, Jogia has quite a load of pressure on his shoulders in this role. He handles it by being fearless and flawless. Aside from a handful of titles that include Champions, Queer Eye, Angry Indian Goddesses, Kapoor and Sons, My Brother Nikhil, Chutney Popcorn, Fire, The Good Wife, My Beautiful Launderette, and Whitney there is virtually no other representation or inclusion of the queer South Asian community. Now Apocalypse is a wonderful addition to what I hope will be a growing canon in years to come as more diverse voices are slowly taking the creative wheels.
I hope Now Apocalypse can also be a step forward for the Desi community to deal with its internalized homophobia and get over it already. South Asia has some of the oldest archeological and other evidence of queer communities in the world, as well as current transgender hijra communities who each year reclaim more and more of their human rights in India, Pakistan, and beyond. Homophobia is a result of British colonization and its cruel policies against same-sex relationships as well as different gender identities. By now, it's well time for Desis to decolonize and let these antiquated and prejudiced notions go.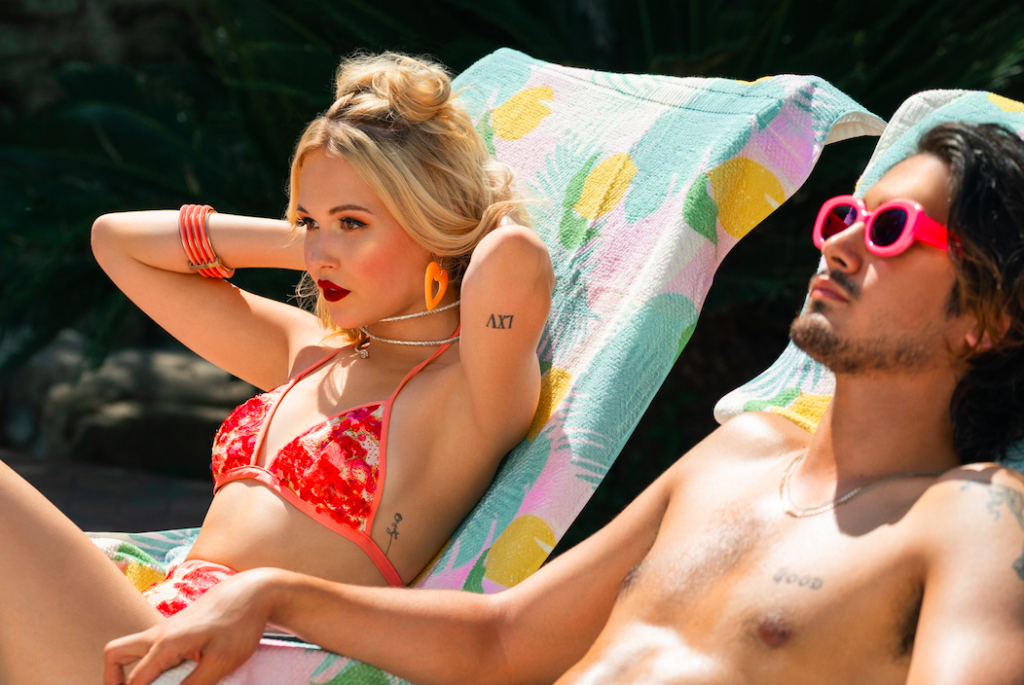 But Now Apocalypse's subversive narrative, overthrowing of heteronormative sexualities, Desi representation, and the underlying message of anti-capitalism aren't the only sly social commentaries Araki quietly sneaks into the escapades of Uly and his friends. Mitchell Kent (Henry Rollins) is an alien conspiracist who believes that reptilians are hiding among us and have invaded the highest levels of American and global society. Kent's book Invaders Among Us outlines the reptilian threat, which Uly can't help but see truth in as his paranoia deepens as do the strange coincidences that emerge. With our current American government's racist obsession with "invaders at the southern border," it's clever how Araki suggests the monsters are already here and hiding behind human faces. I couldn't help but think of the increasing problem of white nationalism, white supremacist violence, and the growing threat these white terrorists pose not just to people of color in America, but now abroad too. In other words, the threat is already inside the house.
With his usual characteristic dry wit and snappy dialogue, Araki's Now Apocalypse is the Nowhere and Doom Generation for the new generation coming up. As a GenY-er or newly dubbed Xennial, I really appreciated this particular vision of such a maligned, but such a freaking cool generation of people whose abilities to think outside every imaginable box is an incredible gift. I felt empowered by how easily these characters embrace themselves and who they are, their sexualities, their damage, and their desires. No wonder the older generations resent them. Uly and his friends are struggling, but they are still living their best damn lives. You go, you kings and queens.
They'd better enjoy it while they can. Because Araki's Now Apocalypse will surely live up to its name, as well as his end-of-days-obsessed brand. This cast is so very charming, for once I think I'll actually feel sad to watch the world end.
Sezín Koehler
Sezin Koehler is a multiracial Sri Lankan American, uncertified scream queen, and Frida and Keanu devotee who writes about horror, social justice, and representation for Black Girl Nerds. You can also find her on Twitter ranting about politics (@SezinKoehler), or Instagramming her newest art creations and tattoos (@zuzukoehler).