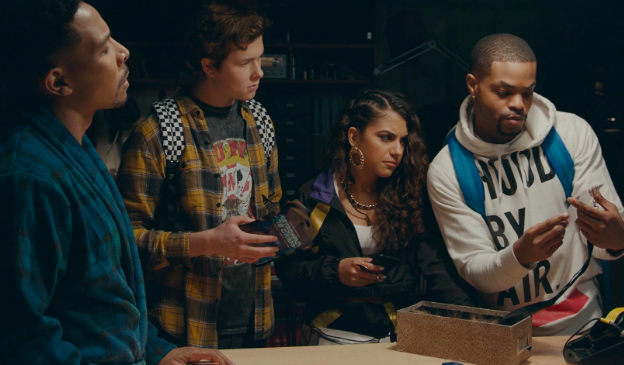 Lebo Malatse
Lebo Malatse is a content creator and writer. She's an…
Opening scene is of a child opening a box of shoes and not looking happy with the contents. I have no idea what is happening.
Nori, Stuey, and Bobby are kicking it, waiting for Bobby's hook up to give info on the Zeros. Nori thinks this is a hunt for a unicorn, but Stuey is enjoying the adventure. Nori happens to be the infamous StevieKickz, which Stuey says loud enough for the ever-annoying Cole to overhear. He claims that he will once blow up some day. Devin is not enjoying a birthday party with his kids and family. Christine tries to coax him into being friendly with one of the kids' dad, who is into Black culture. Bobby's hook up happens to be the kid from the opening scene. The kid is not happy with the scuffed-up Oregon 4s but gives Bobby a clue. The team is happy, even Cole is jumping up and down, with no idea on what is going on. Bobby hits up Devin, who can't leave right away but will do what he can. 
Devin lies to Christine, telling her that he has work stuff that can't wait. The lies get bigger. This is a problem. He arrives at Delicious Pizza to find Cole is now a part of the crew. The clue is a prosciutto sandwich picture. He's unimpressed but everyone else is excited about the ingredients and finding out who makes this sandwich. Cole knows what type of bread is utilized and Bobby knows the only spot that sells that type of sandwich. Nori finds out that Jon Buscemi, world-renowned sneaker and fashion designer, owns Uncle Paulie's, the spot. The five of them hit up and make an order for a sandwich. This doesn't go well for any of them; they get kicked out. Everyone leaves Bobby, who is adamant about finding the pair, even with them all gone.
Devin comes home disappointed. Christine knows something is going on with Devin but he isn't ready to open up. Bobby keeps calling his connection, who tells him that Jon Buscemi won't give up anything without an offer laid down. This prompts Bobby to find a guy in a truck with capicola for Jon. Jon has been down the rabbit hole and warns Bobby about it but gives him a box of clues in exchange for the capicola that Bobby found after 111 calls. Devin and Christine are enjoying marital bliss by playing strip poker when they hear noise outside. Devin checks on it to find Bobby is outside with Nori and Stuey. After they make their case, Devin has them meet in the garage. The box has various items that mean nothing to no one. Christine comes in and isn't happy to find Bobby in her house. I need to know what their issue is. Christine happens to know the items are all NSYNC stuff. It would seem that the Zeros were spotted wherever the band was playing. Stuey finds out that they have a reunion show in Hong Kong in two nights. Devin is surprised that Bobby is right. Bobby gets overexcited and lets all of Devin's secrets out. Dang, just when he was about to get some. 
Christine isn't having it and won't let Devin go down the dark path with Bobby. Bobby needs to know why Christine hates him. Christine informs him that at their wedding rehearsal, Bobby, drunk had relations with her mom on the hood of his Honda with the wedding party watching… Ya'll I wasn't expecting that. Bobby thought it was Christine's sister. No lie, I paused the show to compose my self from laughing. In the house, Christine is through with the mess and is taking the kids to her mom's for the weekend, giving Devin time to figure things out. She will be back with the kids on Monday at 5:00 p.m. Devin gets a call from Bobby. The two hop into a ride. Bobby claims that they will be back by Monday and everything is paid for.
I'm jealous that this alternate universe has an NSYNC reunion. I'm really mad about this! Devin is really about to lose his whole family over this.
Lebo Malatse
Lebo Malatse is a content creator and writer. She's an avid reader, tv and film lover, and traveler. To read more of her work, check out her site: lbmalatse.wixsite.com/website and journey into the worlds that she creates.