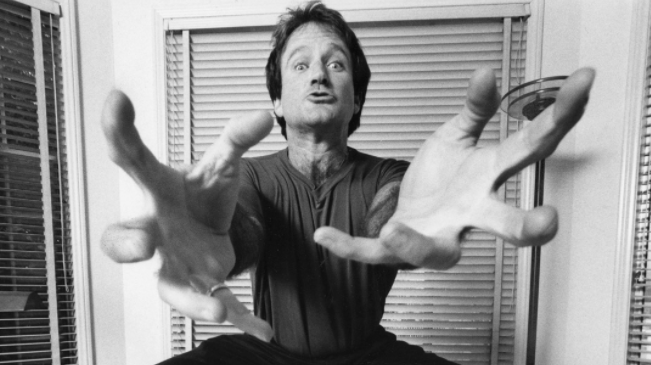 Jamie Broadnax
Jamie Broadnax is the creator of the online publication and…
One of the greatest comedic geniuses of our time with a mind that was as creative as it was elusive, is scrutinized in this prolific documentary directed by Marina Zenovich called Robin Williams: Come Inside My Mind. The documentary is pretty traditional in its scope of how Zenovich presents Williams' life to the audience.  The film features interviews with close friends, colleagues, and lovers as well as archival footage of Robin Williams' stand-up performances, body of film work, and on-camera interviews.
The beauty of how Zenovich tells this story, is that she allows Robin himself to tell his own biography.  We hear his voice throughout the film—which I can only imagine was a long process of going through thousands of hours of recorded interviews throughout Robin's life. The film starts David Copperfield style where we begin at the start of Robin's origin story as a child growing up in a home with two parents who loved him dearly.  A working-class father and a stay at home mother who entertained many guests and friends with humor.  There's a beautiful moment in the film which depicts a recording between Robin and his mother where she jokes about using whoopie cushions and filling them up with water.  You can tell exactly where Robin got his hereditary sense of humor from and this is just one sample of the kind of intimate stories shared about his life in Robin Williams: Come Inside My Mind. The film evolves into his young adulthood as it provides a reflection on his experiences with his roommate, friend, and Godfather to his children actor Christopher Reeve.
I've always had a knack for documentaries about celebrities, especially ones that peel the onion and reveal layer upon layer of the life of someone who you thought you knew—but inevitably had no idea who they actually are. In this particular documentary, stories are shared by fellow comedians Billy Crystal, Elaine Boosler, David Letterman, Eric Idle and more.
The most personal and profound moments are shared by longtime friend Billy Crystal and his Mork and Mindy co-star actress Pam Dawber.  Crystal shares an anecdote about the first time his connection to Robin happened outside of the four corners of comedy and entertainment.  For Crystal, he was a father and loyal friend—so much more than the comedian superstar that we knew.  Dawber's recounted experiences became very emotional, so emotional in fact that she couldn't go into details about the moments leading up to Robin's death because it was just too hard for her to take.
Robin's ride was definitely shaky one, the movie goes into failed marriages, drugs and booze, and his quiet fight with his Parkinson's diagnosis. Robin Williams' son Zachary Pym Williams also contributes to this documentary which added an affectionate touch to this story. The film will definitely keep you laughing throughout which is expected since several excerpts of Robin Williams' work is cut together within the story.  These moments help us remember who we loss and what important soul Robin was to the world of comedy. Robin's story is absolutely incredible and will make you laugh and cry at the same time.
Robin Williams: Come Inside My Mind is an HBO film currently screening at Sundance 2018.
Jamie Broadnax
Jamie Broadnax is the creator of the online publication and multimedia space for Black women called Black Girl Nerds. Jamie has appeared on MSNBC's The Melissa Harris-Perry Show and The Grio's Top 100. Her Twitter personality has been recognized by Shonda Rhimes as one of her favorites to follow. She is a member of the Critics Choice Association and executive producer of the Black Girl Nerds Podcast.