Diedre Johnson
Diedre Johnson is a Los Angeles-based former staff writer covering…
Sumpter will play Tracee Ellis Ross's mom in the prequel to Black-ish.
In terms of an actress climbing the TV ladder, Tika Sumpter has barely missed a step.
A one-time model, Sumpter got her first acting break on One Life to Live, playing the sister of Renée Elise Goldsberry (Hamilton). Next came a recurring role on Gossip Girl followed by another recurring role, this time on BET hit series, The Game.
Then there were a few movies including playing one of legendary blue's diva Bessie Smith's girls in the HBO biopic and a critically-acclaimed portrayal of former First Lady Michelle Obama's courtship with former President Barack Obama in Southside With You.
Sumpter was also a cast member in the animated sci-fi series Final Space, and then she was back in the scripted drama for The Haves and the Have Nots on OWN. The actress also has a couple of buzzed-about films coming up, including Sonic the Hedgehog with Jim Carrey and, according to her IMDB page, she's signed up for Ride Along 3 with Kevin Hart.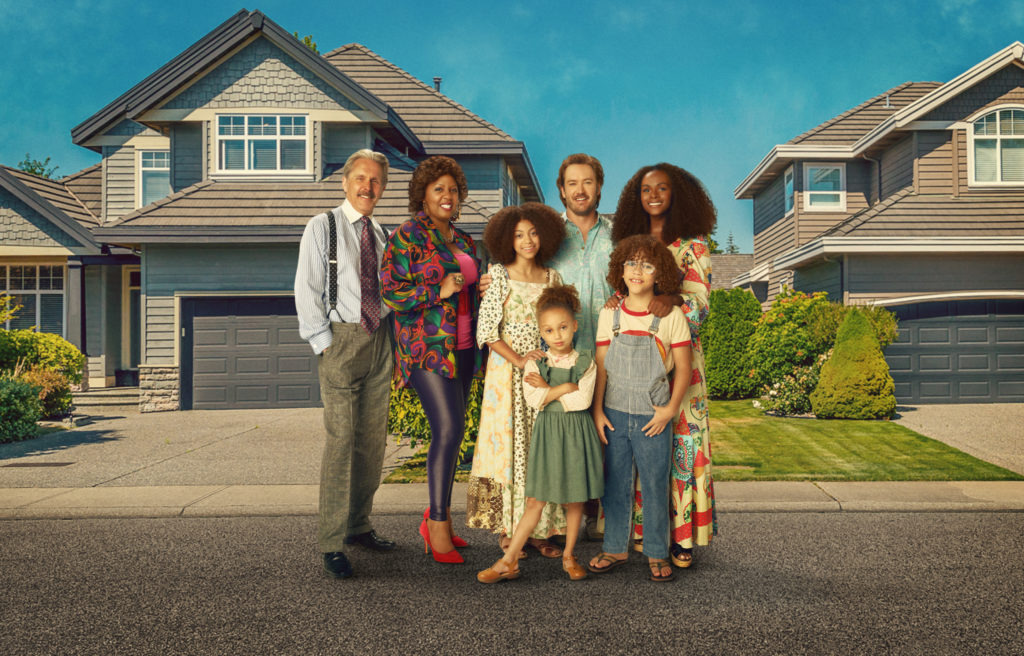 But this brief in-person interview is about her role as the hippie turned cul de sac mom of the younger version of Tracee Ellis Ross's character Rainbow Johnson (played by Arica Himmel) on ABC's Mixed-ish.
What is it like for you going into a prequel from a show that has become like a cottage industry? There's been Black-ish, Grown-ish and now Mixed-ish.
I am just excited that Kenya Barish saw something in me and decided to intentionally go with somebody who didn't look like the original mom and someone who's a brown-skinned woman in telling our story as well.
I mean, I am excited. The writing is fabulous. The stories are incredible. I'm just happy that I am involved in "ish-world" and whatever that turns into will be awesome.
Did you go to school with any biracial kids?
There were biracial kids, but it's so weird. I didn't look at them like, "Oh, those are the biracial kids." They either hung out with us or they didn't. It wasn't a thing, and I don't know now that race and talk of race is more in the forefront [when talking about people whose parents are of two different races]. You know, these are the stories of those people and their families.
The reason I asked is that I did go to school with biracial kids, and they would tell me.
Peter Saji, who's the creator/VP, said, "Yeah, back then it wasn't like, 'Oh you are mixed.' It was, 'Oh, you are something else,' and that's what it is. It's not, like, a thing. Now the term is coined 'mixed,' which is very new."
You've made the mom your very own. What have you added to her that you like?
The story of Alicia has grown, so now it's balance of finding her own identity. She works at a law firm where she is the only Black woman, so she's usually in these all-white spaces. What's her journey?
It's the opposite of she's staying home with the kids. She's the working woman, so what does that look like? What does pay equality mean, and what is sexism back in the 1980s? These are all things that we are tackling.
The commune is just the back story, but does your character bring anything from her old life?
Yeah, crystals, different ritualistic prayers, homemade soups, fresh food. [Laughs.] Yeah, there are some great things that we have gotten out of that. It's really about community. It's about helping each other.
We have these great ideologies; idealistic utopian things that either get crushed or they live on. So we're bringing some good things out of it, but we're kind of naive about some things. She knew what it was like to be a Black woman before she went to the commune. She could be this open and free person there, but what is it like getting out of that? Getting out of the bubble and being in the real word, for her as a Black woman?
What was it like on the set with Tracee's input?
When I was actually doing chemistry reads, she brought me into the [writer's] room and said, "Tika, don't lean on him. Be strong. You're your own person. It's not like you're looking for him for answers."
It was like be that; where Beau gets her strength. She's the smartest one in the room, and I thought that was important.
And working with Mark Paul Gosselaar?
Sometimes I stare at him and think, "You are Zack Morris [from Saved By the Bell]." It's been great. He's been amazing to work with.
Do you two get to sort of riff off each other while saying lines?
Yeah, we riff, but it's on the paper. The writers are so good and they allow us to say things.
So you guys can ad lib?
We can ad lib. They let us go, but the words are there.
Mixed-ish premieres on ABC on Tuesday, September 24.
Diedre Johnson
Diedre Johnson is a Los Angeles-based former staff writer covering entertainment whose work has appeared in Variety, The New York Daily News, TV Guide.com, The Crisis, Vogue Japan and Italia, and Harper's Bazaar China, among others