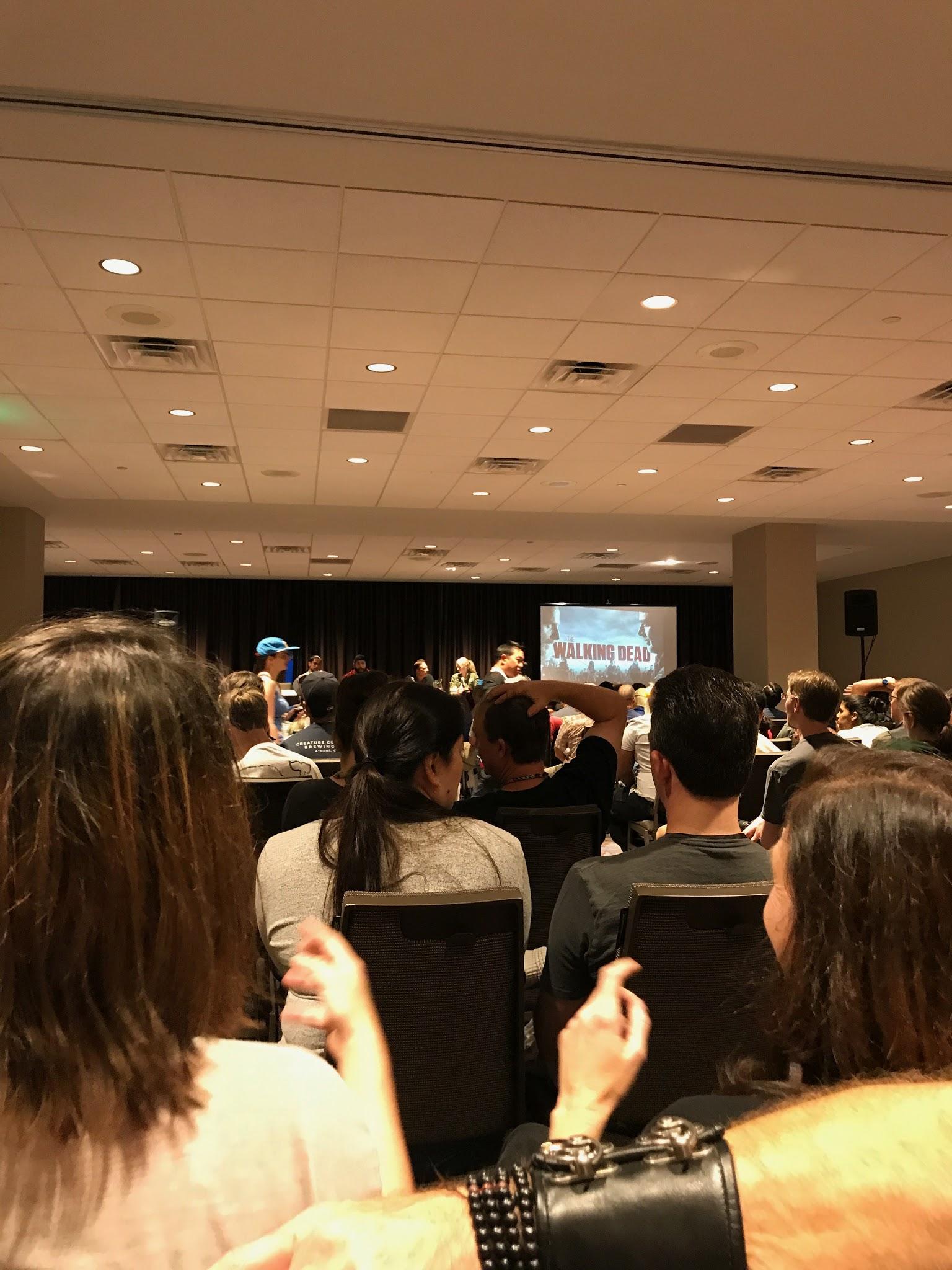 Guest Blogger
BGN works to feature strong, unique content from writers who…
Summer 2017 ended with a bang in Atlanta, Georgia as fans of comics, TV, anime, horror, fantasy, gaming, and everything in between gathered for the 30th annual DragonCon gathering during Labor Day weekend. One of the convention's fan tracks, Apocalypse Rising, focused on all things related to the eventual disaster that will wipe out most of Earth's population. And, a conversation about the demise of structured society wouldn't be possible without talking about AMC's golden child – The Walking Dead.
"Behind the Scenes: The Cast & Crew of The Walking Dead" featured panelists who had worked on the television series in different capacities. Molly Coffee is an artist who did set decoration for the show during the Governor/Prison arc. Her job ranged from crocheting pillows for The Governor's apartment to sprawling real trash across the set to give it an apocalyptic feel. Her dirty work led to her being bitten by a rat, chiggers, and ticks on set. Bites aside, she enjoyed working on The Walking Dead (TWD) and said the most memorable moment was the day when Herschel's death scene was filmed because the crew wore suspenders on set as a tribute to the fallen character.
Aron Siegel did sound mixing for the show and is a popular DJ, TV producer, and filmmaker. He said some of the scenes are filmed by the airport, which created a challenge for him because his job is to make everything sound like a post-apocalyptic world void of air traffic as well as other everyday sounds like trains. He also revealed his previous relationship with a fellow panelist who went from being a fan of the series to a new fan-favorite character – Cooper Andrews aka Jerry!
Andrews is a relatively new addition to the show with Jerry being introduced alongside King Ezekiel in season 7. He was much like his comedic and charming character as he revealed his journey toward becoming an actor and eventually landing a job on TWD. Cooper made mini films and choreographed fight sequences as a kid with neighborhood friends. He was an aspiring stuntman and worked on several indie projects. While working on these films, Andrews was asked to hold some of the lights on set due to his stature and eventually stumbled into acting roles. He met the casting director for TWD and the rest is history.
Before he was cast, Cooper was a fan of the series and began to watch it after season one was loaded on Netflix. During that time, he saw a familiar face on screen and told the audience a hilarious story about his relationship with Melissa McBride, who plays Carol. McBride was a former casting director and Andrews had auditioned for her several times, forming a cordial relationship with her. Suddenly, she had shaved her head and bowed out as a casting director, but he wasn't sure why she made the change. He thought she was going through a midlife crisis or perhaps had cancer and he asked other people in the industry about her whereabouts. It wasn't until he saw her on Netflix that he connected the dots and realized she did it for a role.
On the set, Andrews has loved every minute and said the cast is full of jokes and laughs. When he's not working, he loves to hang out with Khary Payton (King Ezekiel) and says they have become close during filming. He thought the scariest part of working on The Walking Dead is going in for a makeup test because it may reveal that a character is either going to get wounded or die. He mused about Jerry's background and jokingly said he ran a food truck before the apocalypse. He thinks characters like Jerry, Ezekiel, Negan, and Simon are okay with the way the world is now and have found their own ways to adapt with their new surroundings.
During the panel, an audience member changed the tone a bit and asked him if he felt pressure to carefully choose his roles because of his race. Andrews admitted his Polynesian background made him think harder about what he will accept because he wants to represent his people well. He credited actors like Dwayne Johnson and Jason Momoa for opening doors for men like him, but also said he is seen as a "safe" choice because he lacks an accent.
Matt, another panelist who works as a body double for a minor character, agreed with Andrews on this issue. The Mexican actor, who was recruited to the show via Extras Casting in ATL, didn't think he fit the negative stereotypes about his race. His favorite episode was "Pretty Much Dead Already" because it marked a major turning point in the show and Carol's character arc. Cooper Andrews quickly followed up with "The Grove" aka the "look at the flowers" story and praised McBride's exceptional acting in the episode.
The panelists did an excellent job of revealing the tidbits about the lesser praised roles on the set and what it was like to breathe the same air as Danai Gurira. There was no word on Jerry's fate, but fans are hoping he will be around for seasons to come. Andrews was also tight-lipped about season 8 but told the audience that they were in for a lot of action as the All-Out War arc kicks off in October.
Written by: Tai Gooden
Guest Blogger
BGN works to feature strong, unique content from writers who speak to our niche. If you are interested in having your work highlighted contact jamie@blackgirlnerds.com to be featured as a guest blogger on the site.