Valerie Complex
Valerie Complex is a freelance writer and professional nerd. As…
Reading books before the movie adaptations premiere in theaters is a blessing and curse; sometimes your favorites (aka Wonderstruck) just don't turn how you expect them to.
It's fun to see your favorite stories come to life on screen and being a huge fan of Brian Selznick's book Wonderstruck, I was excited to see this. All the pieces are in the right place—the marketing is brilliant, the cast is talented, and director Todd Haynes is a treasure. So how could something set up so perfectly be so tonally uneven?
There are good elements that save the film from being a total downer. Most notably, the performance of Millicent Simmonds, the American deaf actor who portrays Rose.
The film follows Ben (Oakes Fegley) and Rose (Millicent Simmonds), two deaf pre-teens from different eras who share a common goal—the search for family. Rose is a Jersey girl who's tired of the home life. Her father is a bitter tyrant who treats her like trash and she's tired of it. She desires to reunite with her mother, but in order to do so she'll have to step outside her comfort zone and travel to New York City. She's up for the task. Rose is adventurous yet cautiously self-aware of her surroundings. She's also quite an escape artist as she constantly thwarts family members and authority figures with ease. Her special set of skills help her navigate the busy big apple in the fall of 1927.
Ben longs for the father he has never known. He leaves home for New York City in the 1970's hoping to find more about his past. He's a problem solver which helps him avoid the dangers of the city, but with no money and no known family in New York, he ends up in the American Museum of Natural History with his new friend Jamie (Jaden Michael). While there, he discovers an old book called Wonderstruck. What he doesn't know is this book has an unexpected connection to Rose—the one person who can give him the answers he's seeking. Despite their physical challenges and naivety, the stars align long enough for these two to cross paths and bring closure to their journey.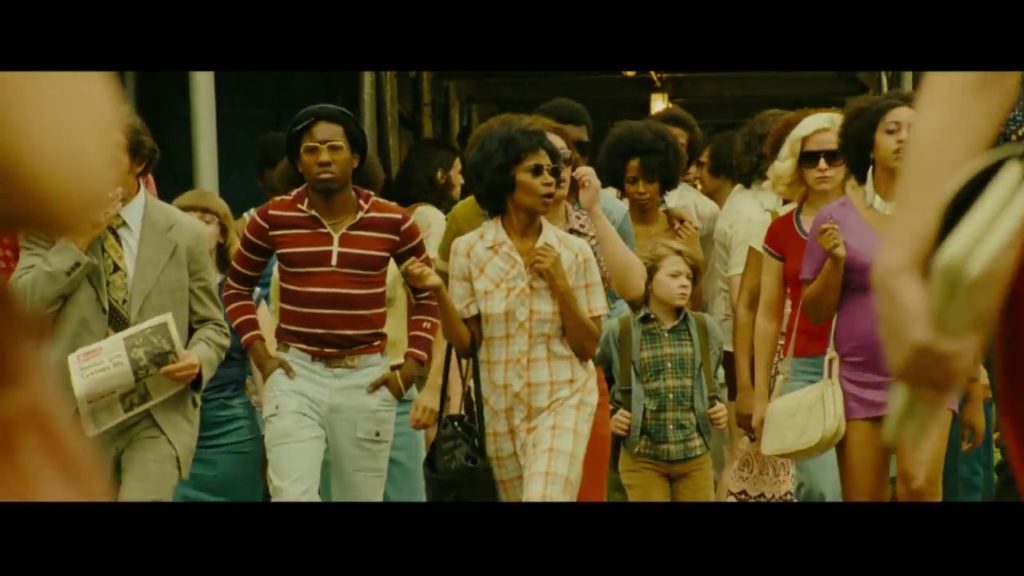 Director Todd Haynes has a body of work (Carol, Far From Heaven, I'm Not There) that proves he is a master at time travel. He does a top notch job of bringing Brian Selznick's vision of the 1920's and the 1970's to the big screen. Haynes is a well-prepared and well-researched director who immerses his audience into his films with breathtaking visuals. No detail is too small as the scenery and costumes make one feel as if they exist side by side with each character in their respective time periods.
But really, it's actress Millicent Simmonds who brings everything full circle. The first half of the movie, where Rose is most prominent, plays out like a silent film. The young actress does well to express everything she is thinking and feeling without words. Being hearing impaired from a young age, the movie doesn't treat this as a hindrance for Simmonds and doesn't romanticize it.
As a book, Wonderstruck is a must read for adults and children. There is wonder in exploration and the results of happenstance that's filled with infinite possibilities. As a film, it's only 2/3 good, but with a shaky ending, it brings down an established foundation like a house of cards. The movie fumbles once the third act starts. There's an animated montage that's shoehorned into the plot in order to make up for parts of the story the film doesn't care to elaborate on.
This is the fault of the writing, and Haynes' rushed direction. Haynes is usually so methodical and patient in giving his narrative time to get the details in order, but Wonderstruck torpedoes itself to the end. This is the result of a movie moving faster than the story can keep up with. Seriously, blink too quickly and suddenly the second act turns into the end credits.
If you get nothing else from Wonderstruck, it's a beautiful looking film with great performances. Unfortunately, all of that gets swallowed up from time to time throughout the 120 minute run time. Hopefully, casting Millicent Simmonds opens doors for other hearing impaired actors and actresses to have careers in Hollywood.
Valerie Complex
Valerie Complex is a freelance writer and professional nerd. As a lover of Japanese animation, and all things film, she is passionate about diversity across all entertainment mediums.